Chevy Crossovers and SUVs – Cincinnati, OH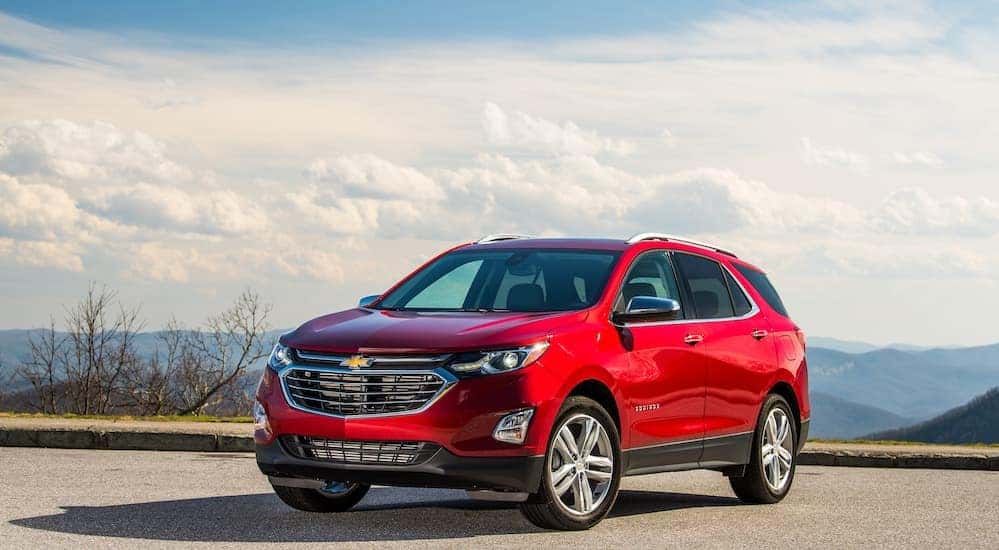 In the next few years, you are going to see fewer and fewer cars on the roads. That does not mean cars as a generic term for all vehicles, such as crossovers, sport utility vehicles, and pickup trucks. We literally mean cars, as in sedans and vehicles of the traditional car model. Many of the major automakers, particularly the American automakers, are phasing out most of their car lines in favor of the increasingly popular crossovers and SUVs. If you look at contemporary crossovers and SUVs for sale and compare them to modern American driving trends, it is not difficult to see why.
Chevrolet, as compared to other major American automakers, is keeping more of their cars on the road for the foreseeable future. Others are scrapping car lines almost completely and focusing on research and development on trucks and SUVs. However, Chevrolet is still investing considerable time and money into its upcoming crossovers and SUVs. Take a look below at just a few of them and you can easily see where this time and money has been well spent. When you are done, we invite you to come over to McCluskey Chevrolet in Cincinnati and see these beauties for yourself.
2019 Chevrolet Blazer
You read that right. The Chevy Blazer is back for the 2019 model year for the first time in a decade, albeit looking much different. The 2019 Chevy Blazer is a midsize crossover that has two available engines. The base engine is a 2.5 liter 4-cylinder engine that gets 193 horsepower and 188 lb-ft of torque. Higher trim levels feature a 3.6 liter V6 with 308 horsepower and 270 lb-ft of torque. These engines make the 2019 Chevy Blazer a very capable and sporty midsize crossover.
Also new for Chevy in 2019 is GM's Cargo Management System. While this has been utilized in other GM vehicles, such as Cadillac and GMC, it has never before been in a Chevrolet. The Cargo Management System is a system of rails installed into the cargo area of the 2019 Chevy Blazer. These rails can be manipulated to secure any cargo you have back there, from groceries to book bags to luggage or anything else that you need to haul around with you. And it doesn't matter how much of it you need to take with you, because the Cargo Management System can be adjusted from the front to the rear, safely securing anything you have.
2019 Chevrolet Tahoe
If you need a little bit more space than the smaller and sportier 2019 Chevy Blazer, consider the 2019 Chevrolet Tahoe. This sizeable full-sized SUV has seating for up to eight people and more than enough room for all of them to stretch out. If a large cargo area is more of your interest, you will no doubt want to know about the 15.3 cubic feet behind the third row of passengers. That is roughly the same amount of space you might find in a sedan's trunk, but you would be hard pressed to fit eight friends or family members in a sedan.
If you take down the third row, the cargo space more than triples to 51.7 cubic feet. With the second row down, the total cargo area of the 2019 Chevy Tahoe skyrockets to 94.7 cubic feet. It is hard to imagine any amount of cargo that wouldn't fit inside that amount of space. That much space could be used for anything from camping gear to groceries for a small army, or professional tools such as small machinery or building materials. No matter what you need to haul around town with you, the 2019 Chevy Tahoe can get it there.
2019 Chevrolet Suburban
Where the Tahoe has plenty of space to haul your things around, the 2019 Chevy Suburban has even more space, and the creature comforts to make any trip feel like home. The 2019 Chevy Suburban can seat up to nine people and has 36.3 cubic feet behind the third row. Other than that, it has basically the same interior space as the Tahoe, but it also has the capability to get you from point A to point B in style.
Of the many infotainment features available on the 2019 Chevy Suburban, the rear seat entertainment options are extremely exciting and very enticing to parents. This option will include two rear seat Blu-Ray players that fold down from the ceiling, one for the second row and one for the third row. Not only can your kids bring their favorite Blu-Rays along for the ride, but there is also the possibility of projecting a movie or show from a tablet onto the screens. An available Wi-Fi hotspot and HDMI connection make watching virtually anything you want a very real possibility. It also includes as many as seven USB ports, so any device you bring along can be immediately hooked into this incredible infotainment system. If you need help figuring out how it all hooks in together, please consult the owners manual or just ask your kids. They'll probably be able to hook it up before the seatbelts are clicked.
As far as engine performance goes, both the 2019 Chevrolet Suburban and the 2019 Chevrolet Tahoe have two available engines. The base engine is a 5.3 liter V8 with 355 horsepower and 383 lb-ft of torque. The larger engine, available on higher trim levels, is a 6.2 liter V8 that gets 420 horsepower and 460 lb-ft of torque. The major difference is in the towing capacity. When properly equipped, the 2019 Chevrolet Suburban can tow up to 8,300 pounds.
So, if you are planning a weekend excursion with the friends or family, and you need to bring along some extra toys to play with, the 2019 Chevy Suburban will easily get you there in style. And be prepared to use all nine of those seats. No one will want to miss out on that ride.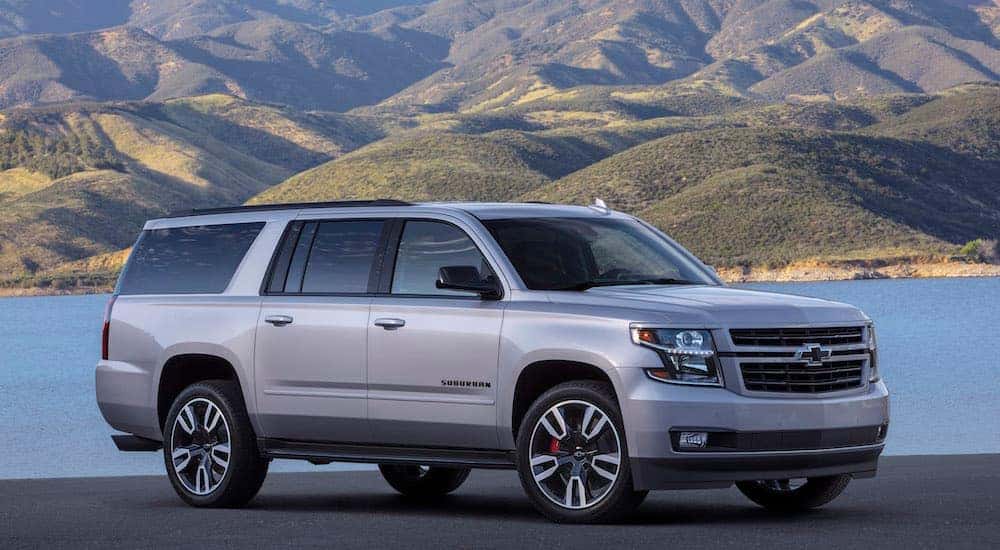 McCluskey Chevrolet
Like anyone who is heavily invested in the automotive industry, we will be sad to see some of Chevrolet's long lasting cars be discontinued. But, we also know that these things happen and our world is changing to a world where crossovers and SUVs are becoming the dominant vehicle for families in Cincinnati and across the US.
What we covered here is only a small taste of what the Chevy crossovers and SUVs have to offer. To see more about the 2019 Chevy Blazer, the 2019 Chevy Tahoe and the 2019 Chevy Suburban, come on down to McCluskey Chevrolet in Cincinnati. We can show you everything about all of these vehicles (not to mention the Traverse, Equinox, and Trax) from top to bottom. Our sales staff is lucky enough to spend all day around these amazing crossovers and SUVs, so they know all about them.
If you can't make it down right away, please check out our website. Here, you will find pictures and specifications on all of our vehicles, not just the Blazer, Tahoe and Suburban. You will also find much more, such as FAQs, parts and accessories, information on trade-ins, pre-financing applications and plenty of other things to keep you occupied until you can get here in person.
We want you to be as excited about the Chevrolet crossovers and SUVs for sale as we are, so come on down and let us show you around. We will see you soon!