Chevy Silverado 2500HD vs Ford F-250 – Fact vs Advertising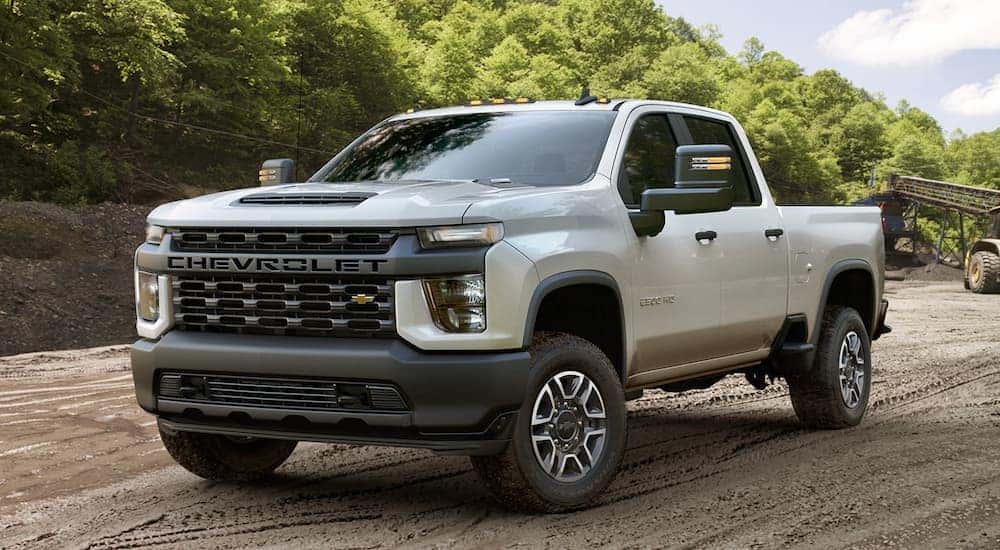 Chevy Silverado 2500HD vs Ford F-250: if you are looking at full-size trucks for sale, you have probably considered these two iconic vehicles and are interested in how they compare. Looking at the headline numbers alone, the Ford F-250 appears to be the superior vehicle across the board. However, headline numbers often do not tell the full story, and an in-depth comparison reveals that the Chevy Silverado 2500HD is much closer than you might think. In fact, you will find that when comparing the most popular configurations of these two trucks, the performance of the Chevy Silverado 2500HD is actually superior to that of the Ford F-250 in some areas. The advantages of the Chevrolet only continue to grow when broadening the comparison beyond mechanical stats to include the technology available in the two trucks. While the Ford F-250 puts up a good fight, the Chevy Silverado 2500HD is an overall better-balanced package. And if the small difference in mechanical performance is critical to your needs, then you should probably be comparing the Chevy Silverado 3500HD to the Ford F-350.
Power and Payload
One of the most critical items to consider when looking at trucks for sale is the engine availability. The engine is the heart of the vehicle, and the same truck can feel completely different depending on which engine is in it. With the Chevy Silverado 2500HD, there are two options – a 6.6L V8 and a 6.6L turbo-diesel V8. However, the Ford F-250 has three engines – a 6.2L V8, a 7.3L V8, and a 6.7L turbo-diesel. The top two engines compare favorably to their Chevy counterparts, but the most common base engine is noticeably less powerful. So make sure to double-check which engine is in the Ford when you are cross-shopping these two trucks for sale. While the additional cost of upgrading to the larger gasoline engine in the Ford F-250 is relatively small, it does raise the price of the Ford above that of the Chevy Silverado 2500HD.
However, raw engine power alone is not the only factor that determines how capable a truck is. Now the headline numbers say that a Ford F-250 has a maximum payload of 4,260 pounds while the Chevy Silverado 2500HD tops out at 3,979 pounds. However, that is comparing standard cab 2×4 trucks. If you are like most pickup buyers, then those probably are not the trucks for sale that you are looking at. Instead, you are probably interested in the more popular and versatile crew-cab 4×4 configuration. And comparing those trucks, you will find that the Chevy Silverado 2500HD takes the lead with a payload of 3,597 pounds against as little as 3,040 pounds for the Ford F-250. In fact, the Ford has less payload in nearly all 4×4 configurations.
Towing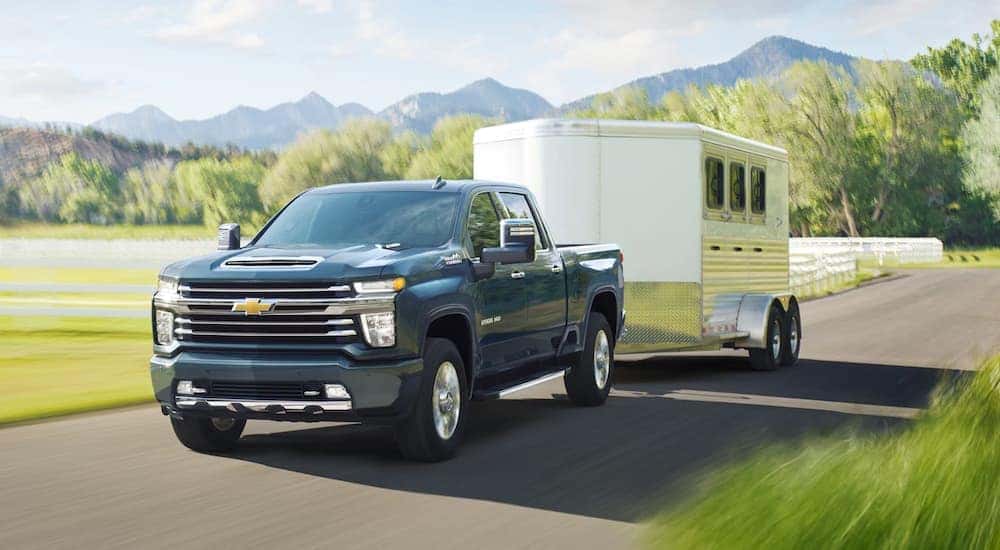 If you are like most shoppers in this segment, then you are looking at full-size trucks for sale because you have something you want to tow. Chevrolet and Ford understand this, and both the Silverado 2500HD and the F-250 are designed for towing. As with the payload comparison, the headline numbers again favor the Ford truck. With a limit of 20,000 pounds on a conventional hitch or 22,800 pounds with a gooseneck rig, the F-250 pulls ahead of the 18,500-pound limit the Silverado 2500HD has for both setups. But again, digging deeper reveals a different story.
In the most popular crew cab 4×4 configuration, you will find that a Ford F-250 with any of the gasoline engines is limited to just 15,000 pounds or less with a conventional trailer. In comparison, a gasoline Silverado 2500HD in the same configuration has no problem pulling up to 16,650 pounds. And while the 4×4 crew cab Ford F-250 still has the lead with gooseneck trailers, the difference is significantly smaller with an 18,600-pound limit for the top gasoline engine and a 19,100-pound limit for the turbo-diesel against 16,650 pounds or 18,500 pounds for the Chevy engines. And if you are interested in the Ford's base 6.2L engine, be aware that it cannot tow any more with a gooseneck hitch than it can with a conventional one.
Technology
While looking at mechanical specifications such as engine power, payload, and tow ratings is an important comparison, when looking at modern trucks for sale, you must also consider their available technology. Not only is a good infotainment system an unbeatable companion through long workdays, but advanced features and electronic driver aids can make maneuvering a large truck and trailer through a worksite a simple matter. They can even help prevent embarrassing and potentially dangerous accidents. And when it comes to technology, the Ford F-250 lags behind the Chevy Silverado 2500HD. This is hardly surprising given that the Chevrolet is a brand-new vehicle for the 2020 model year, while the Ford is now five years old.
Beginning with the infotainment systems, you might be shocked to discover that the base model Ford F-250XL does not even have a touchscreen, instead sporting a small LCD flanked by physical buttons. Although the barebones work truck is a popular concept, this is taking it a little far for a truck that has a starting price of nearly $34,000. In comparison, the base model Chevy Silverado 2500HD WT does come with a 7" color touch screen and an infotainment system that includes Apple CarPlay and Android Auto. However, the base trims of these trucks are not their most popular configurations, and the higher trims on both vehicles come standard with 8" touch screens and are compatible with Apple CarPlay and Android Auto. While some may prefer the infotainment software of one manufacturer over the other, they are both comparable in features.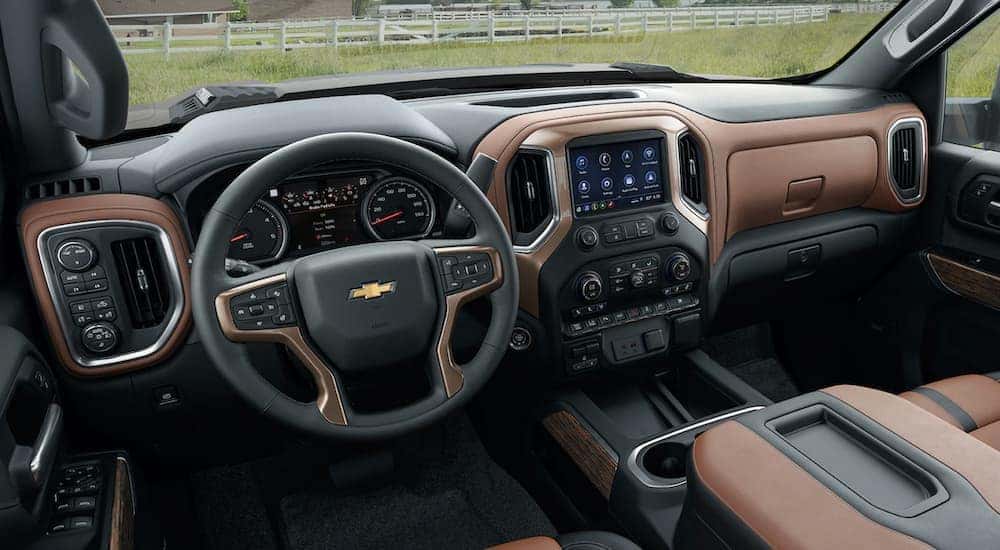 Advanced Features
When it comes to advanced safety features, both vehicles are available with automatic emergency braking, blindspot alert, lane departure warning, and traffic-sensing high beams. The F-250 also has adaptive cruise control, but the Chevy Silverado 2500HD further offers rear cross-traffic alert, front and rear park assist, and safety alert seat. While adaptive cruise control can be a nice way to relax on long highway drives, it is difficult to argue that it is more valuable than the additional safety features on the Silverado 2500HD – especially in a pickup that will be spending more of its life maneuvering around crowded worksites than cruising on the highway.
Both trucks also offer hardware and software designed to make towing safer and easier. The most advanced feature on the Ford F-250 is its Pro Trailer Backup Assist – a semi-automated system that allows you to guide the truck through a knob on the dashboard instead of steering it manually when reversing with a trailer. In comparison, the claim to fame of the Chevy Silverado 2500HD is its class-leading 15 camera view surround vision system. This system not only offers a multitude of different camera angles to choose from but also supports picture-in-picture to view multiple cameras simultaneously. And it has the option of a "transparent trailer" view that allows you to see directly behind you when towing. While the Ford's unique technology can be invaluable for a driver new to trailering, even the most experienced driver will find the Chevy's camera setup an incredible aid to safe driving.
Fact vs Advertising
After a closer look at the true details of each, it is evident that the Chevy Silverado 2500HD could actually be the better option for you over the Ford F-250. So if you are interested in purchasing a Silverado 2500HD or any other amazing Chevy vehicle, visit us at McCluskey Chevy in Cincinnati, OH. We will make sure you leave with a vehicle that is right for you!