Chevy Spark Now Delivering Dominos
We've all seen modified cars, trucks and SUV's. You may have even had one yourself, but I promise you've never seen a Chevy Spark modified like this. Don't expect to see one at Kings Auto Mall in Cincinnati, these specially modified Sparks will be appearing to limited markets across the U.S.
Pickup or Delivery? 
Over the next 90 days, Dominos will be delivering 96 modified Pizza Sparks to franchises in 25 markets including Boston, Seattle, Detroit and San Diego. Costing each franchise between $20,000 and $25,000. Even though the starting cost on a Chevy Spark is around $12-$13,000, these highly modified Sparks are well worth it considering Dominos does more deliveries than in-house pickups. 
How highly modified is this Spark?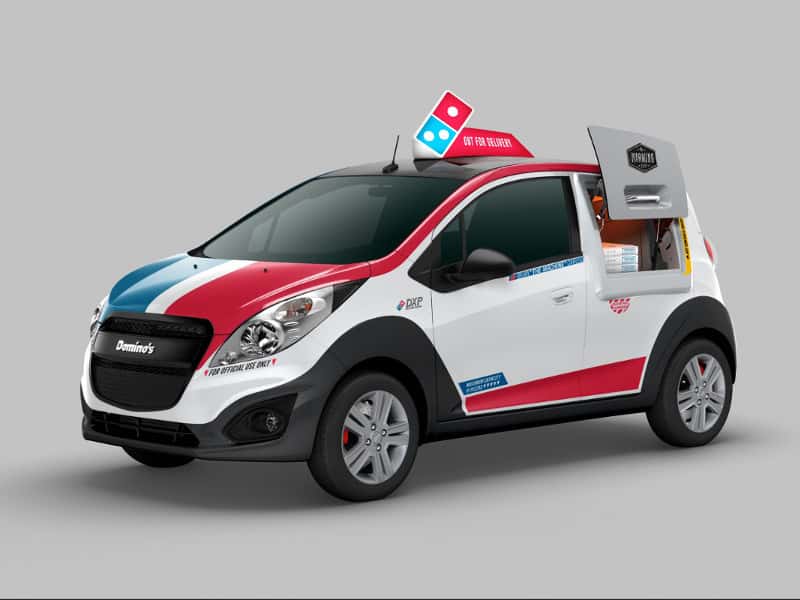 Considering delivery drivers use their own vehicles, how different could this one be? The features on this Spark include a warming oven that is accessible on the driver's side exterior via the key fob. Inside, the oven is illuminated via red LED lights that heat up to 140 degrees and can hold four pizzas. 
The interior of the Spark was gutted and every seat except for the drivers was removed. In its places are front and rear storage areas that can hold up to 80 pizzas. The car projects a puddle light of Dominos logo and in the place of the Chevy bowtie is the "Dominos" name in chrome. And just so there's no question as to who's pulling into your driveway, the red, white and blue 'Dominos' colors adorn the exterior along with the appropriate roof rack. 
Special Delivery: Chevy Spark 
Choosing the Chevy Spark was a smart decision for everyone involved. Even though Dominos has officially dropped the word "pizza" from its name now offering more variety of menu items, pizza is still one of its top ordered and delivered items. Getting it to front doors as quickly and efficiently is the name of the game and a Chevy Spark is a perfect fit. 
Compact in size with the ability to zoom in and out of parking spaces, traffic and city streets all while being great incredibly fuel efficient will have every driver asking their manager when they will get one. This Spark also comes modified for the specific task at hand and features a warming oven and enough cargo, or food space to hold up to 80 pizzas. 
Dominos Delivery Concept
Having been in makings for about three years now, it was the collaboration between Dominos and Local Motors that really got the ball rolling. After a public competition hosted by Local Motors and Dominos asked for ideas from the public, hundreds of designs were submitted. Dominos then worked with Roush Enterprises and former General Motors r&d Vice President, Kenneth Baker to modify the chosen Chevy Spark. 
Baker said the Spark was chosen as the base model for the vehicle because it came closest to the design by the winning Local Motors concept. He goes on to say "GM did a good job and we didn't want to mess with the high-test, high-cost components because they were solidly built." 
Dominos plans to monitor the cars over the next several months while gathering feedback from the drivers, franchises, and customer on the effectiveness of the Spark itself.