Diesel Trucks – Not for Everyone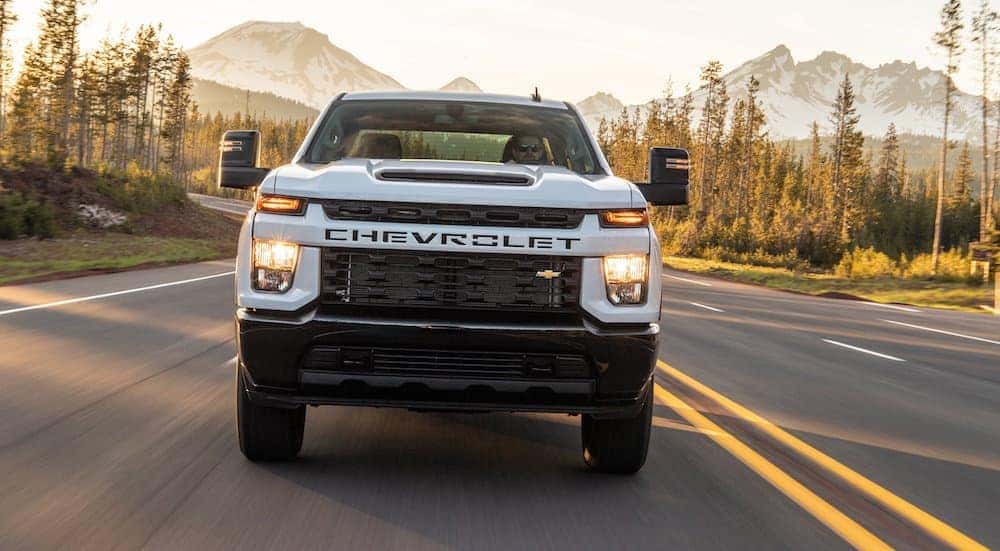 When average pickup truck buyers start looking for their next pickups, they don't automatically go towards diesels trucks for sale. Diesel trucks satisfy very specific needs. Even though they are a great long term value, they are not the immediate go-to vehicle for the average consumer. But, you are not the average consumer.
If you are here, then you are one of those that are looking for a Chevy diesel truck that is capable of more than your average pickup. As solid and high-performing as the Chevrolet Silverado 1500 is, you are one of the hardworking few that needs a harder working truck. Fortunately for you, Chevy is far more than just the 1500. The high-performance diesel trucks that Chevy offers are not ones you are as likely to see in a line to pick up the kids from school or sitting in a grocery store parking lot. Of course these Chevy trucks can also do all those things, but these particular trucks feel much more at home on a work site.
These trucks are more of the fleet variety, meaning these trucks can be bought at a bulk rate and customized to suit a specific need. That does not mean, though, that they have to all be cookie-cutter vehicles. Since fleet vehicles serve so many sectors, from the hardworking construction companies to law enforcement to the service sector, they are all very customizable, much more so than the commuter trucks that are so common on Cincinnati roads today. Check out some of the rest of Chevy truck family and, if you can see yourself in one of these trucks, come visit McCluskey Chevrolet soon.
Chevy Silverado 2500
The 2020 Chevrolet Silverado 2500 is the next step up from the 1500 and has an available 6.6-liter Turbo-diesel V8 engine, to go alongside its standard 6.6 liter V8 gas engine. Both are powerful engines, but the diesel brings significantly more torque than the gas engine.
The 2500 gas engine has 401 horsepower and 464 lb-ft of torque, while the diesel engine clocks in at 445 horsepower and a whopping 910 lb-ft of torque. If you have ever towed anything with a truck the size of the Silverado 1500, you know that it is capable, but only up to a point. When you tow something with the 2020 Chevy Silverado 2500 diesel engine, you fly past that point with extreme ease, all the way up to 18,500 pounds. The average 1500 driver may never have the need to tow that much. You, on the other hand, might see that need on a daily basis.
The 2500 is also paired with a brand new Allison 10-speed transmission. As if that wasn't enough, General Motors has also integrated a new camera system on its heavy-duty vehicles that has fifteen different camera angles, all designed to make hitching up and towing both safer and easier than ever before. All of these camera angles can be accessed via the infotainment touch screen in the cab or by the Trailering App on your smartphone.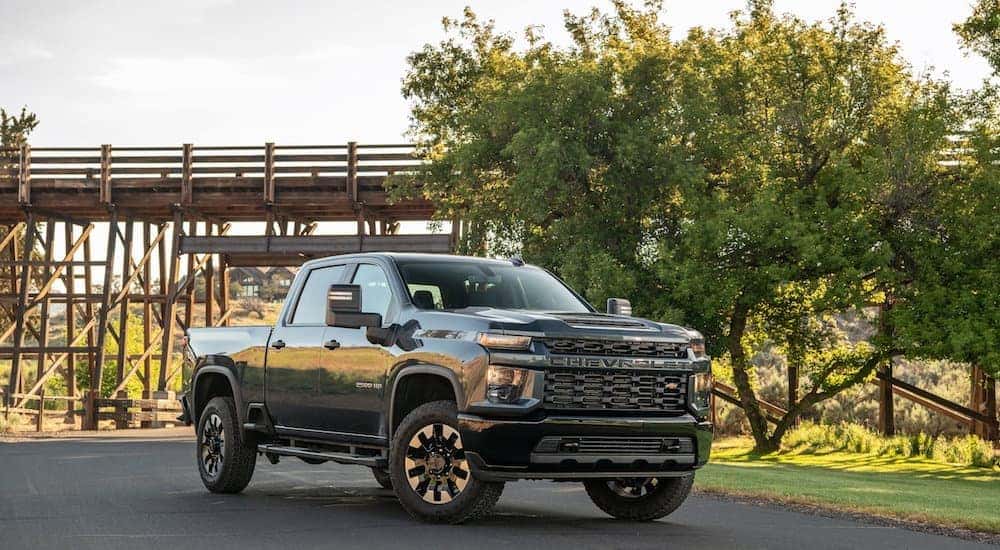 2020 Chevy Silverado 3500
The 2020 Chevy Silverado 3500 cranks up the power even more. It has the same 6.6-liter Turbo-diesel V8 engine, but the towing more than doubles, up to 35,500 class-leading pounds of towing power. This truck is incredibly powerful. Believe it or not, it actually has power to spare.
The Silverado 3500 features an integrated Power Take Off. This feature allows the driver to pull power from the 3500's engine to be able to run another machine on a job site. For example, you can use your 3500 almost like a generator to power another piece of worksite machinery, like a flood lamp or jackhammer. A simple push of a button activates this feature. It can be done while the 3500 is idling, because this feature is engine-driven. A fully integrated Power Take Off of this kind has never been offered in this segment before. It could become invaluable to those working on farms or job sites. This type of technology is clearly in demand; otherwise, General Motors would not have had the foresight to offer it.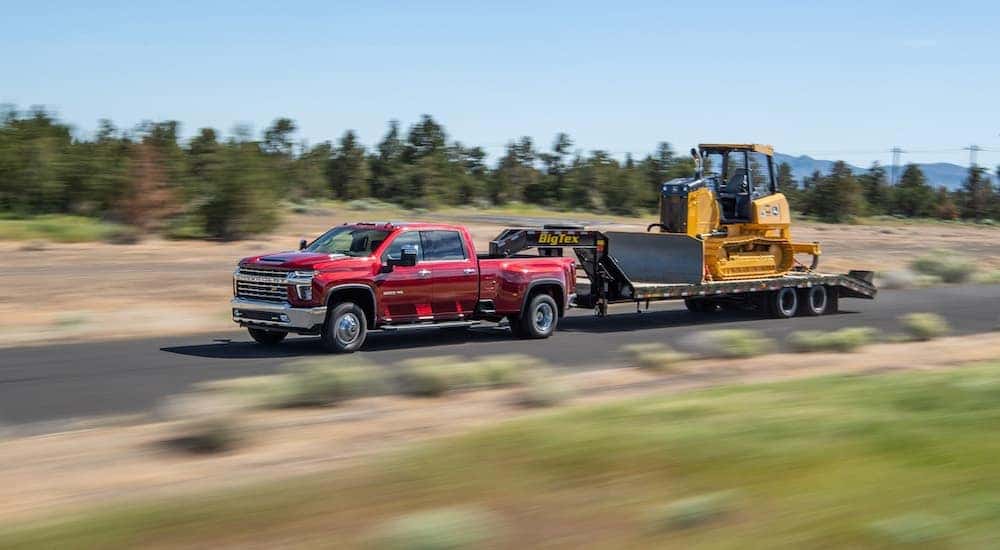 Chevy Chassis Cabs
Chevy also offers a series of trucks, the 4500, the 5500, and the 6500, known as chassis cabs. While the 1400, the 2500 and 3500 have traditional truck beds, these trucks do not. The cargo bed has been removed so that the fleet owner/operator can customize it to fit his own business or service needs.
These are commonly configured as flatbed trucks or some other serviceable cargo bed, but they can also be outfitted for ambulances, food trucks, recreational vehicles, and many other options. They are not as commonly seen on work sites. In fact, because they are so basic when they come out of the manufacturing plant, they are not commonly seen in their natural, involved form at all. They are likely to be seen after they have been outfitted for their particular uses, which are extremely varied. Therefore, they are kind of like the chameleons of the work truck industry.
The Chevy 4500, 5500, and 6500 all have the same 6.6-liter Turbo-diesel V8. They are all available in either a regular cab or crew cab and have a long list of interior features. However, due to their customizable nature, the initial specifications are highly likely to change, depending on what the finished product looks like and what it is used for.
These work trucks exist outside the world of what the average pickup truck driver looks for. In fact, General Motors doesn't even do a ton of advertising for these either. They know that drivers like you are much more likely to have an intelligent and informed idea of what you are looking for. They would rather spend their advertising dollars on those who need to be persuaded into buying a Canyon or Silverado 1500. In all honesty, it's a pretty easy sell, as both of those trucks speak for themselves loudly and clearly.
The 2500 – 6500 trucks, on the other hand, appeal only to the professionals, like you, that can truly appreciate how hard they work. These trucks have exceptional abilities that would be wasted on the average pickup truck drivers. You know what is needed of these trucks, and you deserve to know just what they are capable of. Believe us; we have only scratched the surface of their utility here.
Diesel Trucks for Sale at McCluskey Chevrolet
To get a better grasp of their overall capability, come down to McCluskey Chevrolet, here in Cincinnati, OH, and talk to our amazing sales staff. They can walk you through each and every Chevy work truck and what each one brings to the table. All we need from you is to let us know the nature of your work and what you expect out of a Chevy work truck. Between our staff's knowledge of the vehicles and your knowledge of your unique work truck needs, we are confident we can find exactly the right truck at the right price to fit your business needs.