Exploring Electric? Top Used EVs to Buy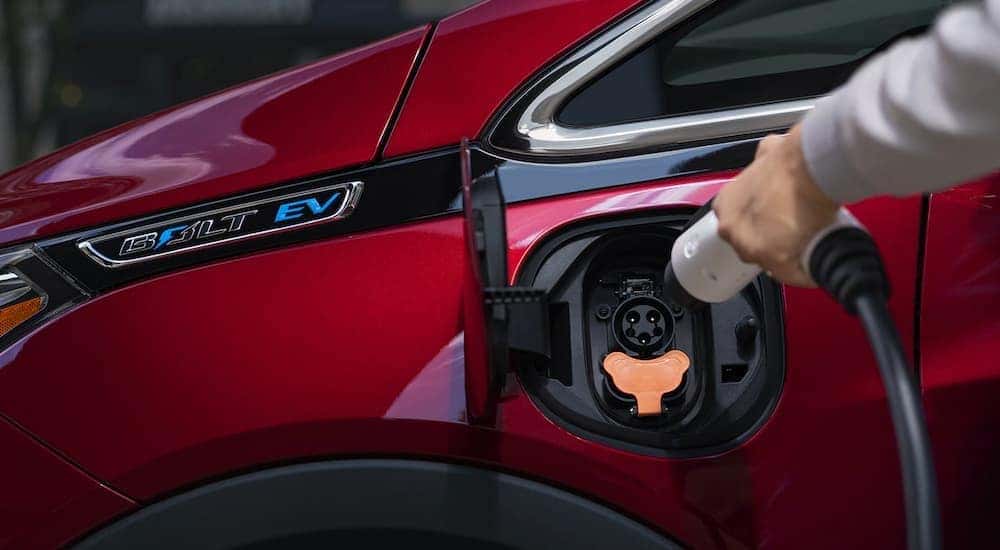 It's no secret that electric vehicles are making an impact on our travels, and if you're one of the many tiptoeing the line on whether or not it's finally time to make the switch to electric, you may be wondering where to even start. For many drivers, it's preferable to buy used due to the fact that you're able to get more for your money, and at McCluskey Chevrolet, the top Kings Automall used car dealer, our selection of used EVs will impress you. Not only are you able to do your part to help preserve our planet through fewer emissions and more eco-friendly practices, choosing an EV allows you to take advantage of perks like an outstanding range, better tech, and modern styling. So, if an electric vehicle is calling your name, we have a few favorites on our list, ready to make your next ride truly exceptional.
Chevy Bolt EV
You may not be too surprised to find the Chevy Bolt EV topping our list. After all, with a respected reputation of providing an efficient and exciting ride, drivers everywhere have turned to this dependable vehicle for all their travel needs. Making its debut for the 2017 model year, the Bolt EV quickly became the go-to vehicle for those interested in exploring electric, and if an increased range and loads of style are on your wishlist, the Bolt EV doesn't disappoint. Models like the 2017 Bolt EV provide drivers with up to 238 miles of range on a single charge, plus excellent power delivered through its electric motor. Although compact, the Bolt EV showcases a spacious interior with a nice variety of configurable storage throughout.
Big power and capabilities really can come in small packages, and the Bolt EV confirms that belief with its celebrated performance throughout the years. The best part about choosing the Bolt EV is that this model is relatively new. That means that no matter which year you choose, you're able to take advantage of an exciting range, the latest tech, and some of the smoothest, most enjoyable driving dynamics found in the world of EVs. For one of the best EV experiences, there's no doubt about it…the Bolt EV is phenomenal.
Nissan LEAF
Affordable, efficient, and lively, the Nissan LEAF is a crowd-pleaser when it comes to spunky electric vehicles. Although not new to the scene by any means, the LEAF had humble beginnings and started turning heads with its superior ride and undeniable capabilities years before some of its competitors even entered the EV arena. Your choice of batteries allows you to get the LEAF that is ideal for your travel needs, and if you want reliability matched with excitement, the LEAF is ready to show you what it has to offer. Through its e-Pedal feature, you're able to transition between regenerative braking modes to not only heighten its efficiency but keep it charged up as well, making the LEAF perfect for frequent travelers nationwide.
Perhaps where the LEAF really shines is with its cozy interior with comfortable appointments and impressive legroom for all on board to enjoy any type of ride. Choose from more recent models for state-of-the-art tech, including enhanced infotainment and connectivity options. With its energetic engine and dependable ride, affordable features, and exceptional efficiency, the LEAF is one of the top options for those looking to dive into the world of electric vehicles.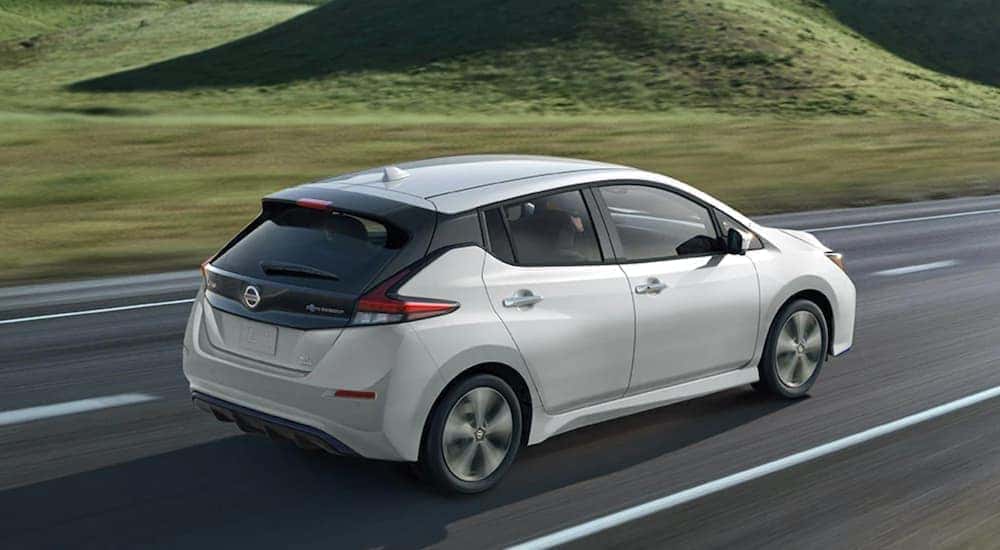 Kia Soul EV
One of the most recognizable vehicles on the road, the Kia Soul, has always had quite a presence. Its funky exterior and fun-loving personality have made it a fan favorite among commuters, frequent travelers, and road trippers alike, and it's no secret that its electrified version is a popular pick for many. It's not new to the scene, but it's consistently been impressing us since its arrival in 2014 when EVs were just beginning to scratch the surface of popularity in the ever-evolving market. Still sporting its legendary boxy appearance, you'll find that the Kia Soul EV offers you everything you need in an EV, including efficiency, performance, and tech.
Utilize a number of charging solutions to power your Soul forward, including fast-charging options, which deliver a kick of energy when you need it. Plus, with the Soul's innovative UVO infotainment system, you'll have access to all of your coveted devices right at your fingertips, making the Kia Soul EV the ideal futuristic traveler. Opt for newer models, like those from 2019, and enjoy a convenient backup camera, Apple CarPlay and Android Auto capabilities, and much more. When you want a fun and dynamic vehicle, nothing excites more than the Kia Soul. And when you want to harness the efficient power of electricity, the Soul EV proves that Kia can create just about anything and make it amazing.
Chevy Volt
Before the Bolt EV, the Volt was revolutionizing the way we viewed electric and hybrid vehicles, carving a pathway for the future. Although this pioneer has since been discontinued, being replaced by the impressive Bolt EV, it's still a highly desirable used option to look for on lots across the nation. The 2017 Volt held various best-in-class accolades, like best range and undeniable features. Although the Volt is technically a hybrid, it's still found on many top lists when searching for an EV, so let's get to know it a bit, in case you're unfamiliar.
Utilizing a battery, paired with two electric motors, in addition to a gasoline engine, the Volt stunned drivers with its dramatic acceleration and optimal electric range, able to travel up to 53 miles on electric-only power. Of course, with the emergence of newer EVs, capable of five times that amount, the Volt was what other EVs were designed around. Through its gas-powered engine kicking in when needed, drivers were able to enjoy an unbelievable fuel efficiency like never before. The good news about the Volt is that even though it has since been replaced, you can still find a nice selection of them at used car dealers near and far.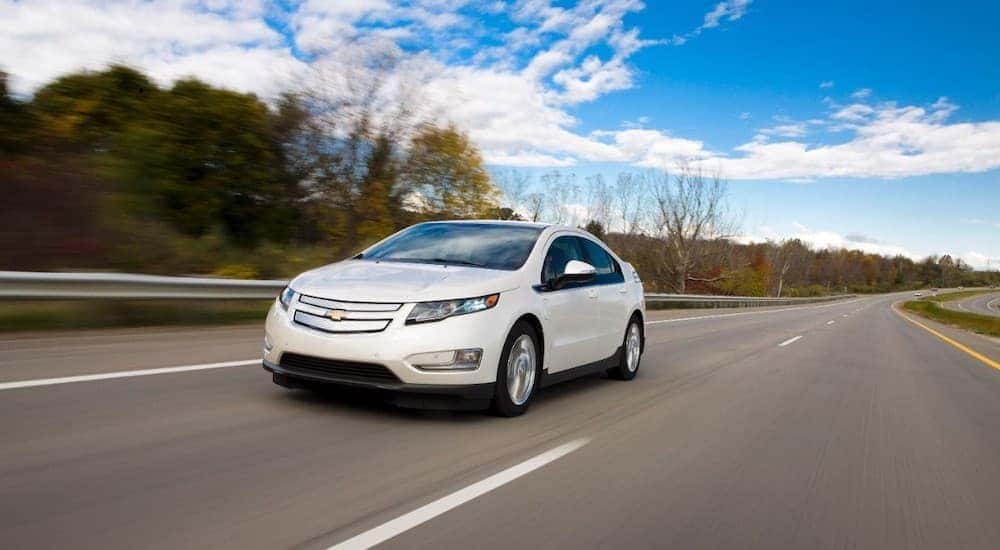 Ford Focus Electric
Another fantastic option when you're looking for a used EV is the Ford Focus Electric, which was discontinued in 2018. Perfectly capable with an adorable appearance, the Focus Electric was affordable and ready for anything. Perhaps one of the best buys for those on a budget, the Focus Electric had many common attributes to the gas-powered model but was armed with a cheerful electric motor, which provided this reliable transporter with 143 horsepower, plenty of power to deliver an inspiring ride.
As the years went on for this energetic commuter, its range increased to offer drivers more potential and an enhanced ride, getting up to 115 miles on a single charge with its 2017 model. Even though you won't see any more new Focus EVs on the road, there are plenty of them on used car dealership lots, waiting to extend a hand into the world of electric vehicles.
Enter Into the Electric Evolution
If you're ready to take advantage of all the perks of driving an electric vehicle, it's a good idea to buy a used model, especially if you want to enjoy all of the desirable features without the jaw-dropping price tag. That's why used car lots, like McCluskey Chevrolet, offer many different varieties of EVs to meet your individual needs, whether you're a frequent cross-country commuter or a weekend adventurer. Although there are many options on the road right now, you won't find a better deal while getting top-of-the-line features than a used EV. So stop by the top Kings Automall used car dealer, McCluskey Chevrolet, and see what all the hype is about when it comes to electric vehicles. When you want to be satisfied with your purchase, you won't find a better option than a used EV for your next dependable traveler.