Finding a Used Truck in Cincinnati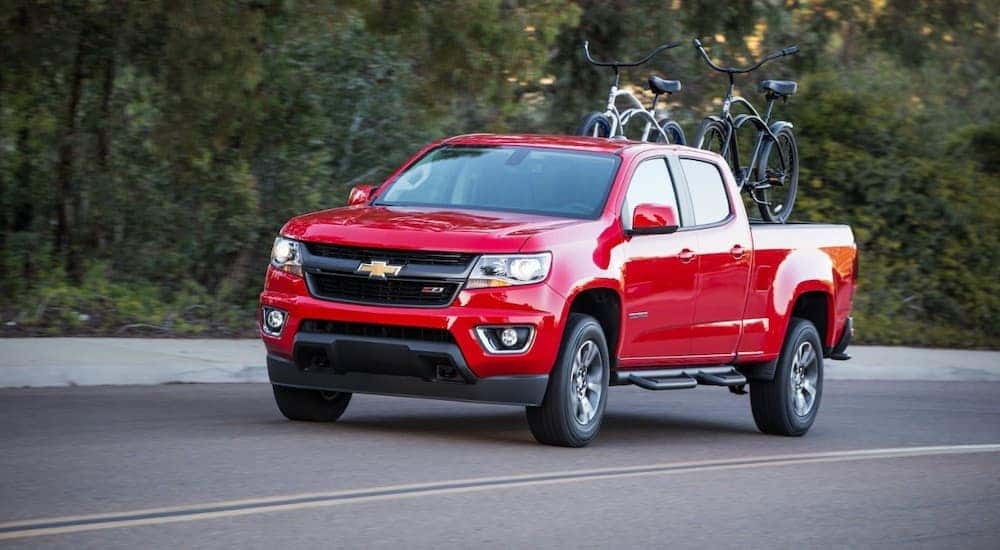 Cincinnati is a city that values hard work. This can be traced all the way back to its founding, having been named after an emperor who saved Rome and relinquished his power to take up farming. That deep-seated work ethic holds true today in the people of Ohio's greatest city, and they need a truck that will match that. Luckily, there are plenty of used trucks for sale in our Cincinnati, OH dealership. Here at McCluskey Chevrolet, we, of course, specialize in Chevy trucks but have a variety of other options in our used truck inventory that may be suited for what you need. We have the expertise to be able to help you with any questions you may have. Here are a few examples of what you might find in our inventory:
Chevy Silverado 1500
The Chevy Silverado is one of the most sought after used trucks on the market. Known for their reliability and durability, we keep a healthy quantity in our inventory and not just the most recent model years. You can find Silverados in our lot that date back before the turn of the decade, a great option for those trying to upgrade on a budget. No matter what year you choose, you'll be stepping into a truck that will get you where you need to go and accomplish any task you set it to. No matter what the age of the vehicle, you're going to be relying on your truck to be able to handle any trial you put it through and we can't think of a better vehicle suited for the job than the Chevy Silverado 1500.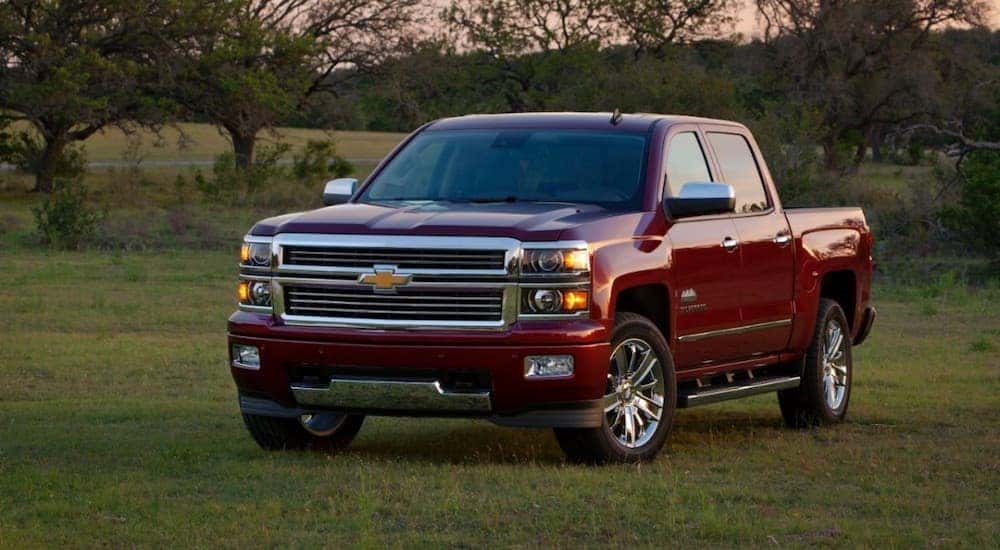 Depending on which generation you're looking at, you're looking at around mid-teens to low twenties city/highway in regards to gas mileage with newer models improving the averages. While these machines are designed for hauling and towing, those who like to have some creature comforts in their work vehicle will be pleased with what they find in more recent models. Bluetooth connectivity, a must these days with growing hands-free laws, is very common in models of the past decade. Mid-Decade models began upgrading to include features like Apple Carplay and Android Auto, giving you easy and safe access to all the entertainment apps your Chevy has to offer.
Chevy Colorado
For those looking for something with a tad more muscle while still holding true to the Chevy brand, perhaps you should consider the mighty Chevy Colorado. This pickup is perfect for those looking to go the extra mile and need a vehicle that'll do the same. The Colorado is also a full-sized truck with the looks and the power to prove it. This machine is built to tow and haul through any conditions. Style and utility go hand in hand with used Colorados, and ours are packed with features. You'll likely find a used Colorado for sale that has been made within the last five years. Newer models all have Chevy's MyLink capability, allowing you to run your phone through the vehicle's system. They're all stunningly styled and wildly comfortable as well. The only people in the parking lot left not jealous of a Colorado are other Colorado drivers.
While most trucks can scare you at the pump, Chevy has put a lot of work into making all their vehicles more fuel efficient. This includes their trucks, as recent models of the Colorado are averaging in the high teens/mid-twenties for miles per gallon. The V6 engines are still top of the line and capable of providing ample torque and horsepower to get the job done and get you home on time. Still available in Four-Wheel Drive, so you'll have no problem maneuvering around any driving environment.
Ford F-150
As we've already discussed, Chevy is sort of our main focus. Sometimes, though, other models make their way to our used trucks lot for one reason or another. This allows us to provide you with more options as you search for the perfect match. One of the more popular used trucks we see is the Ford F-150. Another highly dependable truck with all the goods to get it done. Most of the F-150's we particularly enjoy were produced within the last five years or so, so it wouldn't be a surprise to find all the bluetooth connectivity you'd need on one.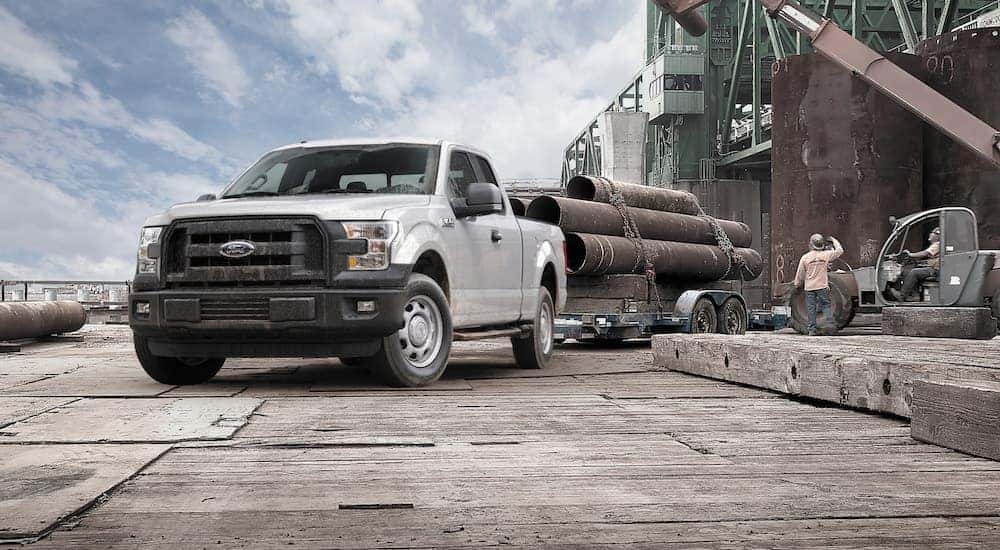 Like other trucks in its class, Ford strives to make the F-150 a powerhouse for everyday hard work. While comfortable seating and connectivity are nice, these trucks have more serious business in mind. Fords recent models are equipped with Ecoboost 3.5-liter V6 engines with twin turbochargers. While this equates to providing enough power to tow and haul with the best of them, it also aids in fuel economy. Similar to the Colorado, you're looking at an average of high teens to mid-twenties in gas mileage on available models.
Ram 1500
Another popular choice is the Ram 1500. Ram keeps their trucks in the conversation as some of Chevy's best competitors with their unique focus on building trucks. Ram itself is a division of a larger motor company, so instead of spreading its focus to other styles and makes of car they can focus on trucks and trucks alone. Again, this is a great choice for those looking for a truck that can do it all. Much like the other options we've discussed, most of our stock consists of models produced within the past five years, and many have very attractive mileage making them nearly new. The ample room and towing/hauling capacity make these trucks stand out, while still providing great entertainment and mobile connectivity to keep you connected on the job or drive. Each Ram 1500 we currently have is equipped with four-wheel drive.
Like the last few cars, the V6 engine in these Rams averages in the high teens to mid-twenties for gas mileage. This mid-size truck also allows for four doors, making it perfect for transporting the crew or the kids without worrying about seating. Older 1500s are sometimes available for those looking for some lower-priced options than perhaps those of trucks with more recent model years. Ram has kept its styling fairly consistent, and you can count on a good looking truck no matter which era it originated.
Picking out a used truck can be complicated. Many drivers have diverse needs and interests, causing each buying situation to be unique. The best way to make sure you're picking the right one for you is to come in and discuss with one of our professionals what may best suit your needs, and try out what we have. For our money, we'd bet that any one of our used Chevrolets will suit the tasks you'll require, but our wide-ranging inventory also opens us up to offering a wide variety of other brands that you can test drive and choose from. What matters most is that you find a truck that will match the hard-working spirit and drive that Cincinnati is known for.