Head-Scratching Chevrolet Trivia to Boost Your Knowledge (and Wow Your Friends)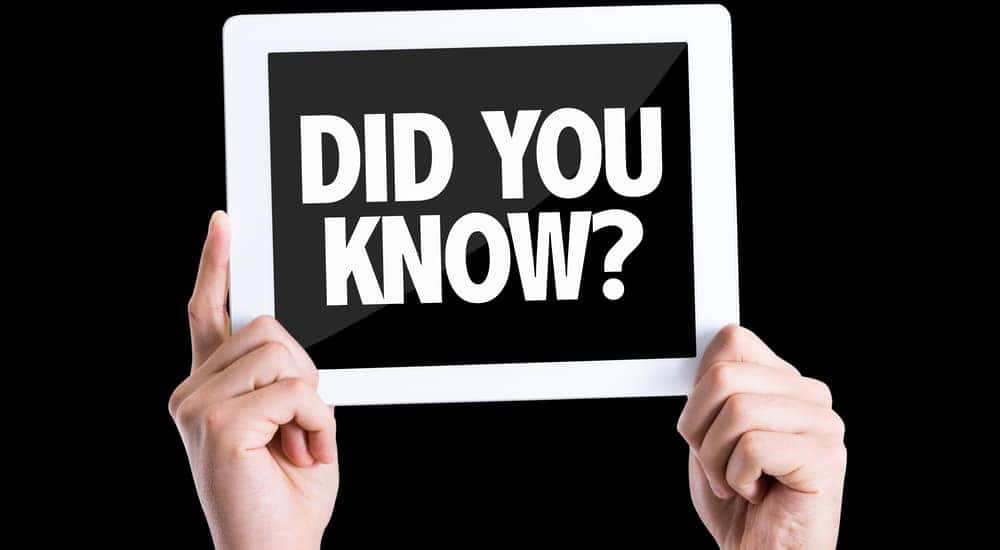 Maybe you're not planning on auditioning for the next season of "Jeopardy!", but you're bound to get into a discussion about cars and vehicle manufacturers at some point. Maybe you'll be discussing your latest experience hunting for the perfect drive at your favorite Chevy dealers in KY. Perhaps you're engaged in an intense quiz showdown at the nearest pub. Whatever the setting, be prepared by having a few Chevrolet facts in your back pocket.
Test your auto and truck history now and gain a quick — and fun! — education in the world of Chevy.
Chevrolet began manufacturing vehicles before WWII, the Titanic sinking, and the Russian Revolution.
The year 1911 was a big one for Louis Chevrolet and his business partner, William Durant. In November, they started what we now familiarly refer to as the "Chevy" corporation. Within a decade, Chevy and its parent company General Motors (GM) was battling fiercely with rival Henry Ford's eponymous Ford Motor Company.
Live in Oceania? You won't be able to find a Chevy there.
Time to think back to all those geography lessons from elementary school and remember that Oceania is comprised of 15 countries including Australia, New Zealand, Fiji, and Samoa. Unfortunately, if you're looking for a Chevy van, truck, or automobile there, you won't be able to find one with the ubiquitous Chevy logo. Instead, you'll need to look for the "Holdon" label, the brand Chevrolet uses "down under."
People use a variety of ways to talk about Chevrolets.
You probably don't say the whole name "Chevrolet" when you're talking about your latest Camaro, Corvette, Silverado, or Volt. You're not alone. It's doubtful that anyone with the exception of dealerships like McCluskey Chevrolet use the whole name in casual conversation. More often, the terms "Chevy" and even "Chev" are the go-to monikers for any GM Chevrolet offering.
There's a quirky nickname for the typical Chevy logo emblem.
Okay — you might have heard that the emblem for all Chevys known as a bowtie. But why? To most modern viewers, it doesn't really have a bowtie look. Regardless, it's definitely stylized, but from what inspiration? Some individuals have said that it's a remake of the Swiss cross, while others say the founders of Chevrolet saw a similar design in hotel wallpaper. Whatever their reason for choosing the bowtie-themed emblem, it's stuck throughout the generations. (Ironically, it wasn't used for many years — at first, the Chevy logo was a cursive, signature-looking emblem that didn't stand out.)
The Volt won awards, but the Bolt took green cars to a new level.
Chevrolet entered the eco-friendly electric car market with a huge splash when it unveiled its Volt series. Not only was the Volt heralded by critics and lauded with accolades, but buyers appreciated its fuel economy. However, Chevy had another model up its sleeve that made the Volt seem like a pussycat in the lion's den: the Bolt. Unlike the hybrid Volt, the completely electric Bolt could go up to 200 miles on one charge, which spurred a host of awards from Motor Trend, "Green Car Journal", "Time Magazine", and Green Car Reports. Today, both the Bolt and Volt are hot sellers at Chevy dealers in KY and the rest of the states.
What's that font? It's a specific typeface that you see on your Chevy!
Like all corporate brands, Chevrolet has a standard guide that includes which typeface is expected for use with its designs. In the early 2000s, the company utilized Klavika Condensed. Then, the typology morphed into what was called Knockout. Today, Chevrolet has settled on Louis. What do all these typefaces have in common? They're simple, easy-to-read, and instantly recognizable.
Tons of songwriters have incorporated Chevy into their lyrics.
At some point, you're going to get into some kind of conversation about Chevy lyrics in songs. Consequently, have the following tunes in your back pocket so you never get stumped during a back-and-forth friendly battle of wits:
"American Pie" (Don McLean)
"Crocodile Rock" (Elton John)
"El Camino" (Ween)
"Fightin' Words" (Trace Adkins)
"Keeping the Faith" (Billy Joel)
"Less Than Zero" (Elvis Costello)
"Renegade" (Tim McGraw)
"She's in Love With the Boy" (Trisha Yearwood)
"Water" (The Who)
"You Win My Love" (Shania Twain)
Can you think of more? Pandora did for 2011, the 100th anniversary of Chevy, and gave listeners a chance to hear all the Chevrolet-inspired songs across a multitude of genres and decades.
Chevrolet keeps reinventing new slogans.
If you've been paying attention, you've probably noticed that Chevy mixes it up once in a while, slogan-wise. The organization has been doing this consistently for more than 50 years by trying different selling slogans. Some of them have stuck like glue, while others were less popular. Do you remember any of these?
"Baseball, Hotdogs, Apple Pie & Chevrolet"
"Chevy makes good things happen"
"It's Exciting!"
"Like a Rock"
"Our Country, My Truck"
"See the U.S.A. in Your Chevrolet"
"The Heartbeat of America"
Louis Chevrolet had a love of speed.
It would only make sense that the co-founder of Chevy (not to mention the man it's named after) enjoyed the wind in his hair. Actually, he enjoyed putting the pedal to the metal so much that several years before he formally started Chevrolet, he won a car race by hitting an award-shattering speed of 111 MPH. Doesn't sound all that fast by today's standards? To put the 111 MPH in perspective, Louis Chevrolet's first Chevy sold had a top speed of 65 MPH. Basically, that's half of what he was able to do on the track.
There's a reason that NASCAR drivers love their Chevys.
Want to take home top honors as a NASCAR race driver? Not only should you be a picture-perfect racer and driver, but you might want to choose a Chevy as your race day ride. Statistically speaking, Chevys have snagged more NASCAR wins than any other car model on the tracks
Filled up with some great facts? Get out there and start sharing your Chevy education on social networks and in social settings!