How Chevy's Commercial Vehicles Can Help Your Business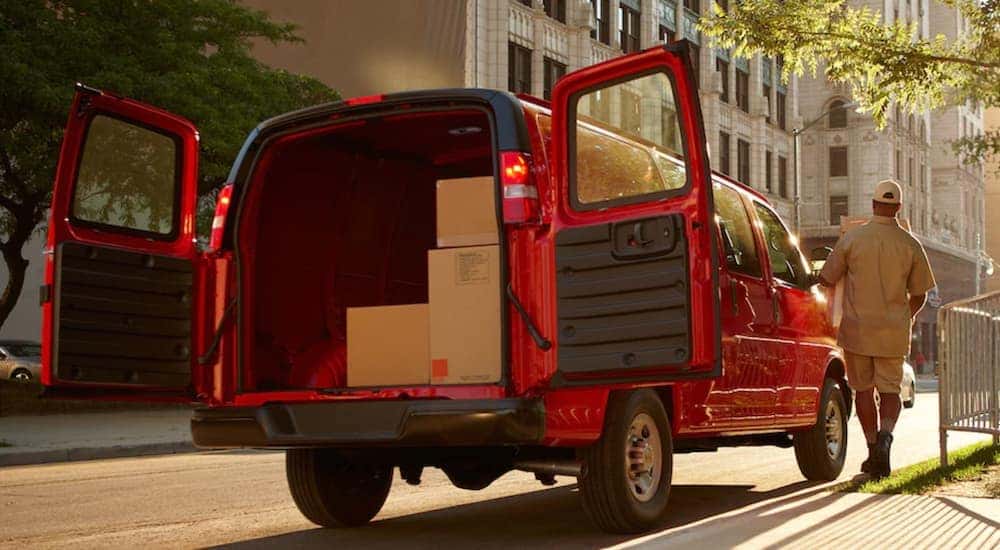 It's not every day that you find yourself shopping around for commercial vehicles. Searching for a vehicle that will accommodate your specific business or service is easier said than done, and it certainly isn't the same as shopping for a standard sedan, SUV, or pickup truck.
Fortunately, you shouldn't be worried about your purchase. Assuming you opt for any of Chevy's available commercial vehicles, you can be assured that you'll be opting for one of the most impressive offerings in the entire segment. Regardless of what industry you're in, Chevy will surely provide a proper match for your business.
Below, we've explored various industries and services, and we've matched them up with one of Chevy's major commercial vehicles: the 2019 Chevy Express Cargo Van, the 2019 Chevy Express Passenger Van, and the 2019 Chevy Low Cab Forward. Take a look at the amenities that these three nameplates provide, and you'll have a whole lot more clarity when it's time to start shopping for that commercial vehicle.
Delivery Services: 2019 Chevy Express Cargo Van
If you're required to complete deliveries, you're probably going to be seeking a commercial vehicle that provides an abundance of reliability, room, and power to get you where you need to go. You're probably already familiar with the abundance of storage space that's available in these types of vehicles, meaning you'll probably end up comparing the performance of your available targets. Well, you shouldn't look any further than the 2019 Chevy Express Cargo Van, as each of the available engine offerings manages to pump out a whole lot of muscle.
The 2.8-liter Duramax Turbo-Diesel four-cylinder engine is the smallest of the bunch, but the unit still manages to deliver a whole lot of power. The unit ultimately cranks out 181 horsepower and 369 pound-feet of torque, meaning you'll be more-than-ready to overcome your fellow drivers on the highway. Plus, thanks to all of that power lingering under the hood, drivers can capitalize on an incredible 7,000-towing capacity. The alternative 4.3-liter V6 engine manages to elevate those power specs, promising drivers 276 horsepower and 298 pound-feet of torque. Plus, thanks to inclusions like Direct Injection and Variable Valve Timing, drivers will also appreciate the relative fuel efficiency (although this probably shouldn't be a focus of those opting for a commercial vehicle).
The Vortex 6.0-liter V8 engine manages to crank those power specs to a whole new level, as drivers can appreciate the practically-unmatched 341 horsepower and 373 pound-feet of torque. The Hydra-Matic 6-speed automatic transmission will allow drivers to control this powerful ride, while the Tap-Up/Tap-Down Driver Shift Control and auto grade braking means you'll never have issues decelerating the ride. In other words, despite all of the power, you'll never have an issue controlling your new commercial vehicle.
Of course, the 2019 Chevy Express Cargo Van does more than provide a whole lot of power. Rather, the rear of the vehicle can be adapted to provide owners with all of the amenities they need for their specific business. The extended wheelbase variation of the nameplate delivers more than 313.9-cubic-feet of space, meaning you won't have any issues fitting your desired cargo inside of the ride. Plus, thanks to your ability to outfit the interior with shelves, ladders, and more, you can truly prepare your vehicle for your worksite.
Overall, if you find yourself needing to get across town in a hurry to complete an order, you'll need a commercial vehicle that's equipped with a powerful engine. Well, if you opt for the 2019 Chevy Express Cargo Van, you'll have three muscular options to choose from.
Transportation Service: 2019 Chevy Express Passenger Van
If you're responsible for bussing around a group of people, you'll need a vehicle that can comfortably fit a number of passengers. In that case, there's truly no better choice than the 2019 Chevy Express Passenger Van.
The vehicle's interior is as spacious as you could possibly make a passenger van, as the 2019 Chevy Express Passenger Van is ultimately capable of fitting 12 or 15 passengers. Plus, thanks to the easy loading/unloading amenities (including swing-out doors and rear-sliding passengers doors), your occupants will never have issues accessing the read of the nameplate. This will be especially useful to elderly homes or smaller schools.
Best of all, the vehicle includes a number of amenities that will keep all of those passengers comfortable and entertained at all times. The rear passenger air conditioning system will be especially useful during those hot summer months, as your passengers won't succumb to a stuffy interior. The USB ports and accompanying power outlets will allow some of your passengers to keep their gadgets juiced at all times, while the available built-in 4G LTE Wi-Fi will constantly provide those occupants with a strong wireless internet connection. These amenities aren't always included in standard commuter cars, making the 2019 Chevy Express Passenger Van a unique target.
If you really want to take your passengers' experience to an unmatched level, you should consider opting for the Thule Hitch-Mounted Storage Container. Thanks to this accessory, you can easily transport your occupants' luggage and baggage without having to compromise any passenger space.
Construction: 2019 Chevy Low Cab Forward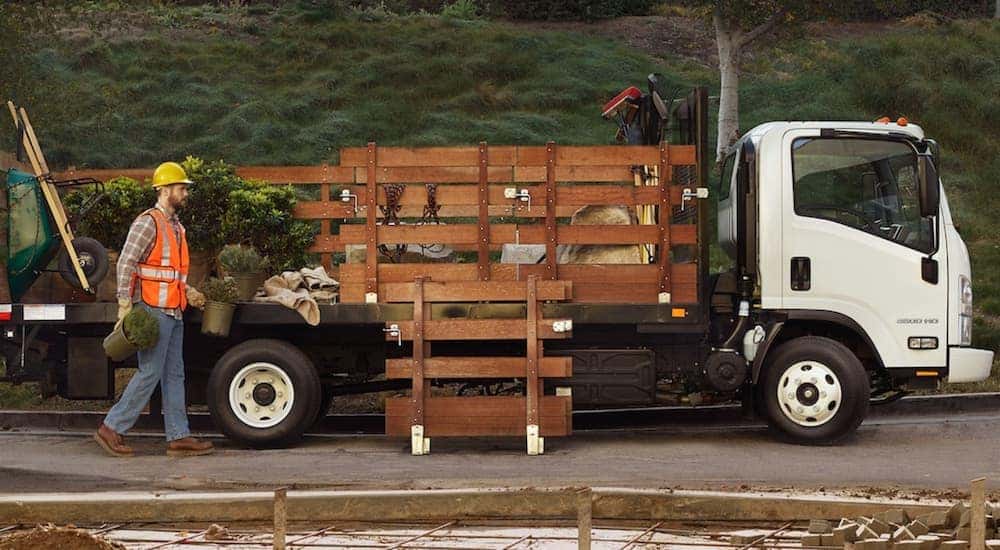 In reality, this particular Chevy commercial vehicle can appeal to a number of different industries, as owners can equip the vehicle with any type of cab out back. For this exercise, we're going to focus on jobs that require drivers to travel off the beaten path, which would seemingly compromise safety.
However, just because you're going to be operating a rather unconventional vehicle, it doesn't mean you or your passengers' safety will be reduced in any way. Rather, Chevy's engineers did an admirable job of equipping their vehicle with a number of safety functions, assuring that you'll remain safe when you're behind the wheel.
Specifically, the brand did an excellent job of optimizing driver visibility, assuring they'll always have an ideal vantage point of the road regardless of their unit. This added visibility won't only be appreciated when you're on the worksite; rather, this will also be useful when you're traveling in and out of the city. Thanks to this attribute, you'll always be able to view everything that's happening around your commercial vehicle, thus assuring safety (and helping you avoid collisions).
The vehicle also includes amenities that will assure occupants aren't injured as they're attempting to get in and out of their ride. The 90-degree wide-open front doors mean you can easily get out of your ride, while the wide-entry step promises that there won't be any missteps.
There's only so much a cab forward can do to keep occupants safe. However, Chevy's engineers seemingly managed to succeed with all of their safety efforts.
It should now be pretty clear that Chevy's commercial vehicles (specifically the 2019 Chevy Express Cargo Van, the 2019 Chevy Express Passenger Van, and the 2019 Chevy Low Cab Forward) provide everything you could possibly need for your business or service.
Now that that's been settled, it's time to start shopping. If you live in the Cincinnati, Ohio area, there's no better place to purchase that commercial vehicle than McCluskey Chevy. The dealership's knowledgeable and helpful sales team will guide you through the entire purchase, and the finance department can even help you to complete your impending purchase.
So what are you waiting for? If you're looking for a Chevy commercial vehicle for your business, you should head out to McCluskey Chevy today!