Keep Your Car as Good as New with These Easy Tips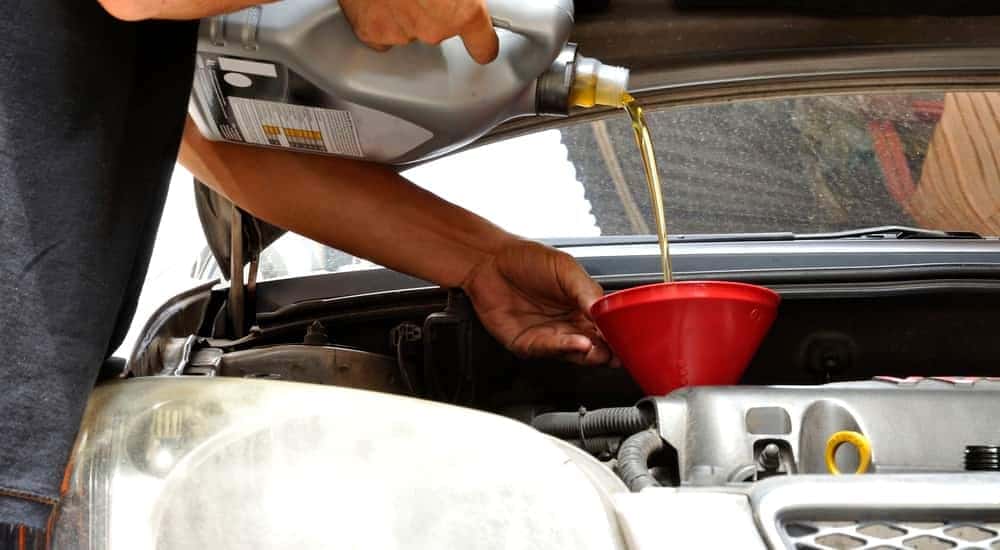 If you're like a lot of other Americans, you're probably pretty tough on your car. That's not a bad thing, in fact, it probably means you're often off on an adventure, have a rewarding career which keeps you on the road, or a family life which takes you back and forth from sporting events and school. Life is busy, which is one of the reasons taking good care of your car may not be your number one priority. Whether you're looking for a quick oil change near you or a place to get your brakes checked out, your local dealership's service department can get you in and out quick so that you can go back to your life.
Knowing what your car needs for routine maintenance is the first step for keeping your car as good as new. It isn't only about keeping it looking like you just drove it off the lot, it's also about safety and performance. Modern cars need significantly less routine maintenance than they did in the past, but they still need some. You don't need to change your spark plugs every season or accept a certain level of body rust but you do need to keep your car performing at the top of its game. Here are some easy tips on keeping your car as good as new.
Get to Know Your Owner's Manual
The first step to a successful relationship with your car is to get to know its user manual. Every car has one. You've probably shoved it into your glove box somewhere beneath your car's registration. It might be time to take it out, dust it off and give it a solid skim. If you are able to find it, head to the maintenance schedule section to see when certain routine maintenance tasks should be performed. If you can't find it, your dealership can definitely give you some solid advice. At McCluskey Chevrolet we even have a self-help section on our website where you can research your car's specific needs by make and model. Click here to check it out!
Check Your Car's Fluids
One of the most standard routine maintenance procedures is making sure that your car has appropriate levels of all its fluids. This includes engine oil, engine coolant, and windshield wiper fluid. You should routinely check for any fuel system or oil leaks as well. If you notice anything pooling beneath your car, it's time to have it checked out by a licensed mechanic.
If you notice your low oil light come on during your commute home one day, it can be easy to shrug it off and consider it a problem for later. But if you ignore getting your oil changed as regularly as it needs, your car could begin to spew dangerous emissions, clog up the oil filter with debris, and seriously damage your car for years to come. Even if your low oil light doesn't come on, a general rule of thumb is that most older cars need an oil change once every 3,000 miles or three months, and newer cars can get away with having their oil changed once every 5,000 miles or five months. Getting a quick oil change whenever your car needs one is the best way to ensure your car's engine functions properly. To keep oil levels up-to-snuff, you can get a quick oil change from McCluskey Chevy's service department.
Our team of highly skilled technicians will get you in and out of your quick oil change and make sure your car is expertly taken care of. At McCluskey Chevy, you don't even need an appointment, so whenever you have a rare moment you can simply drive in to get your "quick oil change near me"! Besides not needing an appointment to get a quick oil change, we're also open extended hours so that you can stop in when it suits you. Our service hours are Monday -Thursday from 7:30 AM – 3:00 AM, Friday 7:30 AM – 6:00 PM and Saturday 9:00 AM – 4:00 PM.
When you have a quick oil change with us, we will also check out other standard components of your car to make sure everything is operating as it should. If your vehicle needs any other service, whether it's a tire alignment, tire change, or even a major body repair, we can get the job done for you. At McCluskey Chevrolet we strive to make our services as convenient as possible for our clients and to accommodate any schedule. If you're looking to keep your car as good as new, we've got you covered!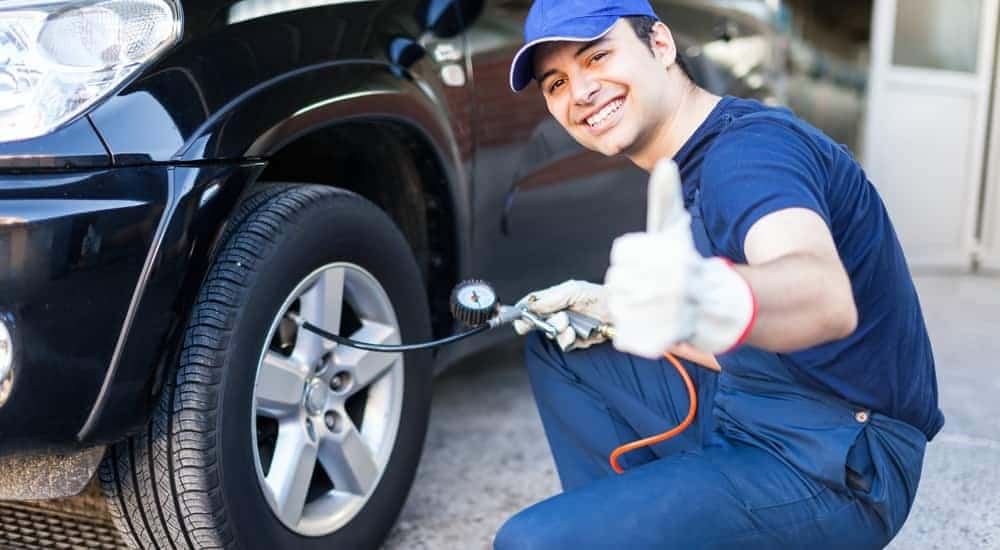 Keep Your Tires Healthy
Your tires help to keep you and your family safe on the road. Making sure that they are in good condition is of the utmost importance and should be done on a routine basis. Once a month, you should check your tires' air pressure to make sure that they are full. Simply remove the valve cap from each of your tires and place your pressure gauge on the valve stem. Press down until you stop hearing the hiss of air and read what your gauge has to say. If your car's tires are under-inflated, it could lead to unexpected tire failure on the road. This is because under-inflated tires touch the road with too much surface area, increasing friction. This friction can cause tires to overheat, which leads to unnecessary wear-and-tear.
Not only should you make sure your tires are properly inflated at all times, you should also get your tires rotated and checked for alignment routinely. Having your tires rotated will help to evenly distribute tire wear. For example, if the weight on your front axles is different than the weight on your rear axles, your tires are likely to erode unevenly. By moving your tires around and making sure they are aligned properly, you improve the functionality of your tires and reduce safety concerns.
See to the Outside of Your Car
This one is pretty straightforward, and a procedure that many of us don't see to happily. Keeping the outside of your car clean is a symbol of pride, but also helps to prevent your car's finish from getting damaged. Salt, ice, and detritus pose a real threat to your car's finish and underbelly. Depending on driving conditions, you should get your car cleaned to wash away any of these threats and to have protective seals applied.
Replacing your windshield wiper blades is a step to keeping your car in good condition that is less intuitive. You should replace your wiper blades between every six months to a year or as soon as you see a difference in driving visibility. The gradual decline in your windshield wipers performance might not be noticeable at first, but when you put new ones on, you'll be sure to notice the absence of squeaks, streaks, and smears from rain and snow! This will improve your driving visibility and help to keep you safe on the road.
Routine Maintenance Doesn't Need to Be a Chore
Keeping your car operating as good as new doesn't need to be a chore. If you remember to get a quick oil change, look up your car's individual service needs, check your tires, and see to the outside of your car periodically, you can rest easy that your car will be in top shape during its lifetime. With the help of our team of friendly and experienced mechanics at McCluskey Chevy, keeping your car as good as new becomes even easier. Stop in for a "quick oil change near me" without the need of an appointment, at any time during our extended service hours and we'll be happy to see to your car's needs!