Looking for the Best Commercial Van? We Can Help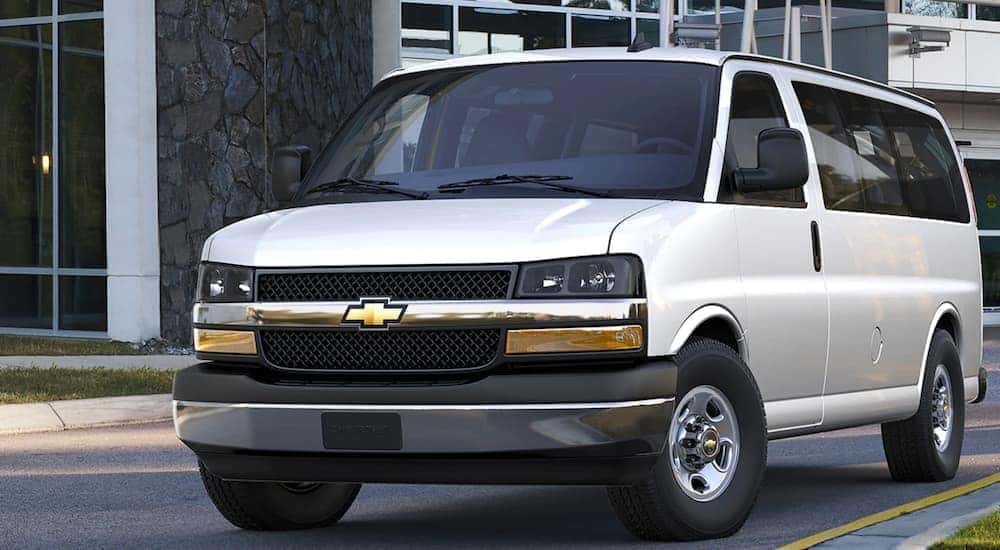 For a lot of businesses, transportation is a major part of what they do and is integral to staying afloat. Whether you have a large fleet of vehicles or one or two that you rely on, it doesn't make much difference; the right vehicle is important for your business. We love working with our commercial customers here at McCluskey Chevy, and they often come to us wondering, "What is the best commercial van for my business?" The answer to that question can depend a lot on what kind of company they have, their specific needs, and what additional features are necessary.
Although a lot of these questions are things you'll need to figure out for yourself, there are also some tips that can help you find the best commercial van for your business. Keep reading, and we'll tackle this problem as well as we can, and even if you don't get a precise answer by the end of this, you'll definitely have a good sense of where to go and what to look for. Just remember that a little research and time spent before making a purchase can save you money and frustration in the long run.
Type of Van – Cargo vs. Passenger
When you're trying to find the best commercial van for your business, the first thing you need to decide on is if you want a cargo van or a passenger van. These may sound similar, and in many ways they are, but there are some key differences between them that make a big difference. Fortunately, this is a pretty simple thing to figure out and really depends on the kind of business you have, and what or who you usually have in your van.
If you have a business in which you need to transport things, not people, in your commercial vehicle, then a cargo van is probably your best option. For example, if you own a small bakery and need to deliver bread, buns, or cookies to commercial customers, or you have a flower shop and deliver arrangements, or you deliver packages to customers, then you want a cargo van.
On the other hand, if you typically have people in your vehicle, rather than stuff, then a commercial passenger van is your best bet. For example, if you run a shuttle service to the airport, take people to and from a local hotel, or need to take a team of employees around town, then you want a passenger van.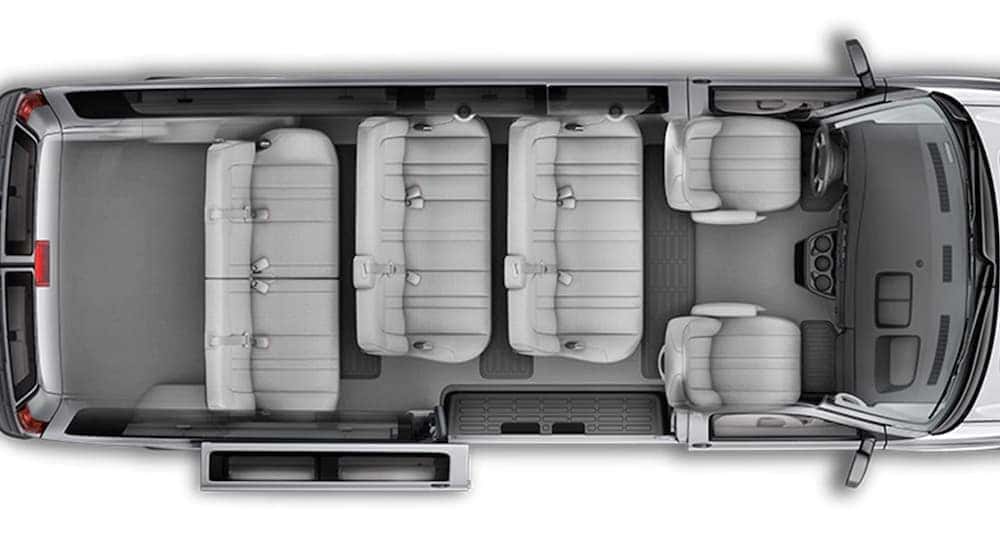 Choosing the Best Commercial Cargo Van
Now that you know which type of van you need, it can still be tricky to figure out which model is the best commercial van for you. With a commercial cargo van, you need to determine how much weight you typically have in your vehicle for transport. Different vans can handle different amounts of weight, so this is very important if you tend to deliver heavy objects.
You should also look at the size of different cargo vans to figure out which one is right for you, with the types of items you typically have loaded up in mind. For example, if you own a bakery and need to deliver bread to commercial customers, then the length of your van is probably not a huge factor. On the other hand, if you have a glass company and often need to take large window panes or storefront-window glass to locations, then you need to pick a van with enough space for your typical delivery.
With a cargo commercial van, it can also be helpful to consider your other needs and options available. For example, if you have supplies you often need to take with you, like tools, equipment, or ladders, then the best commercial van for you is one that can make your job easier. Something like the Chevy Express Cargo Van, for example, has a lot of available accessories for interior storage, attachments for holding ladders, and other options to make your job easier.
Choosing the Best Commercial Passenger Van
If you have determined that a passenger model is a better option for your business, then you have other factors to consider and decide on when picking the best commercial van for your business. Different vans can offer various features that make for a more comfortable ride and give your passengers more options while you transport them. A lot of this will depend on the types of passengers you have and what you want to offer them.
You want to look at the size of a commercial passenger van just like you would for a cargo van, but this time you should consider the space for your passengers. This means you need to look at the seating in the van, not only at what is standard but also what's available as an upgrade or option. For example, some passenger vans might have seating for one passenger in the front with you, then two rows of bench seats for eight total people, including the driver. Another model could give you more seating, like the Chevy Express Passenger Van, which has seating for up to 15 passengers when properly configured.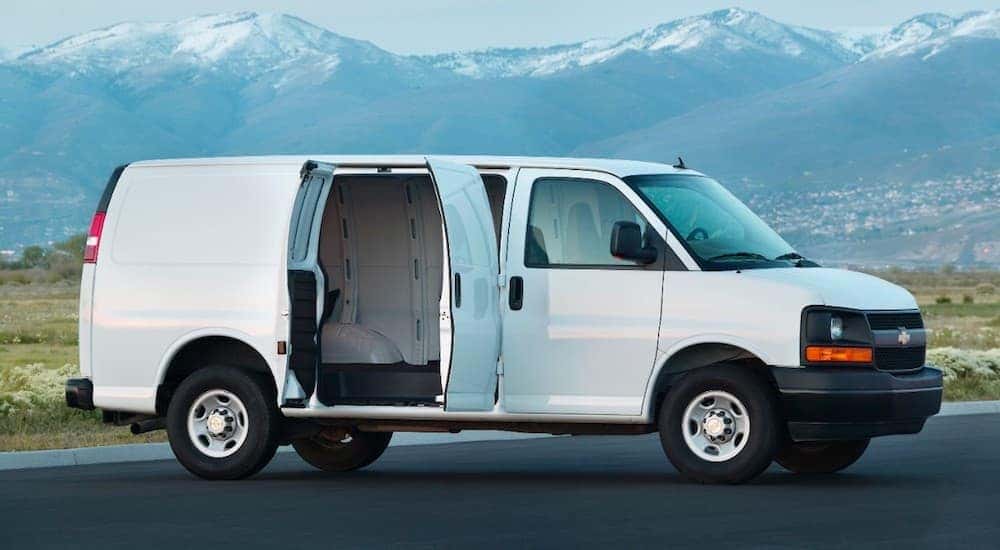 Once you have a sense of how much seating you need, then look at other features that can put you ahead compared to other businesses in your area. For example, look for a van that offers a smooth ride and has air conditioning to ensure your passengers are comfortable. Great safety features will keep your passengers safe while you're on the road. Finally, look for options like available 4G LTE Wi-Fi functionality, so you can offer this to your customers and make your business more attractive than your competitors.
Consider a Cutaway Commercial Van
Finally, if you need something different for your company than a standard cargo or passenger van, then think outside the box and go with an option that gives you a lot more freedom in your setup. A cutaway commercial van might be your best bet if you look at standard commercial vans and see that they are not the right size or lack features that you need for your business. With these vehicles, you are able to add your own body onto the frame, behind the cab, so you can customize them to meet your needs.
For example, something like the Chevy Express Cutaway Van gives you the great features and performance of the other Chevy Express vans, but with far greater flexibility due to the cutaway design and support for many different types of bodies. If you work in a trade and need a more complex option for transporting your tools and equipment than a standard cargo van, for example, then a cutaway can offer a great solution for you. Similarly, you can also choose a large cube or box truck body that gives you much more cargo capacity than any standard cargo van can provide.
There are also body options if you need a passenger vehicle, including larger shuttle or even school bus style bodies. This lets you customize your vehicle to really be the best commercial van for your company, no matter what your specific needs might be. If you're still not sure what's right for you, then call or visit us at McCluskey Chevy today and tell us about your business. We'll work with you to answer all of your questions and make sure you find the perfect commercial van for your needs.