McCluskey Chevrolet, Home of The Best Commercial Work Trucks in Cincinnati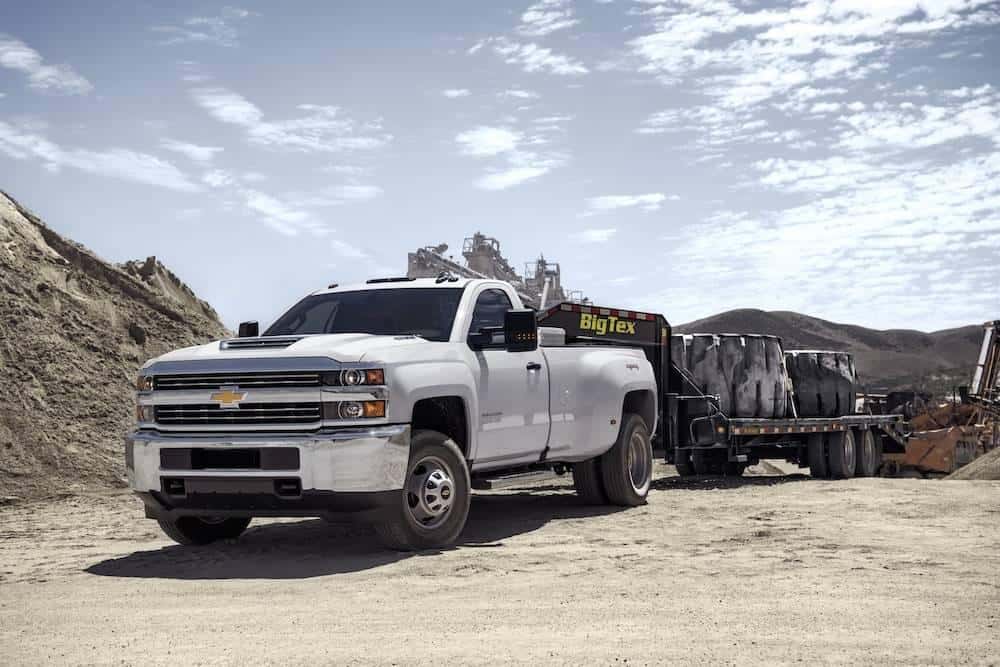 Are you the owner of a small business in the Cincinnati, Ohio area? Is your current fleet of vans, cars, or trucks not holding up to the specifications that your business needs to succeed? Are you growing as a company or intending to spread your products or services to a wider clientele? Are you in charge of purchasing vehicles for a government or municipal entity? It may be time to consider trading up into a new full-size commercial work truck to give you the cargo space, hauling capacity, and raw power that your business or organization needs to succeed
Chevy Trucks – At Your Service
The best way to trade up for a new full-size pickup truck for all of your commercial needs is to find the right model. At McCluskey Chevrolet, we offer the best 2017 vehicles on the market. We have several different full-size models to choose from that will easily accommodate your needs. Take a look below to see some of the best trucks and features offered by McCluskey's Chevrolet Commercial Truck department today.
2017 Chevrolet Colorado. The 2017 Chevrolet Colorado has been built specifically with you in mind. It's a mid-sized pickup truck, making it not quite as large as some of the other full-size pickups we offer. It is quite possibly, the little gem of the family. Its smaller size saves you on the price tag, (starting at only $20,000,), as well as in the long run with a fuel economy of 30 MPG HWY, (with available 2.8L Duramax Turbo Diesel 4-cylinder engine.) Available in three different engine choices, there is sure to be a Chevrolet Colorado that will be the right fit for your fleet. Never miss a client call with an OnStar 4g LTE with built-in Wi-Fi hotspot, including an OnStar Data Trial for 3 months or 3GB – whichever comes first.
2017 Chevrolet Silverado 1500. Starting at a very reasonable $27,785, the Silverado 1500 is a company man's best friend. Available wireless charging, as well as triple door seals to keep noisy construction sites at bay, gives your business a competitive advantage. Not convinced? The 2016 Silverado offers the best in class torque ratio at 305 lb-ft at 3,900 rpm, with the 4.3L V6 equipped, so you know you will be receiving great strength, as well as the durability and reliability that the Chevrolet brand is known to offer. Available 21 MPG HWY and the best V8 towing capacity in its class, with a 12,500-lbs optional towing capacity, the Chevrolet Silverado 1500, will support your every hauling need. Strength when you need it and fuel efficiency when you don't.
2017 Chevrolet Silverado 2500HD. With an optional 18,100-lbs max available towing capacity, the 2017 Silverado 2500HD has the power that raises the bar for sure. An available brand new Duramax 6.6L Turbo-Diesel V8 power plant covers your needs. A quiet yet comfortable ride surprises the competitors, with a class-leading 445 horsepower, along with an available 910 lb-ft of torque ratio, making sure that all of your businesses needs are covered. The Silverado 2500 starts at $33,610, and as always with Chevrolet, safety is a must. With the 2017 Chevrolet Silverado 2500HD, available forward collision alert, lane departure warning, front and rear park assist, and active rear tow camera, the Silverado has your back. Packed with tech to help your business succeed, Bluetooth connectivity, as well as available OnStar 4G LTE with built-in Wi-Fi hotspot and available Intellilink with an 8″ diagonal color touch screen, this Silverado has everything you will need and more.
The 2017 Chevrolet Silverado 2500HD has also been named the "Most dependable large heavy duty pickup truck, three years in a row by J.D. Power & Associates.
2017 Chevrolet Silverado 3500 HD is strength in a smart package. This is the big boy, ladies and gentlemen, and for a price tag of just under $35,000 starting MSRP, this truck doesn't play around. The Chevrolet Silverado 3500 HD can give you an impressive 910 lb-ft of torque, with a max payload of 7,153 and a 23,300-lbs towing capacity when equipped with the all new 6.6L Turbo-Diesel V8 power plant. A class leading 445 horsepower complements a high strength steel bed and an available 5-year/100,000-mile powertrain limited warranty, makes the 2017 Chevrolet Silverado 3500HD a no messing around all work truck perfect for qualified fleet buyers. Available OnStar 4GLTE with a built-in Wi-Fi Hotspot keeps you always connected. An available Chevrolet MyLink will keep you connected through an optional 8-inch diagonal color touch screen that syncs with your smartphone to enable voice commands. Multiple USB ports are for mobile device charging convenience.
2017 Chevrolet Silverado Chassis Cab tops out with a max payload of over 3.5 tons, plenty to fulfill all of your haulings, moving, or delivery needs. Available with the Vortec 6.0L V8 which delivers 380 horsepower, or the Duramax 6.6L Turbo Diesel V8 B20-Diesel, and 6-speed automatic heavy-duty transmission to keep your business moving. A four wheel disk anti-lock brake system is sure to stop you while an exhaust brake and powertrain grade braking slows your heavy payload on a steep grade descent. A/C, Cruise, and an optional 7" diagonal color display keep you feeling comfortable on long road trips. Also, an available snow plow prep package will keep your company busy all year round. An available 5-year/60k miles powertrain warranty offers peace of mind to any business owner.
Chevrolet Business Elite Program
Chevrolet Fleet dealers offer special incentives, options, and choices for your business or government needs. Applying for a fleet number for your business is easy. Chevrolet gives many extra benefits to its fleet customers. One of the added benefits of becoming a fleet customer is having a fleet account executive at your service to help manage and maintain you and your fleet's specific needs.
An additional fleet member benefit is, the Chevrolet remarketing program. This is a bonus offered only to Chevrolet fleet customers which help's businesses resell their used fleet vehicles.
Business Elite Dealers – At Your Service, Available to Address All Your Vehicle's Needs
Small business, commercial, and municipal needs are met. On your budget. Government fleets are open to the municipal sales program and the municipal lease purchase program. Chevrolet's bid assistance offers plans and goals related to vehicles and budget needs for state, county or local governments, school districts or sheriff's departments, certain government owned and operated utilities and government-owned railroads. To qualify for this program simply contact your local Chevrolet Business Elite dealership for more information. The easy process of creating, publishing, and obtaining valuable pricing for your government work trucks for sale in Cincinnati can be done at your local Chevrolet dealer. A Business Elite dealer near you will be happy to help with any light duty truck needs.
Police, fire and rescue, ambulance, school or shuttle buses, grounds maintenance, snow removal or forestry services are just a few reasons Chevrolet may be able to help your government or municipal entity. Trucks, vans, and cars can be specially fitted, modified, or upgraded to suit just about any application or need. Stop by or call a local Chevrolet Business Elite dealer for more information.