Picking Your Used Car: Cincinnati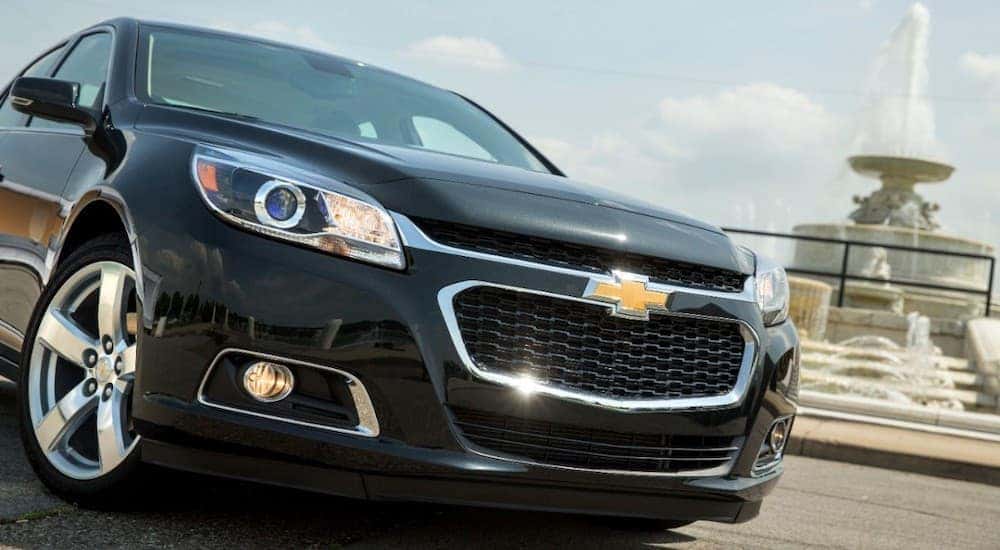 Cincinnati, and Ohio in general, is a unique area with a famously wide variety of people with unique needs and interests. When looking for used cars for sale, Cincinnati, OH buyers need a place with an inventory that matches that level of variety. That's where we, at McCluskey Chevy, come in. While we specialize in Chevrolet, we also offer a variety of different brands to ensure that our customers receive the right vehicle for them. Sometimes it can be hard to tell what best suits your needs, but we're willing to work with you to find the best fit. Here are a few examples of the different brands and models we carry for you.
Chevy
Let's start with the obvious choice in Chevy. Over the past decade, Chevy has made leaps and bounds to ensure every model available meets the needs of any buyer. You won't have to look too hard to find a Chevy that'll connect wirelessly to your phone. They've also improved the economy on all their engines giving Chevy some of the best gas mileage available, even in larger models.
The Cruze and the Malibu are prime examples of these gas savers. The Cruze, a more compact four-door sedan with a turbo engine, can average around forty highway miles per gallon depending on the year. If you're looking for something with a little more legroom, the Malibu has been averaging around the comparable high thirties for the same stretch of time.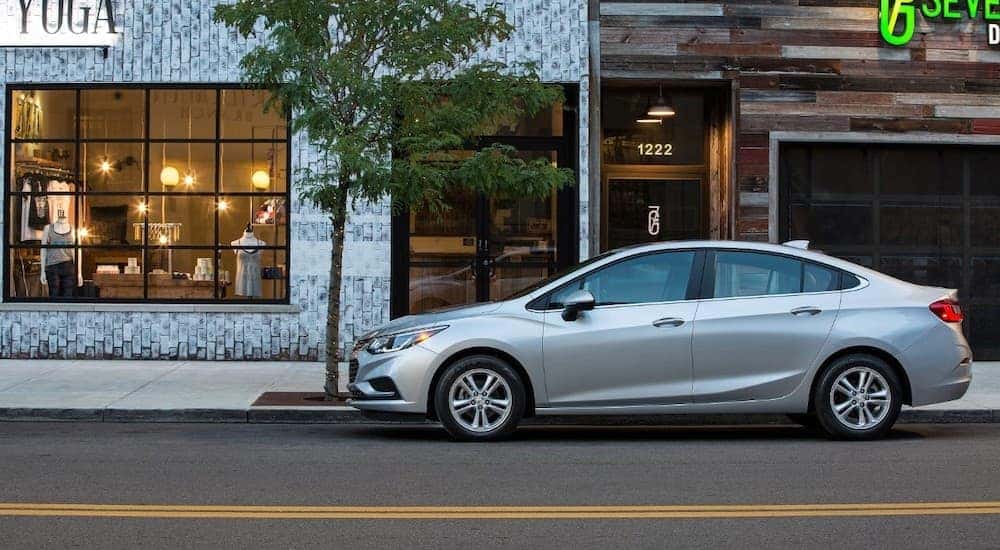 Chevy doesn't just focus on the commuter, though, as they also have a range of trucks and SUVs for those who need their vehicles to do a little more than just get them around. One of the more popular Chevy Trucks is the Silverado. While you're likely not going to find the gas mileage quite as ideal as the above sedans, Silverados are some of the more economical pickups available from any brand. More importantly, it's from one of the most trusted makes on the market. The Silverados towing and hauling capabilities are more than ample to finish any task. For those who have space needs that revolve around more everyday tasks, you may consider The Equinox. A popular choice for families and commuters alike, this mid-sized SUV offers plenty of cargo and passenger space while still averaging around 30 highway miles per gallon depending on the model year.
Ford
Ford is another popular choice for people in the used car market. Like Chevy, Ford has a wide variety of different models for you to choose from. Also, like Chevy, Ford made a big push in the past decade to ensure even the more basic packages for each model came with the modern essentials. Most Fords can be found with their Sync infotainment systems. Ford also went the extra mile and brought in some of the Aston Martin designers, part of the Ford Motor Company, to add a little more style to the Fords of the Twenty-teens.
While Ford has started on plans to phase out their sedans, many of the recent models are still available and for great deals. The Fusion is one of those sedans. A commuter car with class, Fusions average around 30 highway mpg depending on the year thanks to the EcoBoost Engines found in most recent Fords. If you're willing to sacrifice some rear legroom for better mileage, the slightly more compact Focus can be found with up to forty highway miles per gallon. Focuses can also be found in their hatchback version as well, trading off a little cargo room.
As alluded to before, Ford is focusing more on their popular SUVs in the years to come and discontinuing almost all their cars. This is a great indicator that used Ford SUVs are a great choice when looking to buy. One of their more popular versions is the Escape, a compact SUV with enough room for everybody and everything you need to move around. Escapes with EcoBoost can get around 30 highway miles per gallon, which can be a godsend for a busy lifestyle. Rear seats can fold down to maximize trunk space or stay upright to give you room for five total passengers including the driver. For those looking for a truck, look no farther than at the F-150. The F-150 is nearly synonymous with the term pickup truck, being one of the top choices to pickup drivers for generations. Models can get around the low to mid-twenties on the highway for gas mileage, and are designed for large towing and hauling workloads.
Nissan
Over the same amount of time we've been discussing the past two brands, Nissan has built a sturdy reputation and dedicated following of its own. While being the only foreign automaker on this list, they have plenty to offer anyone looking for multiple options. Competing with American automakers is no small task, but Nissan has risen to meet the challenge by providing a sample of sedans, SUVs, and pickup trucks. Like their previously discussed counterparts, many more recent Nissans can be found with technological comforts like bluetooth connectivity that can be operated via steering wheel and in some cases can be found with a backup camera.
One of the more popular Nissan models is the Altima, a mid-sized four-door sedan. The Altimas are one of the most competitive fuel economies to Chevy by getting around forty highway miles per gallon over the last few model years. This obviously makes it a perfect commuter vehicle, especially for those traveling very frequently or frequently far. Interior and exterior styling tend to lean towards the minimal style, but that only further justifies the attention to function Nissan takes with its vehicles. Nissan also offers a compact model with the Sentra, offering similar gas mileage in a tighter bundle.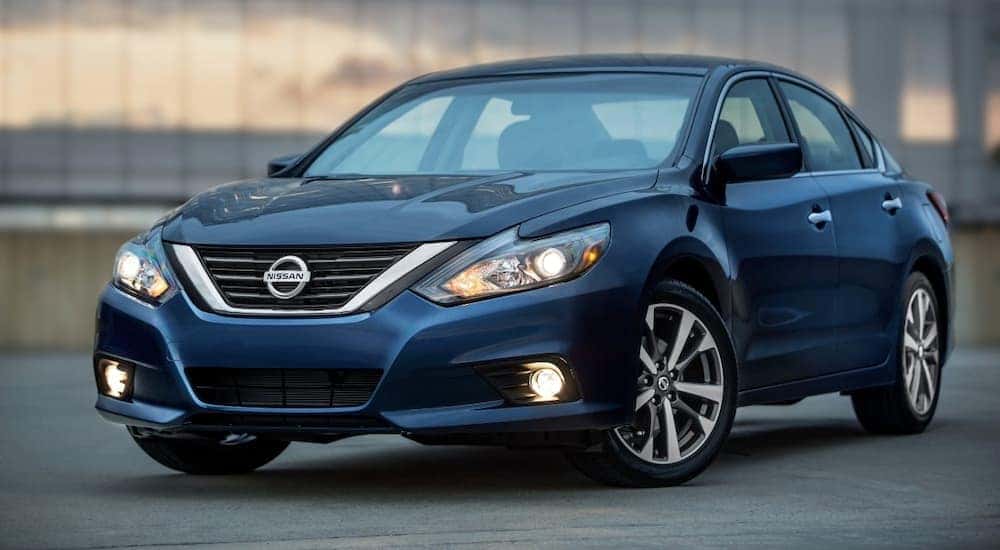 The Rogue is Nissan's popular compact sport utility vehicle. In addition to the added cargo and passenger space provided in an SUV the Rogue can commonly be found with all-wheel drive, a great feature in the snowy winters of Cincinnati. Continuing the trend of Nissan's great fuel economy, Rogues receive an average of 32 highway miles per gallon on the highway.
For those looking for a pickup option, Nissan offers the Frontier. Frontiers run a bit on the smaller side when compared to other pickups, often having split-folding rear seats to get the maximum occupancy up to four, but they're still designed for a full workload. While not quite as fuel-efficient as the other models, Frontiers still have a gas average on the highway around the mid-twenties. Frontiers can be found in rear-wheel and all-wheel drive.
Picking out a used car can be overwhelming at times, especially when faced with all the different options, brands, styles, etc. that are available for sale. Living and working in and around Cincinnati adds its own unique hurdles to the average job or commute, such as traveling Ohio's highways all day long to working on the many construction projects. Luckily, it's easy to find the best brands at the best prices from people who want to help put you in the best-used vehicle for you. While we'd love your next car to be a Chevy, we have plenty of other options for you as well, and we're ready to show them to you.