Six Features You Should Expect in a Used Car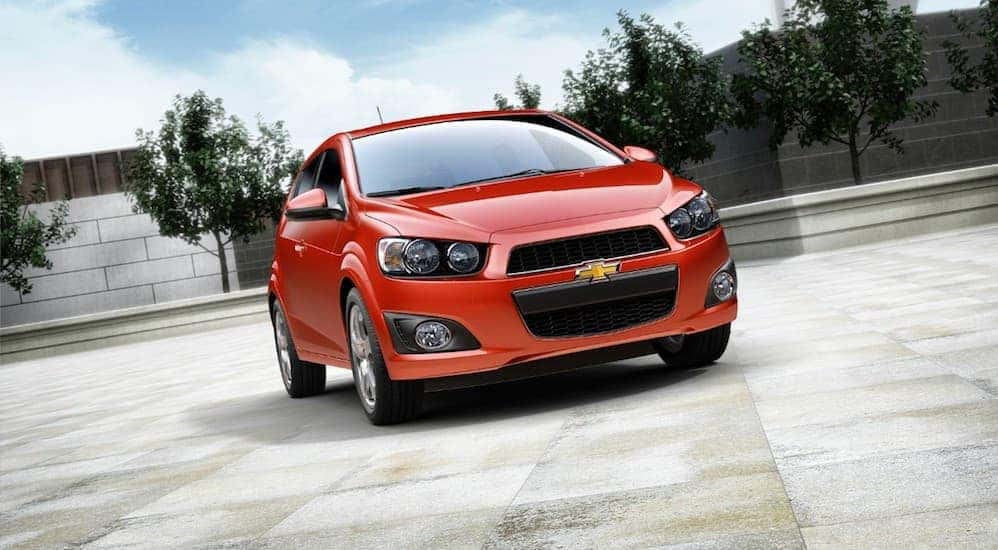 You're not supposed to judge a book by its cover, right? Similarly, you shouldn't be judging a vehicle based on its model year. If you've been hunting around for a used vehicle that's priced under $10k, you may be assuming that the car will be devoid of any modern-day features.
As you're about to learn, that isn't the case. You should expect a long list of desirable features included in your inexpensive used ride, including infotainment systems, sunroofs, and an array of safety functions.
We've listed those random amenities below. If you've been preparing your impending trip to a dealership in pursuit of that cheap used car, check out which features you can expect.
Infotainment System
Nowadays, just about every vehicle is equipped with some kind of infotainment system. However, several years ago, this wasn't the case, meaning many used-car buyers are often forced to settle for an outdated cassette/CD player. If you're seeking just a little bit of technology, then this obviously wouldn't be ideal.
However, your budget shouldn't ruin your ability to get your hands on this relatively-popular technological feature. Plenty of recent-year vehicles include a touchscreen unit, which means you'll have access to a number of applications right at your fingertip.
Take the 2016 Ford Focus, for instance. The vehicle isn't even half-a-decade old, but some high-mileage versions of the model are selling below $10,000. The majority of these vehicles are equipped with the brand's SYNC Communications & Entertainment System, meaning you can take advantage of all the functions that come via this beloved technology. Whether you're looking for a navigation unit or smartphone compatibility, you'll be able to do so via your inexpensive car purchase.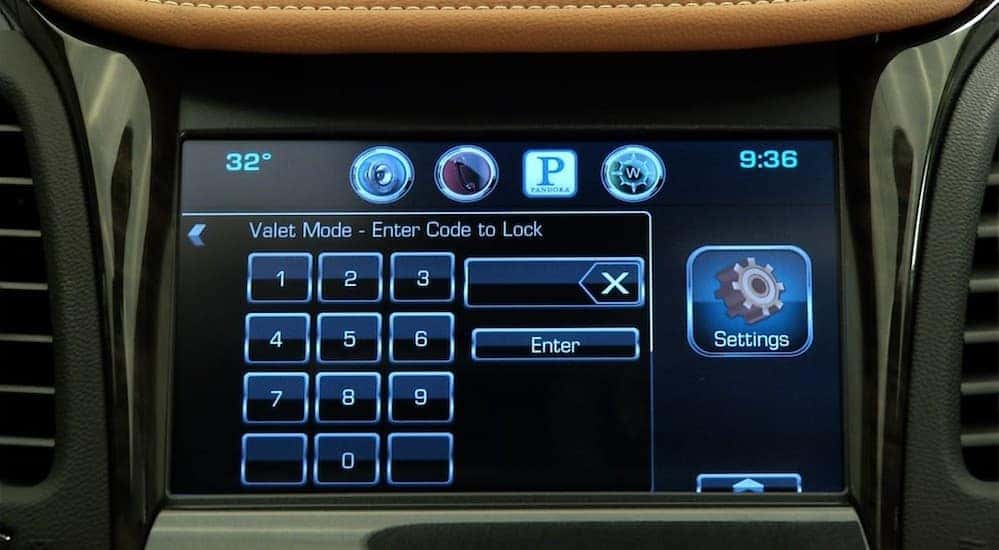 Knee Airbag
Hear us out on this one. Airbags have naturally been around for decades and decades. However, even nowadays, drivers and passengers find that these pseudo-cushions only really protect the torso and their head. As a result, the lower half of your body is left vulnerable during any collision. Even if your vehicle is built of high-strength steel, this is still a safety issue.
Engineers have subtlety been including knee airbags in their vehicles for years, especially more recently. If you've been hunting for an inexpensive used car, you've probably assumed that these safety functions won't be included in your impending purchase.
Fortunately, that isn't necessarily the case. You can still find these popular airbags included in most vehicles that were produced after 2015. These vehicles are still relatively young, and if their odometer has a high-enough number, you should be able to secure the ride for a great price.
Backup Camera
Speaking of safety, a backup camera is one of the most useful amenities that can be included in your car. Nowadays, some drivers view this function as a necessity, similar to seat belts and speakers. Fortunately, you'll be happy to hear that this feature isn't as new as you may think.
Vehicles produced as the early 2000s could be purchased with backup cameras. While the accompanying touchscreen and/or infotainment system, or in-mirror design, may feel a bit outdated, you'll still have access to one of the most-helpful safety functions in the industry.
If you find that you often have difficulties maneuvering around a parking lot, you can rest easy knowing that the backup camera has your back. This feature should drastically reduce fender benders, meaning you can keep your recent-purchase in one piece.
Fuel Efficiency
Fuel efficiency isn't a feature, per se. However, just because you're opting for an inexpensive vehicle, it shouldn't mean you'll also get reduced fuel efficiency specs. Assuming the previous driver took proper care of their ride, you can anticipate solid efficiency ratings from a vehicle that's pushing five- or six-years-old.
Take the 2014 Chevy Cruze, for instance. This vehicle has been on the road for more than half-a-decade and, assuming you find one priced below $10,000, you can expect the odometer to have more than 100,000 miles on it. Even then, the fuel efficiency should still be more than sufficient.
The Cruze's base 1.8-liter I4 engine isn't all that powerful, but the vehicle should still be able to deliver on the 35 mpg highway fuel efficiency. This number is an equally-impressive 22/25 mpg in the city, making it one of the best choices for those on a budget.
We're not saying that you have to go run out and find a 2014 Chevy Cruze, but it is definitely worth checking one out if you're looking for a sedan. This specific vehicle is meant as an example to show how aging vehicles can still deliver optimal fuel economy specs.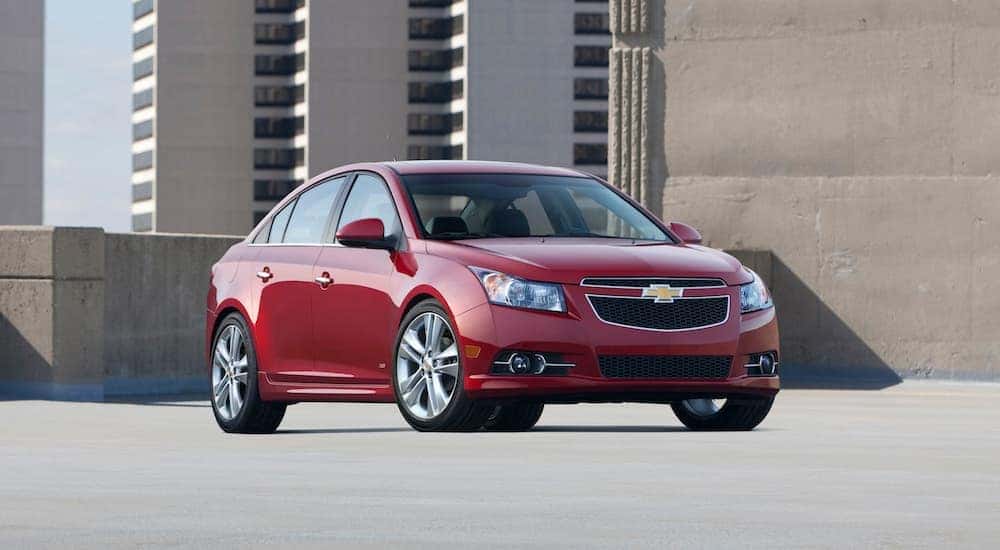 Sunroof
Once upon a time, sunroofs were reserved for the more luxurious vehicles on the road. Nowadays, this appreciated feature is included in just about every vehicle. You should be able to secure this amenity on your inexpensive used purchase with relative ease.
Take the 2013 Chrysler 200, for instance. The vehicle is not only equipped with a sunroof but also includes power express open/close functions. That means it's incredibly easy to let that fresh air flood into your interior. You can expect both top-notch comfort and top-notch convenience.
So, f you're looking for the utmost comfort (and a sprinkle of luxury), then you can surely expect that from your used car. You should be able to get a sunroof "thrown in" for no extra cost!
Defroster
While we've solely focused on used vehicles throughout this article, the majority of the cars mentioned aren't even pushing 10-years-old. Well, you can opt for an inexpensive, older vehicle and still expect some much-appreciated features!
For instance, the 2007 Chevy Cobalt (which is already as sporty as you could expect from an "older" vehicle) includes a rear window defroster. This feature will be especially useful during those winter months, as drivers won't have to scrape that pesky ice from the rear of their vehicle. Instead, they can rely on their car to clear that frost or ice and provide them with an ideal vantage point of the road.
This model is equipped with several features that are often associated with newer models. The outside temperature gauge, split-folding rear seats, and massive 15-inch wheels are features that are generally synonymous with current-year vehicles.
Throughout this entire article, we've been discussing vehicles that are generally priced under 10k. If you've ever gone through the used-car-buying process, you already understand that this task is easier said than done. Few dealerships are stocked with affordable used options, and those existing options usually aren't worth pursuing in the first place.
That isn't the case if you head down to McCluskey Chevy in Cincinnati, Ohio. The dealership's well-known for its selection of used cars, but the reputable seller is also stocked with a number of affordable options. Therefore, instead of aimlessly searching for a used car priced under $10k, you can surely find an option that fits your wants and needs at McCluskey.
Besides having a deep inventory of affordable used vehicles, McCluskey also offers many services that will come in handy before and after you've made your purchase. Add in their flexible hours and easy-to-find location, and you're eyeing an unmatched buying experience.
If you're ready to find your next used ride, then head on down to McCluskey Chevy today.