The 2017 Chevy Bolt: So Much More Than Just Electric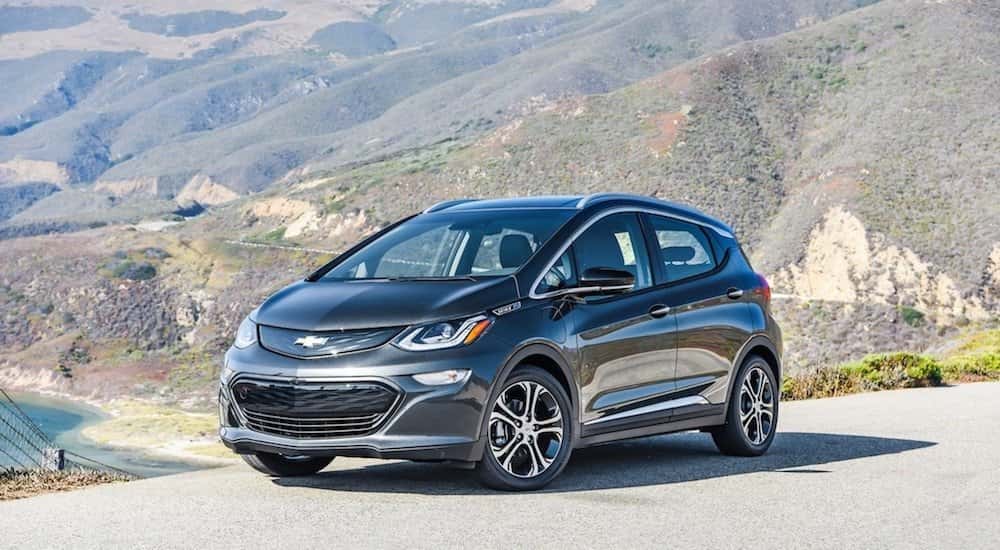 It's time to talk electric. After all, everyone else is. Electric cars have cruised out of being futuristic concept cars and driven right into the American consciousness as the new commuter's car, a fact highlighted by Motor Trend's pick for the 2017 Car of the Year: The Chevy Bolt EV.
All-electric and all new for 2017, the Chevy Bolt changed the electric car game by opening up the playing field to those whose wallets can't extend to Tesla levels. Rolling quietly into Chevy dealers in KY at a starting MSRP of $37,495, the Bolt qualifies for federal tax credits that help drop the price down to $29,995. So the Bolt is still not cheap by any means, but considering a Tesla will currently set you back about $70 grand, it's certainly a more affordable option for more people.
So why should you consider going electric when gas prices are currently so low? That's a good question, and one that is troubling the industry. However, think long-term: gas prices will rise – they always do. And really, the Bolt is more than just an electric car. You should consider the Bolt not just because it's electric and environmentally-friendly, but because it's electric and environmentally-friendly in addition to being just a really great car with fantastic features.
Design & Features
The Bolt could be described as a compact crossover design, mainly due to its height. It comes in two trim levels: the base LT or the Bolt Premier, and really the base LT rivals most base models of any car manufacturer – electric or not. The base LT comes loaded with a 10.2-inch touch screen, a rearview camera, satellite radio, a Wi-FI hotspot, Apple CarPlay, Android Auto and Bluetooth capability, two USB ports, and voice recognition. Again, that's just on the base model. Impressive, right?
If that isn't enough for your base model ride, you can add the Comfort and Convenience package to get heated front seats, heated leather steering wheel, and auto dimming rearview mirror. Building off of the Comfort and Convenience package, you can then include the Driver Confidence package to add in Rear Cross-Traffic Alert, Rear Parking Assist and Side Blind Zone Alert with Lane Change Alert technology. Unfortunately, you can't get the Driver Confidence package without the Comfort and Convenience package, so if you want to up your safety features, you're going to have to spend an additional $1050 to get both packages.
If you choose to upgrade to the Premier (starting MSRP $40,905 before tax credits), you'll shed the tree-hugger image real fast with your leather upholstery. The Premier also gets you heated front and rear seats and 360 degree parking camera technology. All of the features of the Driver Confidence package can be found in the Bolt Premier, but you can also opt to add in the Driver Confidence II package to get Forward Collision Alert, Low Speed Forward Automatic Braking, Front Pedestrian Braking, IntelliBeam headlamps, Following Distance Indicator and Lane Keep Assist with Lane Departure Warning. Chevy pulls a sneaky one again though, and won't let you buy the $495 Confidence II package without purchasing the $485 Infotainment package first. So you're going to have to be okay with having 7 Bose premium speakers and a subwoofer, 2 USB charging ports for rear passengers, and wireless charging capability. Really, not a bad deal for just under a thousand dollars.
Aside from the luxuries that come both standard and as options, the Bolt is just a comfortable ride even without the creature comforts. There's ample room for all passengers – actually, unlike many hatchbacks and smaller compact cars, there's no sense of being crammed into the back seats at all, since the Bolt offers a generous 36.5 inches of legroom. And while compared to SUVs the cargo space isn't much to brag about, when you compare the Bolt to other hatchbacks, and especially compare it to other hybrids and electrics, the cargo room is notable: 16.9 cubic feet with the back seats upright, and 56.6 cubic feet with the back seats folded.
Performance
So yes, there are many reasons to consider the Bolt aside from the fact it's electric, but it would be ridiculous not to take that into account. Especially because the Bolt gets over 230 miles of range off one charge. Read that again: 230 miles of range off one charge. That's seriously compelling. One full charge takes about two hours, and if you don't have the time for that, give the Bolt a quick thirty minutes and you'll get 90 miles out of it. The other speedy thing about the Bolt? It goes 0-60 in 6.5 seconds powered by its 200-horsepower electric motor and 60-kWh lithium-ion battery pack. Good luck finding a lot of regular (or hybrid, or electric) cars that can boast that type of acceleration.
Safety
Here's where some buyers may stop in their tracks: the Chevy Bolt has not yet been tested by the Insurance Institute for Highway Safety or the National Highway Traffic Safety Administration. However, we do know that the Chevy Bolt comes standard with ten airbags, advanced high-strength steel comprises its framework, and you have the option of adding a slew of advanced safety technology to the ride. However, if ratings and crash data are important to you, you might have to wait a while for findings to be released.
Bolt or Bust
Hopefully by now you've seen there is so much more to the 2017 Chevy Bolt than just being electric – although really, that's pretty awesome in and of itself. But the lengths Chevy has gone to make an affordable, fun and well-equipped base model electric vehicle shows that driving electric doesn't mean sacrificing performance or comfort. In fact, I'd make the argument that you get substantially more for your buck driving the base-model Bolt…and that's before you factor in money saved fueling up. Speaking of which, if you decide to make the electric slide over to the Chevy Bolt, be sure to download the myChevrolet App to find convenient charging stations near you.