The Best 9 National and State Parks in Ohio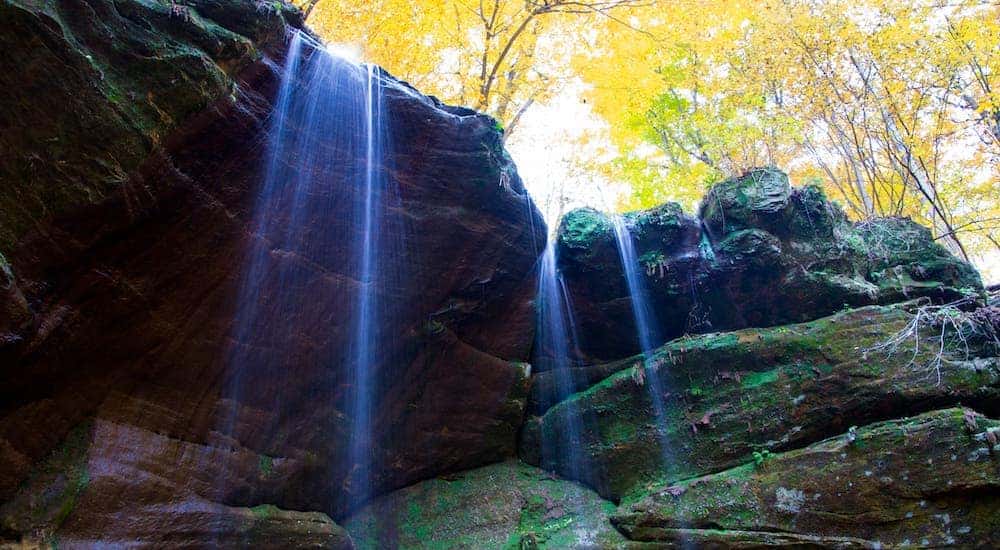 Due to health concerns, please be aware that locations may not be open at this time. Be sure to check the business website for further information and updates.
After spending some time purchasing a new truck or SUV at McCluskey Chevy, traveling to some local state parks could be a fun way to test out your new ride. And as the weather gets warmer, lots of us have been searching for ways to enjoy some free time outdoors anyway. Ohio has been opening some of its National and State Parks for the season, and it is time to go explore them. In some parks, you can go hiking or exploring, while others allow visitors to stay overnight for some camping fun. Ohio has lots of beautiful places to get outside and enjoy the fresh air and sunshine. Below is a list of the best nine parks. So read through the list, pick your favorite, and pack up your new vehicle to go explore!
#1: Hopewell Culture National Historical Park
The history of Hopewell Culture National Historical Park located in south-central Ohio remains uncertain, with a great deal of conjecture about the origin of earthen mounds arranged in geometric patterns, many of which are filled with artifacts of what has been named the Hopewell culture. Five areas within the larger park of nearly 1,800 acres are called the Mound City Group, Hopeton Earthworks, Hopewell Mound Group, Seip Earthworks, and High Bank Works. Each group of mounds has its own distinct set of structures, many of which are aligned to patterns of the sun, stars, and seasons.
Visitors will be pleased that there are no fees to enter the open sites of the park, and there are many trails to walk along the grounds. Also important to note, there are no camping facilities in this park, but several nearby state parks could accommodate visitors who make reservations in advance.
Location:
16062 State Route 104
Chillicothe, OH 45601
#2: Mohican State Park
For anyone seeking a park with plenty of outdoor recreation and camping accommodations, Mohican State Park may be the perfect place to get away. The northeast region of Ohio is home to this magnificent area that features Clearfork Gorge, which was carved over time by the Mohican River, and now stands at 1,000 feet wide and 300 feet deep in places. Aside from this marvel of nature, visitors can enjoy hiking through the hemlock forests, go fishing, or enjoy canoeing or kayaking. Camping is available for anything from luxurious cabins to primitive tent sites, but visitors must call ahead to book reservations.
Location:
3116 State Route 3
Loudonville, Ohio 44842
#3: John Bryan State Park
For gorge lovers in western Ohio, John Bryan State Park offers another site of scenic beauty. The Little Miami River cuts through the natural limestone, which makes up the 130-foot deep gorge to reveal layers of bedrock that once were beneath the sea. Rock formations can also be found throughout the park, as well as small waterfalls in the forest. Visitors can hike, fish, and canoe at this park, as well as camp. Sites for camping are mainly for tents, with a few electric sites. Call ahead for reservations, as only those with previous arrangements can stay at the park.
Location:
3790 Ohio 370
Yellow Springs, Ohio 45387
#4: Salt Fork State Park
At this state park, over 17,000 acres of land make up the forested landscape of new-growth trees and meadows, which thread between hills, valleys, and streams. Salt Fork is Ohio's largest state park, and it has a long list of offerings for those who seek outdoor recreation. Bird watchers may enjoy searching for the wide variety of songbirds which live in the forests and meadows; fisherman can try their luck in the streams and open water; water lovers can have fun with boat rentals and two marinas; golfers can get out to the 18-hole course in the park; campers have everything from cabins to primitive tent sites available if reservations are made in advance.
Location:
14755 Cadiz Rd
Lore City, Ohio 43755
#5: Beaver Creek State Park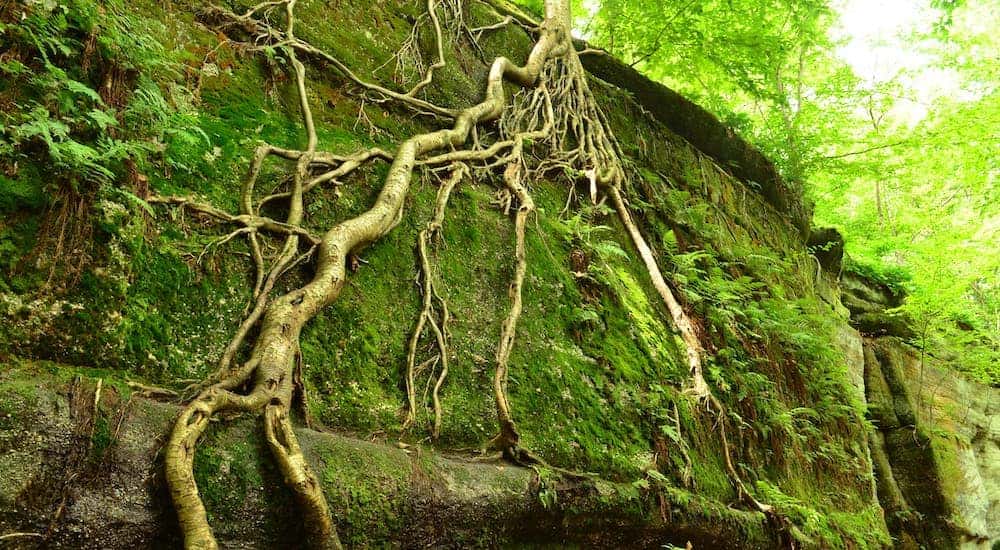 Mountain lovers can discover the beauty of the Appalachian Mountains at Beaver Creek State Park, named for the Little Beaver Creek, which runs through the region. Forests will reveal to those who visit a "wild and scenic river," which carved through the sandstone to create a gorge studded with rapids and rock cliffs. This is considered one of the most scenic of all the state parks in Ohio, and the surrounding area offers opportunities to learn the history of European settlers. Activities for hikers, trails for horseback riding, boating, fishing, and hunting are all available within this treasured park. Camping accommodations are also available with reservations made in advance.
Location:
12021 Echo Dell Rd
East Liverpool, Ohio 43920-8786
#6: Nelson-Kennedy Ledges State Park
For those who enjoy bouldering or exploring unique rock formations, Nelson-Kennedy Ledges State Park is a day-use park known for its hiking and picnicking. Three trails—Devil's Icebox, Indian Pass, and Old Maid's Kitchen—weave through the massive cliffs and boulders which make up the terrain of the popular outdoor recreation area. Such places can be found in other northern locales and often leave visitors with a sense of walking back in time as one walks through ferns, moss, and other plant life, which adds to a sense of ages past.
Location:
2440 OH-282
Garrettsville, Ohio 44231
#7: West Branch State Park
If fishing is your favorite pastime, West Branch State Park is probably your best choice. The large lake ensconces several coves where a boat can sit in quiet waters to encourage the fish to bite. Bogs dot the landscape made up of plenty of wetlands, though there are also meadows and woodland, which provide plenty of opportunity for hiking, horseback riding, and camping. As with many other places, reservations are required to camp.
Location:
5570 Esworthy Rd
Ravenna, Ohio 44266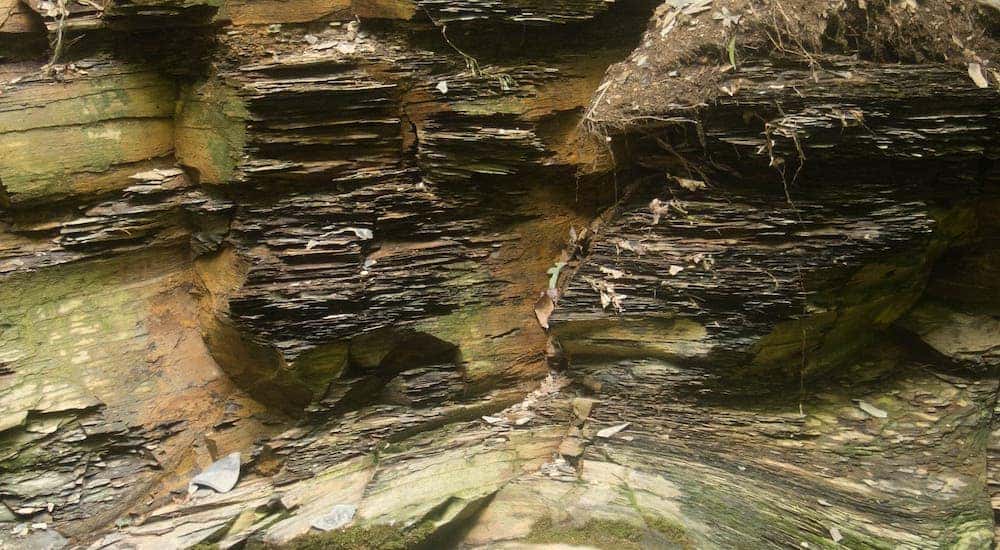 #8: Delaware State Park
Named for the Native Americans who once thrived here, Delaware State Park is made up of forests, meadows, and a reservoir rich with wildlife. Amid the fertile farmlands in which this park is nestled, it may surprise visitors to learn that the bed of limestone beneath the park has served as a quarry for many years, and was even used to construct the capitol building in Columbus, Ohio. Visitors to the park can enjoy all the expected outdoor recreation in fishing, hunting, hiking, and camping amongst the region's lush plant and animal life.
Location:
5202 U.S. Highway 23 N
Delaware, Ohio 43015
#9: Cuyahoga Valley National Park
Located in the northern region of Ohio just south of Cleveland, Cuyahoga Valley National Park invites visitors to spend their days viewing sights like the Beaver Marsh, Brandywine Falls, the Ledges, Blue Hen Falls, and the Ohio and Erie Canal Towpath Trail. Though this park does not have camping facilities, nearby West Branch State Park may have available camping for those who wish to spend time in the region.
Even though camping is not available, this park is worth visiting with its great deal of spectacular views. Brandywine Falls is a 60-foot waterfall, which is one of the most popular with visitors, and the Towpath Trail is an excellent place to take a bike ride or walk with a stroller or wheelchair. As the season for outdoor fun gets underway, parks like Cuyahoga are perfect for a trip with the family.
Location:
15610 Vaughn Road
Brecksville, OH 44141