The Best GM Parts Around Cincinnati, OH

Like most anything, vehicle ownership comes with its benefits, as well as its fair share of drawbacks. Owning a vehicle allows for quick and convenient travel that is often overlooked or taken for granted by some people. This travel gives a person a lot of personal freedom that they otherwise would not have. However, vehicles also give their owners a lot of responsibilities that they would otherwise not have. If you want your vehicle to last, you must be responsible for your vehicle and actively take care of it. This includes performing regular maintenance. Vehicles are very complex pieces of machinery, with many different moving parts. These parts are prone to wear and tear and will break-down from time to time. When this happens, they must be replaced, which can be a timely and costly situation. Automotive parts can be quite expensive, and then you must pay a mechanic who can install them (unless you are able to do this yourself). It is always advised to get the best quality available when it comes to selecting automotive parts. While it is more money up front, not having to replace them again prematurely is arguably more than enough value. When it comes to GM vehicles, there are no better parts to use than genuine GM parts, as they are designed specifically for GM vehicles by GM themselves. While many people think of GMC when they hear GM, there are actually quite a large number of brands that all fall under the General Motors family, and would benefit from utilizing genuine GM parts. For genuine GM parts in Cincinnati and the surrounding area, there is no better place to go than McCluskey Chevrolet.
What is GM?
General Motors (GM) is a large American multinational corporation that designs, manufactures, and sells vehicles along with vehicle parts. They are the largest American vehicle distributor in the country, and one of the largest on the entire planet, and are currently listed at number 10 on the fortune 500 list of largest American companies. It was originally founded in 1908 by William C. Durant as a holdings company. Durant had owned a carriage company for a number of years prior to starting GM, so he already had a bit of experience when it came to operating a company that produced vehicles. The day after it was founded, GM bought the Buick Motor Company and rapidly purchased over 20 other companies including Cadillac, Oldsmobile, and Oakland (now known as Pontiac). By 1910, Durant was forced out of his position by shareholders after a deal to purchase the Ford Motor Company fell through. Durant then went and co-founded the Chevrolet Motor Company, which after being successful for a few years was then purchased by General Motors in 1918.
GM continued to grow and overtook Ford in sales by the end of the 1920s. During World War II, GM supplied the Allied Forces with vast amounts of weapons, vehicles, and aircraft. However, its production interests were split by the two sides, as the American, Canadian, and British subsidiaries served the Allied interests, while their German subsidiary, Adam Opal AG, had actually served the Axis interests, as all American-owned companies were seized by the German government prior to the outbreak of the conflict. This created quite a bit of controversy for GM at the time, as they claimed they had lost all control of their German counterpart, but also were awarded reparations from the US government for the damage that was sustained to these German plants.
Which Brands are GM Vehicles?
While GM is one company, they actually possess a massive amount of subsidiaries, which can get a little confusing due to the different brand names and what not. GM itself only has one in-house brand that is entirely made by GM, which is named GMC. They specialize in making upmarket trucks and utility vehicles. They sell commercial and pickup trucks, as well as buses, vans, military vehicles, and SUVs. GM owns Chevrolet, which was founded in part by Durant after he was outed from the company. He used it to pull a reverse-merger of sorts, and was able to acquire a controlling share of GM, and reinstated himself as the president of the company. After he was removed for the final time, the new company president decided that Chevrolet would become GM's volume leader, and began shifting the focus of Chevrolet to mainstream vehicles. This led to GM overtaking Ford in sales in 1929. Chevrolet produces a large number of vehicles, from pickup trucks and SUVs to small compacts and sports cars. With such a large offering from Chevrolet, one would think that this would cannibalize sales from GM's other brands; however, Chevrolet makes their vehicles with accessibility and affordability in mind, so they do not offer quite as many features or luxuries as the other brands do. This creates a nice balance for GM, as they can offer both affordable and basic options, as well as pricier luxury options.
Buick actually existed as a company before General Motors did, and was the company that established GM. It was founded in 1899 and joined GM upon its creation in 1908. Buick was actually the United States' first automobile brand. Throughout its lifetime, it has been branded as a premium vehicle maker, and primarily focuses on larger luxury vehicles which are more expensive than other GM offerings. While they are considered luxury vehicles, Buicks are on the lower end of the luxury vehicle spectrum and are not terribly expensive like other luxury vehicles. General Motors also owns Cadillac, which is one of the oldest vehicle makers in the world, and second to only Buick in the US.
By the time GM purchased Cadillac in 1909, it had already established itself as one of America's premier luxury vehicle makers. Over the years, Cadillac has continuously moved the automotive industry forward with their engineering, creating many things that have become industry standards for automobiles. They specialize in creating luxury vehicles and are world-renowned due to it. While Buick can be considered GM's entry-level luxury vehicles, Cadillac is the premier GM luxury brand. Cadillacs are definitely the most expensive GM options available but are also the nicest and most refined of them all.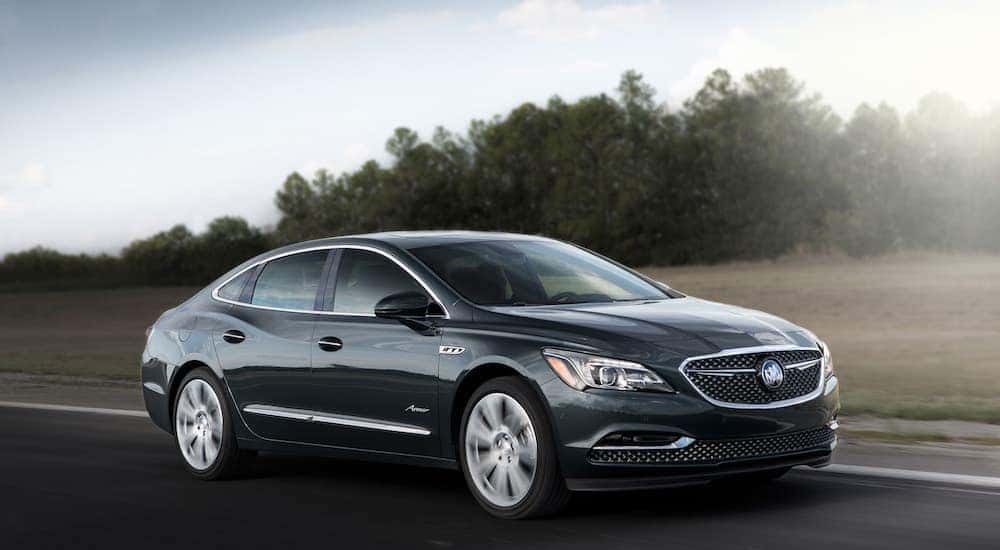 Why McCluskey Chevrolet is the Best Place to Go for Genuine GM Parts
When it comes to vehicle maintenance, one of the most important factors is the parts that are being used. Vehicles are very complex and contain many different parts that can fail over time from continuous use. While premium parts can be a bit pricier compared to their generic mass-produced counterparts, they can actually save a vehicle owner money in the long run, as they can last longer. Like with an oil change, you can pay an extra 5-10 dollars for full synthetic oil, which can last up to three times longer than standard oil. That extra 5-10 dollars upfront saves you from paying for two more oil changes in that same span of time. It's a similar philosophy with parts, paying a little bit more upfront for reliable and quality parts will save you from having to replace the cheaper options when they inevitably fail prematurely. For GM vehicles, there are no better parts to use than genuine GM parts, as they are designed specifically for GM vehicles by the people who make GM vehicles. When it comes to genuine GM parts in the Cincinnati area, there is no better place around than McCluskey Chevrolet. The service department stocks GM parts for all sorts of different GM vehicles. Whether you have a Chevrolet, a GMC, or even a Cadillac, McCluskey Chevrolet will have the best GM parts available for your needs.