The Chevy Tahoe: The Best SUV on the Market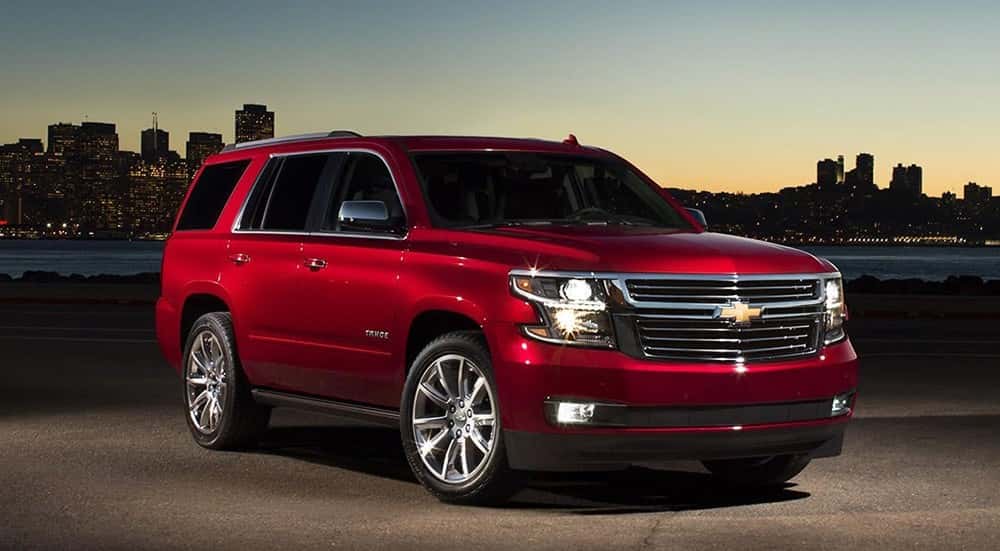 The number of SUVs on the road these days are staggering. Just look around – we guarantee that if there's not an SUV parked in your driveway, at least one of your neighbors owns one. In fact, SUVs have become so popular and so varied that there are now several classes of SUVs: subcompact, compact, mid-size, crossover, luxury… it's no wonder that people dread car shopping – it's overwhelming to be faced with so many decisions (and pricey decisions at that!). How are you supposed to know which SUV is the best SUV for you?
Well, one place to start is by looking at accolades. For instance, if you're interested in the SUV that was named the most dependable large SUV by J.D. Power & Associates, one of the twelve best family cars by Kelley Blue Book, the best large SUV for Families by U.S. News & World Report, and given KBB's  5-year cost to own and best resale value awards – and is also part of the most awarded car company three years in a row – then you're looking at the Chevy Tahoe. Keep on reading to find out why the Chevy Tahoe is one of the best SUVs on the market.
Powerful Performance
The 2017 Chevy Tahoe is powered by a beastly 5.3-liter V8 that's paired with a six-speed automatic transmission to generate up to 355-horsepower and 383 pounds-feet of torque. The Tahoe is a workhorse of an SUV and its powerful engine coupled with rear-wheel drive gives the SUV a max towing capacity of 8,600 pounds. Opt for the four-wheel drive option and you don't lose much in the way of towing as you can still tow up to 8,400 pounds. Want to hitch a boat, a trailer, or an RV to the Tahoe? You should be just fine.
The Tahoe is unquestionably a large SUV – it's 6.2 feet tall, 17 feet long, and 6.7 feet wide (without taking the mirrors into account). You will know that you are in a big car when you're trying to maneuver around parking lots and tight spaces, but that's only because of the size, not the handling. The Tahoe is actually a smooth ride with pretty good pickup as well. According to Edmunds, the "four-wheel-drive Tahoe in Premier trim accelerated to 60 mph in 7.3 seconds, and a two-wheel-drive LT reached 60 mph in 7.1 seconds." While it may not be best-in-class, those are still very respectable times for the large SUV class.
If you're considering purchasing a large SUV, then you've already taken into account that you just aren't going to find the same fuel economy that you would in a Toyota Prius. The Tahoe weighs more than 5,000 pounds, so it's going to take some serious fuel to get it (and keep it) going. That said, the 2017 Chevy Tahoe gets pretty good fuel economy for an SUV of its proportions with an EPA-estimated 16 miles per gallon in the city and 23 mpg on the highway. Believe it or not, those are better fuel economy estimates than you'll find in most of the other class competitors.
Well-Appointed Interior
The eight-passenger 2017 Chevy Tahoe comes in three trim levels: LS, LT, and Premier. If you opt for the base model LS, you'll be getting a nicely equipped Tahoe that comes standard with Bluetooth, five USB ports, a six-speaker sound system, Apple CarPlay, Android Auto, an eight-inch touchscreen, a 110-volt power outlet, 18-inch alloy wheels, heated mirrors, cruise control, a trailer hitch receiver with wiring harness, roof rails, tri-zone climate control, a rearview camera, rear parking sensors, a 4G LTE WiFi hotspot, satellite radio, HD radio, an auxiliary input, remote start and the Chevrolet MyLink infotainment interface. Additionally, the Tahoe now comes standard with Chevy's Teen Driver safety system. While that's definitely pretty well-loaded for a base model, Tahoes also don't come particularly cheap. The 2017 Chevrolet Tahoe LS has a starting MSRP of $47,125.
If you're looking to splash out a little more, then you should move up one trim level to the LT. In the 2017 Chevy Tahoe LT, you'll get luxuries like leather upholstery, a nine-speaker Bose audio system, heated front seats, a power liftgate, lane keep assist, forward collision warning, automatic high beams, an auto-dimming rearview mirror and low-speed forward automatic braking. They say you can't put a price on safety, but for all of these extras, you'll be looking at a starting MSRP of $52,345.
Of course, if you just want to drive the best trim of the best SUV, then you've got to spring for the 2017 Chevrolet Tahoe in Premier. Go Premier and make all the neighbors jealous with your 10-speaker Bose premium surround-sound system, hands-free tailgate opener, fog lights, front parking sensors, keyless entry and ignition, heated second row seats, wireless charging pad, heated steering wheel, blind-spot monitoring with rear cross-traffic alert, ventilated front seats, a real-time traffic navigation system, 12-way power front seats and Magnetic Ride Control suspension. One thing to be aware of is that the Premier trim swaps out the second row of seats for bucket seats, so you'll reduce your passenger capacity down from eight to seven. The starting MSRP of the 2017 Chevy Tahoe in Premier is $62,030 – serious money for a seriously loaded large SUV.
Of course, there are also several packages that you can add to any of the trims if you feel the need to customize (or show off) your Tahoe further.
Smart Safety
The Tahoe is certainly a safe car, so you won't have to worry about loading it down with your most precious cargo. The National Highway Traffic Safety Administration has given the 2017 Chevy Tahoe four out of five stars for overall crash protection. The Insurance Institute for Highway Safety has yet to test the Tahoe.
One safety feature that is worth noting is the Rear Seat Reminder which comes standard in all trim levels of the Tahoe. The Rear Seat Reminder is a fantastic feature that reminds drivers that they may have an infant or an animal in the backseat. It may sound unnecessary, but according to GM "Thirty-nine children died from heatstroke [in 2016]  as result of being left in vehicles or gaining access to an unattended vehicle, a 60 percent increase over last year's figure." While this technology is great no matter which car you drive, it's especially useful in a large three-row SUV, such as the Tahoe.
Test out a Tahoe
While the Tahoe may not be the cheapest SUV on the market, it certainly comes with everything you could possibly want in an SUV. If you're in the market for a large SUV that can seat up to eight people without sacrificing performance, you should take the time to check out the 2017 Chevrolet Tahoe – after all, it may just be the best SUV out there