Upfit with McCluskey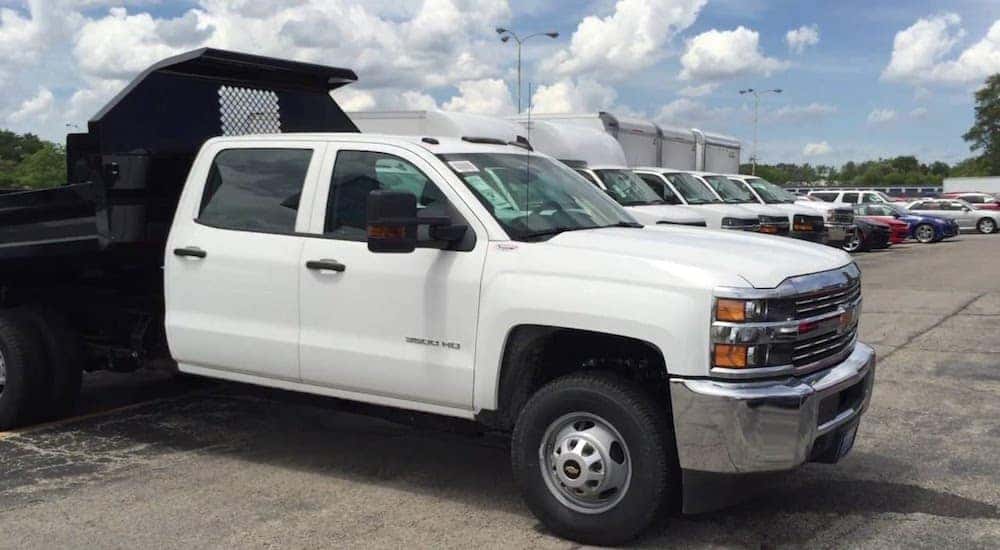 While many people get through life without having to consider the purchase of a commercial dump truck, the same can't be said for those whose daily workload requires both hauling capability and ease of unloading. From gravel and sand haulers to landscapers and construction workers, such functionality becomes a necessity. More than just a basic requirement in order to get the job done, it is crucial in getting the job done right and done fast.
And while offerings from heavy-duty equipment manufacturers such as Caterpillar may exceed the demands of more modest hauling requirements, most major automakers offer platforms for customization. Building upon the strength of their core offerings, these up-fits offer heavy-duty capabilities but do so more affordably (and attractively) based on traditional model design.
Take Chevy for example…
Chevrolet 3500 HD
When looking into Chevy Dump Trucks, the most common results are based on a modification of either the Silverado 3500 HD or its 'chassis cab' equivalent. Available as either two-wheel or four-wheel drivetrains, the versatile heavy-duty variant of the iconic Silverado provides a perfect platform for conversion. More than just the sum of its impressive performance ratings, the Silverado comes with a wealth of configuration options, providing the customer with a fully customizable experience.
Depending on the cab, bed and trim level selected, the Silverado's towing capacity can reach as high as 14,500 LBS with a 4,415 LB max payload. Bottom-line: with sturdier underpinnings, impressive weight ratings and cabin configurations that range from utilitarian to luxury, there is no shortage of options. With those options in mind, let's take a closer look at the Silverado 3500 HD, to separate our perception of dump trucks from the reality.
In terms of body styling, the 3500 HD can be served up as (two-door) Regular cab or (four-door) Double or Crew cab body styles. While the Regular may be the most traditional, it is worth acknowledging that the Silverado can just as confidently transport a crew, if needed. Depending on cab selection, the 3500 comes with either a 6-foot-5-inch bed or an 8-foot-2-inch bed. Granted, a dump truck modification may be more standardized in terms of bed lengths, to fit the dump body that is selected.
The current model of the 3500 HD comes with a choice of two powertrain options. The first is a 6.0-liter V8 paired with a six-speed automatic transmission, which wrangles 360 horse and 380 lb-ft of torque. Considering the intended application, make the most of the Silverado's potential, with the turbocharged 6.6-liter diesel V8 mated to an Allison 1000 six-speed transmission. Upping the output to 445 hp and 910 lb-ft, this configuration maximizes the Silverado's hauling capabilities without sacrificing much in the way of acceleration.
Regardless of the engine selected, both boast a modified air intake and improved maneuverability (over previous model years) thanks to the inclusion of digital steering assist which smooths out the ride significantly.
Available in four trim levels, you can opt for either the (base) Work Truck, LT, LTZ or High Country. It's worth noting that the WT trim truly is 'bare bones', offering only the most basic of features. While many consider such an absence of technology or comfort in commercial vehicles to be acceptable (or even preferable due to the cost savings) others might disagree. While there is the option of upgrading the WT to include the MyLink infotainment system, it may prove more beneficial to consider the LT trim right off the bat.
That selection comes with an infotainment system built around an (upgraded) 8-inch touchscreen (with rearview camera) and six-speaker audio system. Bluetooth-enabled, the vehicle is also compatible with Android Auto and Apple CarPlay. Throw in 4G LTE WiFi and the 3500HD can double as a mobile office space, as well.
The LTZ trim upgrades the interior to heated leather upholstery, adding built-in navigation and dual-zone climate control. This is further enhanced with the High Country trim where the leather seats are ventilated and the sound is upgraded to a BOSE audio system. With wireless phone charging and additional safety features, there are countless luxuries. That said, it may be far more than what is needed (or wanted) in such a labor-oriented vehicle.
Up-Fitting With McCluskey
Regardless of your choice in terms of cab, bed, powertrain, drivetrain or trim level the Chevy Silverado 3500 HD provides an ideal basis for up-fitting. And regardless of how you intend to modify the Silverado, McCluskey Chevrolet is the ideal partner to help.
As part of a commercial fleet, it is imperative that your truck offers both versatility and reliability. With that in mind, all businesses deserve a partner that is equally versatile and reliable in terms of the service that they offer.
At McCluskey Chevrolet, we understand the importance of commercial vehicles to the continued success of your business. We also understand that removing a vehicle from use during business hours can be detrimental to that success. Our Service Department is in operation both late at night and in the early AM, offering both scheduled maintenance or urgent repair. This allows us to ensure proper maintenance of your vehicles without jeopardizing the work that they are used to complete.
McCluskey Chevrolet also offers Lifetime Powertrain Protection on all commercial vehicles purchased here. This added protection on the life of your vehicle assures our valuable customers that their investment will continue to offer a strong return for years to come.
These are testaments to McCluskey's commitment to you and your business. As focused on your bottom-line as we are on our own, we aspire to offer you the most capable and reliable of vehicles, as well as a trusted resource for maintenance and repair. After all, your ability to offer your customers the highest-quality service is based on our ability to offer you the same