What Has Two Decades Done to the Trailblazer?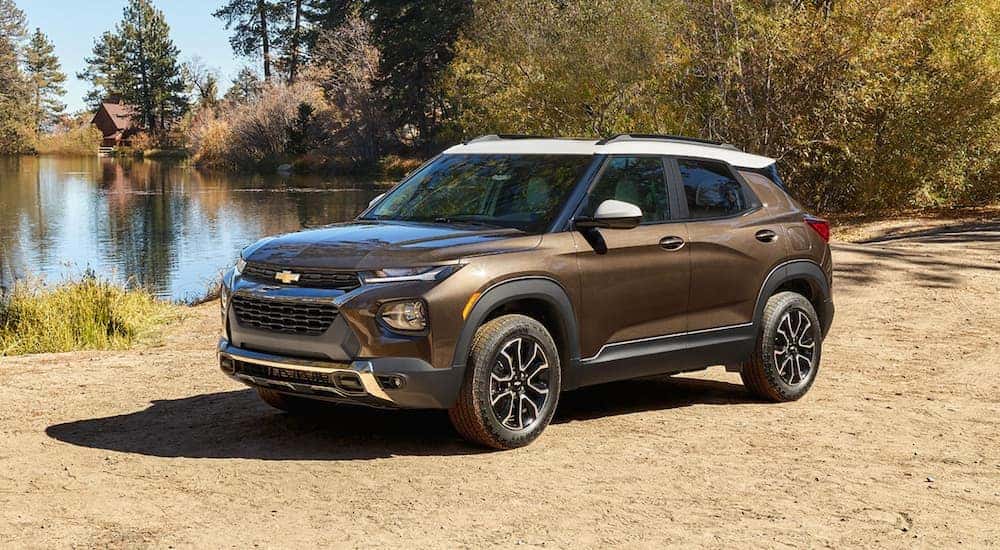 First introduced for the model year 2002, the Chevy TrailBlazer was a bold midsize SUV that helped set the stage for the popularity and functionality of SUV models throughout the early 2000s. Among Chevy models, it was a very popular option that ran for nearly a decade in its first generation but then was replaced by the Chevy Traverse in 2009. Now, however, Chevrolet looks to change things up once again by bringing the Trailblazer back for a 2021 release, an all-new Trailblazer with a new design, new size, and a host of new features.
We can't help but wonder, however, what the last two decades have done to how Chevrolet approaches the Trailblazer and its design. So we thought it would be fun to look at the original 2002 TrailBlazer and the all-new 2021 Trailblazer and see how they compare. We'll look at some different categories, including size and engine options, to get a sense of what the new Trailblazer brings to the market and what it might think of its predecessor from decades past.
Let's see how 20 years can change what an SUV has to offer.
What's in a Name?
One of the first things we can notice about the new Trailblazer is that the name, though very nearly the same, actually has one slight difference. The original model released in 2002 was spelled "TrailBlazer" – just like that, with the "b" capitalized for no discernible reason. Makes it stylish, perhaps? It certainly stands out a bit and makes you notice that "B" in there, so perhaps that's why they did it.
The new, 2021 model, however, is spelled "Trailblazer," with no large and awkward capital "b" blowing up the middle of the word. Is this a significant difference? Absolutely not, though if you've ever had to type "Trailblazer" a few dozen times throughout a blog post, you'll notice it (and you'll be thankful for the modern spelling without the need for an extra "Shift" press). So does this really change anything about the Trailblazer? No, but it does show that Chevy wants to hearken back to the original, while also establishing the new model as its own creature.

Overall Size
Now then, getting into some real and noteworthy differences, we should start by looking at the overall sizes of these two Chevy models. The original 2002 TrailBlazer was a midsize SUV that measured 191.8 inches long, 74.6 inches wide, and stood 74.5 inches high. It had a 113-inch wheelbase and offered seating for up to five people, with up to 80.1 cu.ft. of interior cargo capacity available. It's also worth mentioning that the original TrailBlazer was a true SUV, built on a truck platform, rather than a crossover. Since we're looking at the exterior, we should also note that it was available with either 16-inch or 17-inch wheels from the factory.
Now, let's take a look at the 2021 Trailblazer to see just how large it is. The new model is a small crossover SUV, which means it's built on a car platform, not a truck platform, and it's no longer a midsize model. The new Trailblazer measures 173.5 inches in length, 61.3 inches in width at the rear, and 65.2 inches high. It has a 103.9-inch wheelbase, with seating for up to five people, while offering up to 54.4 cu.ft. of total cargo space inside. It is available with either 16-inch, 17-inch, or 18-inch wheels depending on which trim and options you choose.
So, we can see the original TrailBlazer was about a foot-and-a-half longer, more than a foot wider, and about 10 inches higher. It had similar wheel options, though you couldn't get 18-inch wheels, and though it had seating for the same number of people, it offered about 25 cu.ft. more interior cargo space. Since it was a midsize model and the new Trailblazer is small, that all makes sense.
Under the Hood
The original TrailBlazer in 2002 was released with one engine: a 4.2L I-6 engine that delivered up to 270 hp and 275 lb-ft of torque. It came with a 4-speed automatic transmission and two-wheel drive, though four-wheel drive was available. For a midsize SUV from 2002, this all makes sense, though these specs would likely fall short today.
By comparison, the 2021 Trailblazer features two engine options: a 1.2L EcoTec Turbo engine that offers up to 137 hp and 162 lb-ft of torque, or a 1.3L EcoTec Turbo engine that delivers up to 155 hp and 174 lb-ft of torque. Both engines come with continuous variable transmissions, and front-wheel drive is standard with all-wheel drive available.
So, as you can see, the all-new Trailblazer has smaller and less powerful engines than what you would've found in the TrailBlazer in 2002. That being said, as we saw, that older model was significantly larger and needed that power because of its increased size. Since the new Trailblazer is much smaller, it requires less power to get going, and the offered Turbo engines are certainly enough to make the 2021 model incredibly fun to drive.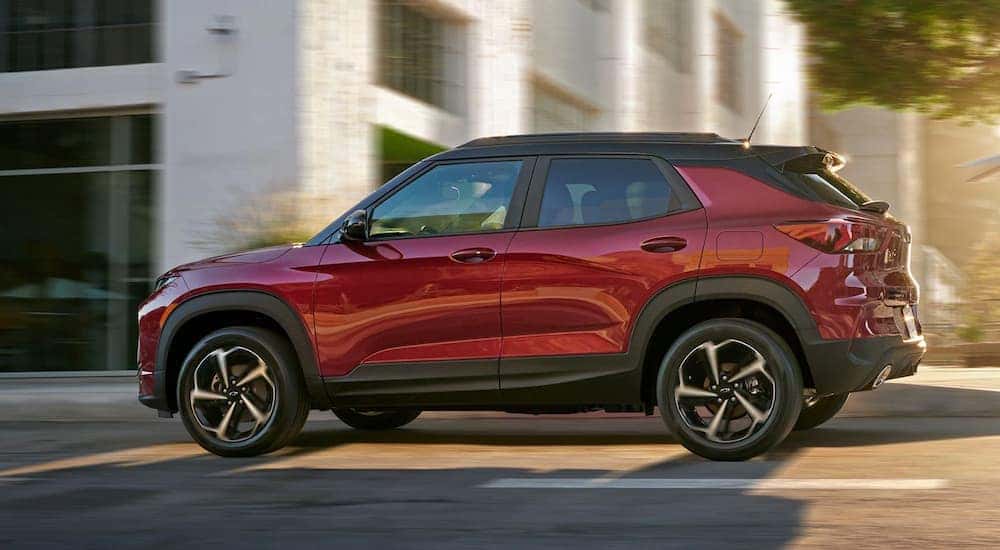 Interior Features
You would expect a lot to have changed inside these SUVs over the last 20 years, and you'd be correct. The 2002 TrailBlazer still had a cassette player along with its CD player, and steering wheel audio controls were available. There was also an available rear-seat DVD entertainment system, 8-way power-adjustable front seats, and six performance speakers were offered. It had analog instrumentation, and leather seats were available on the highest trim, making for a surprisingly luxurious ride in 2002.
The 2021 Trailblazer, on the other hand, has all the sophistication and features you would expect in a modern SUV. Looking at the RS trim, for example, you get an available 8-inch touchscreen infotainment system, a 6-speaker audio system, 10-way power driver seat with lumbar support, and heated front seats. It has numerous USB ports, a 3-inch driver information center, and steering wheel-mounted controls on a leather-wrapped steering wheel. Keyless open and remote start are both standard on the RS trim, along with more great features. A wireless charging pad, Bose premium audio system, and adaptive cruise control are all available too.
As you can see, the 2002 TrailBlazer certainly had a lot going for it in terms of technology, but the improvements over the last 20 years show. While the original TrailBlazer was rocking a cassette player on the front dashboard, the significantly updated Trailblazer features a 7-inch full-color infotainment display standard, with an 8-inch screen available. When you start looking at other features, like a standard rear vision camera, and available options like an HD rear vision camera, rear park assist, and a lane change alert with a side blind zone alert, you can see just how far technology has come since the original TrailBlazer was released.
20 Years of Improvement
There was certainly a lot to like about the 2002 TrailBlazer, but it's easy to see that 20 years have pushed forward innovation in the auto industry. The 2021 Trailblazer is smaller than before, offers a fun and sporty driving experience, and features improved technology inside and out. If you want to know more about the all-new Trailblazer or any other Chevy models in the current lineup, then call or visit us at McCluskey Chevy today.