What to Look for in a Great Work Truck or Van For Sale – Cincinnati, OH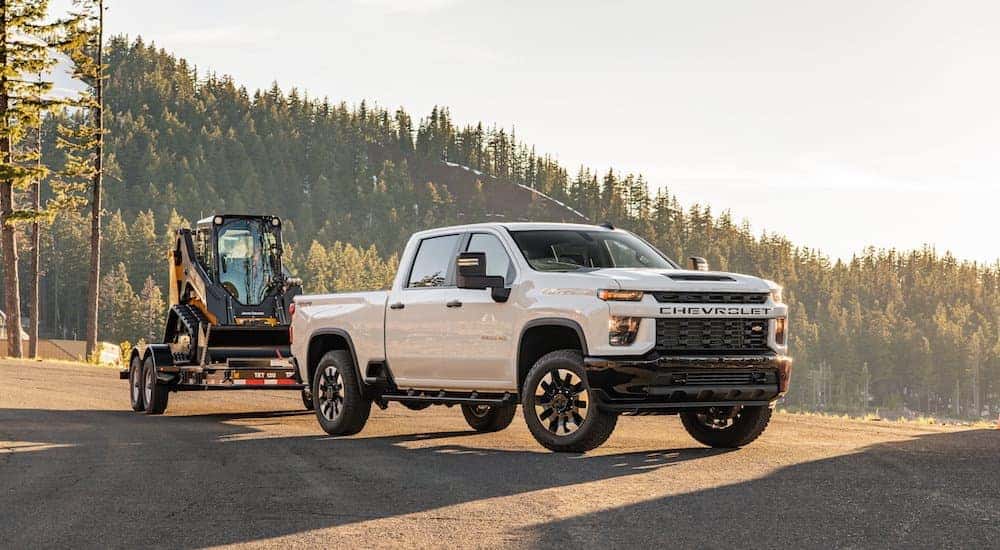 Entrepreneurial work is thriving throughout Cincinnati, and if you're one of the many small business owners in this great city, chances are you've seen plenty of advertisements that mention great work trucks and vans for sale. Whether you're a contracted plumber or have started your own delivery service, having a reliable work truck or van can make a huge difference for your business. These vehicles are workhorses explicitly built for the day-to-day of businesses that expect the most out of their work vehicles. Work vans and trucks offer substantial value for businesses, that said, shopping for one can be somewhat intimidating especially if you don't know what you're looking for; this is where we come in. At McCluskey Chevy, we specialize in providing our customers with the very best Chevy work trucks and vans. We understand what purchasing one of these vehicles can mean for your business's budget, but we also understand the value they can bring, and how you can best go about looking for one.
Truck or Van?
Before you head down to our dealership to pick up a work vehicle, the first thing you should ask yourself is, 'which would be better, a work truck or work van?' While both Chevy trucks and vans offer plenty of utility, some businesses will find better use out of a work van over a truck and vice versa. By their very nature, trucks tend to offer greater horsepower, torque, and towing capability. Work trucks act as an excellent fit for businesses that do a lot of heavy-duty work, like plumbing, electrical, and any other kind of contracted construction-based work.
On the other hand, work vans are a great option for businesses and entrepreneurs who want to take all of their supplies with them but would prefer to keep them all reasonably secured. Sure, Chevy work vans offer a considerable amount of horsepower, torque, and towing capacity, however, they truly excel in providing a mobile storage space for businesses. These kinds of vehicles are great for more than just cargo transport too, some Chevy vans specialize in passenger capacity and could act as a great vehicle for business ventures that focus on shuttling and person-transport.
No matter which you choose, Chevy offers some great business and work vehicle options that are certain to fulfill all of your day-to-day needs.
Towing Capacity and Payloads
One thing you should ask yourself is how you expect to use your work truck or van. By determining what you plan to do with your work vehicle ahead of time, you can make the most out of your purchase. Whether you opt for a work van or truck, chances are you'll want to tow with the vehicle. While a Chevy truck is going to have greater towing capacity than a van, both can offer reasonable towing capabilities. Take for instance the 2019 Chevy Silverado 1500, which has a max towing capacity of 12,200 lbs. This work truck is fully prepared for some serious heavy-duty towing. That said, you and your business may not need something quite that capable. Alternatively, the 2019 Chevy Express Cargo Van's towing capacity caps out at 10,000 pounds. While this level of towing capacity might be great for businesses that specialize in things like catering and delivery, it may not be ideal for businesses that are hauling full-sized trailers.
Another factor to consider when purchasing a work van or truck for sale is the payload. When it comes to payload, vans tend to excel. The 2019 Chevy Express Cargo Van offers a max payload of 4,282 pounds, which means you'll be able to fill this cargo van to the brim with equipment or products. Alternatively, the Chevy Silverado 1500 may not be a great pick for drivers who want to haul large amounts of cargo, since this truck's max payload tops out at 2,543 pounds.
Your work vehicle should meet the day-to-day expectations of your business, and buying the right vehicle can make all the difference in achieving longevity and business success.
A Breakdown of Chevy Work Trucks and Vans for Sale at McCluskey Chevy
At McCluskey Chevy, we offer a wide range of work vans and trucks that are certain to bring your business to the next level. The two vehicles we've already mentioned are top picks for Cincinnati business owners and tend to be up to any work-related task that you can throw at them. That said, understanding the details that separate the 2019 Chevy Silverado 1500 and the 2019 Chevy Express Cargo Van can dramatically affect which one you end up going for.
As mentioned prior, the 2019 Chevy Silverado 1500 is a great choice for businesses that focus on construction and maintenance work. This work truck comes as standard with a 4.3-liter V6 engine which offers up 285 horsepower and 305 lb-ft worth of torque. While this may seem like plenty of power for some, other business owners may find those specs lacking. Don't worry though, you can undoubtedly take the 2019 Chevy Silverado 1500 work truck to the next level, by upgrading to the trim that provides a 6.2-liter V8 engine which brings the power specs up to 420 horsepower and 460 lb-ft worth of torque. You can pick up the 2019 Chevy Silverado 1500 work truck in one of three cab configurations, the crew cab, double cab, and regular cab. Although no matter which cab configuration you go for, the 2019 Chevy Silverado 1500 work truck offers up a highly functional truck bed made of highly durable roll-formed steel. Couple all of this with a fully functional onboard 120-volt outlet near the tailgate, and you have a work truck that is ready for the job.
On the other hand, the 2019 Chevy Express Cargo Van offers a substantial alternative for businesses that specialize in cargo transport. You can think of this Chevy Cargo Van as the perfect mobile office, and with the option of having a 4G LTE WiFi Hotspot built into the vehicle, you can certainly take care off office work on the go. The 2019 Chevy Express Cargo Van is packed with technology, offering a diverse range of safety features such as side blind zone alerts which can give you greater awareness while driving across town. Drivers can find the 2019 Chevy Express Cargo Van in one of two trim options the 2500 Express and 3500 Express. Both trim options come with the option of adding in a 6.0-liter V8 engine which offers up 341 horsepower and 373 lb-ft of torque.
No matter which vehicle you choose, you won't be disappointed with the results. Here at McCluskey Chevy in Cincinnati, Ohio, we're staffed by a group of car experts who are not only passionate about the Chevy brand but helping small businesses get the tools and resources they need to succeed. Whether you're in the industry of construction or have begun a fledgling goods delivery service, we're excited to hear your ideas. When you visit our Chevy dealership, you can expect one-on-one attention and a level of care and commitment that you'd be hard-pressed to find anywhere else. At McCluskey Chevy, we find so much joy in helping you reach business success.