What to Look for When Shopping for a Used Chevy Work Truck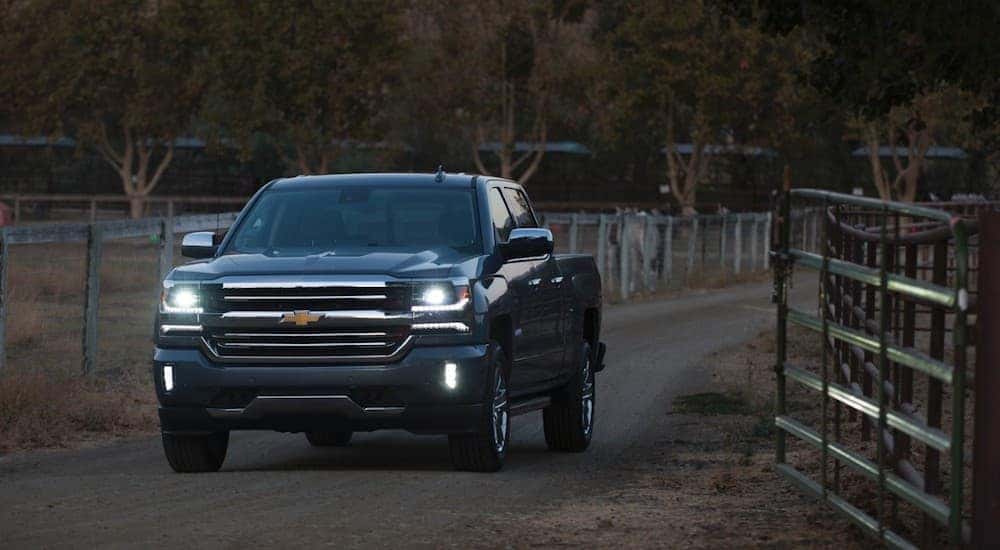 If you're looking for a used Chevy work truck, you can't purchase just anything. The Chevy pickup lineup is incredibly diverse, and with a variety of year models to contend with, things can quickly become overwhelming. Our pickup experts at McCluskey Chevy understand what makes a great work truck, and will walk you through the process of finding a work truck that is a perfect fit. If you're hoping to expand your business, or want something with great horsepower and high towing capacity, chances are there is a used Chevy truck out there for you. Our salespeople will not only show you our vast selection of used trucks for sale, but they'll also take into account your unique needs to set you up with a pickup that is a perfect match.
What Does the Chevy Truck Lineup Look Like?
The Chevy truck lineup is quite crowded when compared to other automakers. For starters, there is the Chevy Colorado, the smallest on the list. You shouldn't let that size fool you; this is a pickup truck that can be tooled for stellar performance. Forming the start of the long-standing Silverado lineup is the Silverado 1500. It is a great option for those who have jobs that need doing, but do not require the power and price tag that come with the larger models. Moving up in size, is the Chevy Silverado 2500, a beefier version of the 1500, with much more power packed beneath its hood. If you're looking for something with a step up in power, you can find it in the Chevy Silverado 3500. The Silverado 4500HD, 5500HD and 6500HD Chassis Cabs also exist for the truly tough jobs.
These pickup trucks have earned a reputation for next-level performance, and are bound to make a great fit in any company work fleet or on any piece of ranch-land. That said, there are a handful of things you should keep an eye out for when shopping for a used truck.
The Engine Type Beneath the Hood
The engine is the heart of your vehicle. Responsible for transforming fuel into horsepower and torque, your engine can define how much your vehicle can haul, and how effectively it uses its fuel input. In the Chevy lineup, there is a diverse assortment of engine types, each with its own benefits and drawbacks. For starters, when browsing our wide selection of used trucks for sale, chances are you'll spot the option of a diesel or gas engine.
Diesel engines tend to be more powerful than your traditional engine, and at the same time require far less fuel. As a result, a diesel engine is an ideal pick for buyers who are looking to purchase a work truck for their business. Why is a diesel engine more efficient? Well, in a traditional engine, compressed air and fuel are ignited by the spark plugs to create the combustion force that provides power to the vehicle. In a diesel engine, things are a little different. Air is compressed first, and then fuel is injected into the air, creating combustion energy far more efficiently, at a lower cost of fuel.
When browsing our selection, you'll likely see cylinder counts attached to your engine options. These different cylinder types fit into three categories, four-cylinder, six-cylinder (V6), and eight-cylinder (V8) engines. If you're shopping for a used work truck, we recommend that you purchase a Chevy with either a V6 or V8 engine, because they tend to output far more energy than a four-cylinder engine. While you may require more fuel to power these larger engines, you'll certainly enjoy far greater performance behind the wheel.
The type of engine you pick plays a considerable role in how much cargo your truck can haul, and keeping an eye on towing capacity is important when shopping for a used truck. If you're looking for truly superior towing, something like the 2017 Chevy Silverado 2500HD with its 6.6-liter Duramax V8 engine might be a great pick. At a max conventional towing capacity of 14,500 lbs., and topping out at 445 horsepower, this is a Chevy pickup that certainly won't disappoint on the field.
Finding the Right Cab Configuration
Pickup trucks are often recognized for their ability to haul cargo, thanks to a truck bed. That said, some Chevy trucks can be equipped to handle both cargo and passengers with ease. By selecting the right cab, you can tailor your pickup to be either an ultimate cargo hauler or a passenger-focused utility vehicle. In the Chevy Silverado, you'll find three different cab options, the regular cab, double cab, and crew cab. A regular cab styling is designed for a pickup truck that is more truck bed than it is passenger seating. In a regular cab pickup truck, you'll only find a single row of seating, which can be ideal for buyers looking for a true work truck. Some work truck buyers are looking to host more passengers in their vehicle, and in this instance might want to opt for a double cab pickup truck. The double cab truck configuration sports an additional row of seating. Some drivers may find even this offering cramped and want to purchase a Chevy pickup with a crew cab. The crew cab setup is the best of both worlds, offering ample room for passengers, and four-door access.
Beyond size and the powerhouse beneath the hood, the tech packed into your Chevy truck can make a huge difference in your purchase as well.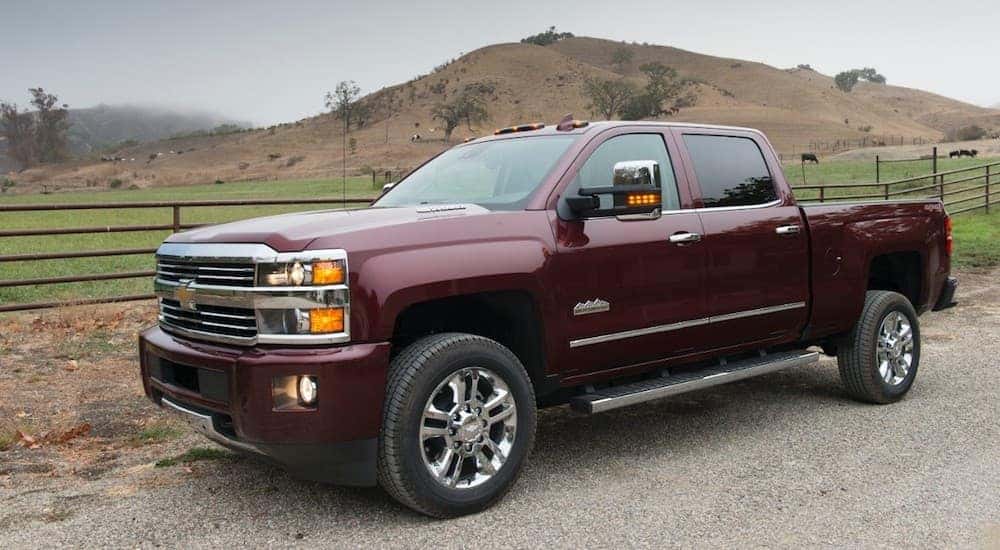 A Keen Eye on Special Features
Many modern Chevy pickup trucks are packed with auto technology that makes driving more seamless and intuitive than ever before. Tech these days is more than great speakers and a good-sized infotainment screen. Instead, there are features that make heavy-duty hauling and high-demand driving far more comfortable. Take, for example, the 2017 Chevy Silverado 1500, which could be fitted with rear parking assist. This feature eliminates the stress caused by difficult parking jobs and can grant you greater awareness in tight spaces. All models of the 2017 Chevy Silverado are also equipped with a streamlined stability control system and trailer sway control, which makes hauling and towing far easier and safer. Speaking of safety, this same Chevy pickup truck can be configured with near-futuristic safety features like automatic emergency braking and active lane control. Active lane control is a system that can help you stay in your lane by taking control of the wheel when it senses you drifting from the lane lines. On the other hand, automatic emergency braking can activate your brakes before a dangerous collision can occur, potentially avoiding a crash altogether.
Purchasing a Used Work Truck at McCluskey Chevy
As you may have noticed, Chevy offers a diverse range of options in terms of used work trucks. For some, this wide selection can seem intimidating at first glance. Our team of Chevy dealers at McCluskey Chevy are well-versed in the ins and outs of the entire Chevy pickup lineup, so they are always able to help. We'll walk you through our showroom, and be with you through every step of the car buying process from the first test drive to the final piece of paperwork. If you're looking for a beefy diesel-powered work truck or an incredible tow-capable machine, Chevy is your automaker of choice.
---
Added 7/29/2020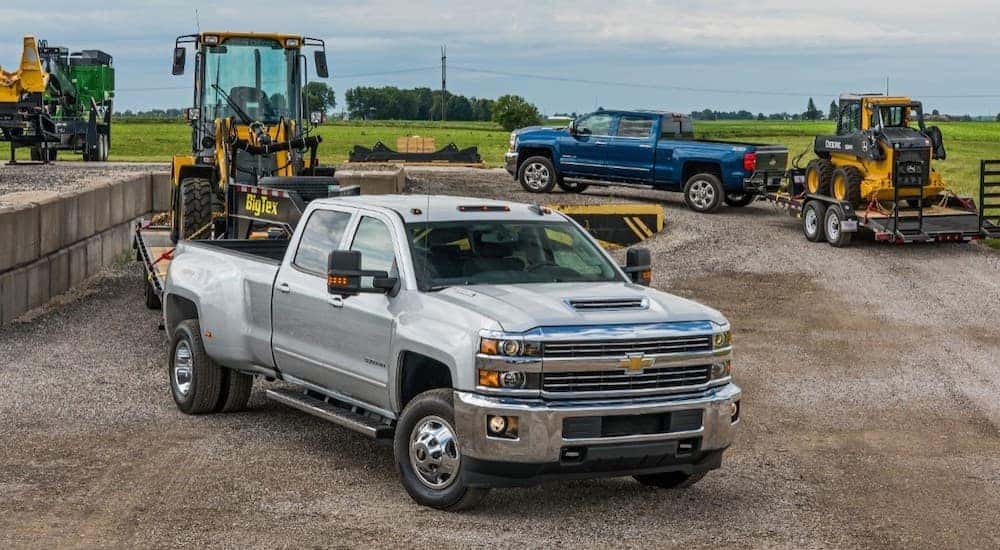 Three Important Factors for Chevy Work Trucks
While there are a number of factors that are important to consider when looking to buy a used or new Chevy truck for work, it is very likely you need to consider the towing and hauling capabilities above all else. Heavy-duty construction, farming, ranching, lawn care service, and other jobs demand significant power to get the tools and machinery necessary to do the job right from one place to another. If your truck lacks the capacity to pull some of the bigger machines you need to work efficiently, it will mean strained engines, longer completion schedules, and an overall poorer work experience.
For that reason, when you are looking into buying a new or used Chevy truck for your company, you need to consider the trucks towing capacity, payload capacity, and axle ratings. Read on as we walk you through the various specs some of Chevy's trucks have in each of these three categories so you can choose the truck that is right for you and the work you do.
Towing Capacity and What it Means
A truck's towing capacity is a simple measurement that describes how much weight a truck can tow behind it, given the weight of the vehicle and amount of cargo in the truck bed. The higher the towing capacity, the heavier and bigger the equipment can be that you tow with that particular truck.
Let's start, for example, with the 2017 Chevy Silverado 1500. The max towing capacity of this version of the Silverado is 12,500 lbs. Now it is important to keep in mind that is the max towing capacity and that it is only up to 12,500 pounds if you get the Max Trailering Package, which is paired with a 6.2L V8 engine under the hood. The base model of the 2017 Chevy Silverado has a less powerful 4.3L V6 engine, which translates into a lower towing capacity—peaking at 7,600 lbs depending on the bed configuration. It is important to keep in mind that when calculating towing capacity, you also need to figure in the weight of passengers and cargo in the truck bed, which could alter the weight of what you can tow behind you.
While 12,500 lbs isn't bad, and can certainly be enough power if you are hauling light machinery to and from job sites, it is nice to have more power so you can handle bigger jobs. For that, you'll want to look at the 2017 Chevy Silverado 2500HD and 3500HD.
Like the Silverado 1500, both the 2500HD and 3500HD have wide ranges of towing capacity depending on the engine and cab and bed configuration. For the 2500HD, the towing capacity ranges from around 8,000 lbs to as high as 18,100 lbs. The higher capacity 2500HD has a Duramax 6.6L Turbo-Diesel V8 engine that packs quite a punch.
The 3500HD has an even wider range and starts at 9,500 lbs and peaks at 23,300 lbs, making it the most powerful truck in the Silverado lineup for the 2017 model year. At 23,300 lbs, there is very little you can't tow that you would want to.
Payload Capacity and Why it MattersAnother metric that is extremely important to understand when on the hunt for a used Chevy work truck, is the payload capacity. Payload capacity differs from towing capacity in one important way. While towing capacity refers to how much weight you can tow behind the truck, payload capacity refers to how much weight can be carried in the truck's cargo area—the cab and the bed.
The payload capacity of a truck is important to know, especially if you put a lot of heavy materials in your truck bed for work. If you haul cinder blocks, landscaping materials, sheetrock, or other heavy items, it will be crucial you know the truck's payload capacity so as not to overhaul and damage the truck.
For the 2017 Silverado 1500, the payload capacity is between 1,740-2,020 lbs. The Silverado 2500HD is a bit higher at up to 3,534 depending on a number of different configurations. Finally, the 3500HD is the highest peaking at 4,415 lbs. Although, payload capacity might not be quite as important as towing capacity (you could always leave the bed empty and tow your building materials with a trailer after all), it is important to know so that you don't exceed it.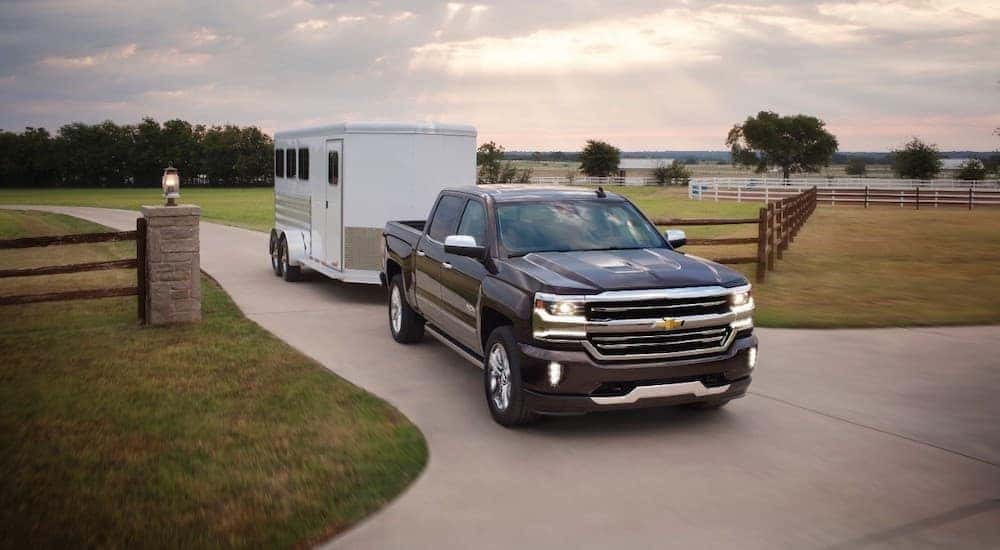 Axle Ratings
A final category you will want to consider when shopping for a used Chevy truck for work is the axle rating. The axle rating is important to know so that you don't put too much weight on the axles of your truck. There are several jumbles of letters you will see when looking into a truck's axle rating. There is the GVWR, GCWR, and GAWR. For now, we'll look at the GCWR (gross combined weight rating) of the three trucks we have been examining.
GCWR takes into account all the weight a truck is dealing with—the weight of the truck, passengers, cargo, and what is being towed. For example, the 2017 Silverado 1500 peaks at a GCWR of 18,200 with the Max Trailering Package. The 2500HD and 3500HD with the Duramax 6.6L Turbo-Diesel V8 engine max out at a GCWR of 31,300.
The GCWR is important to know so that you can factor in all the different weight you might be carrying with your Chevy truck—and where it might be coming from. Additionally, the GAWR (gross axle weight rating) looks at how much weight each of the truck's two axles can handle. You will often see two different numbers, one for the front and one for the rear axle. Make sure what you typically carry for your job, whether it be on the front or rear wheel axle, doesn't exceed the truck's GAWR.