When You Just Need a Bit More Mmmph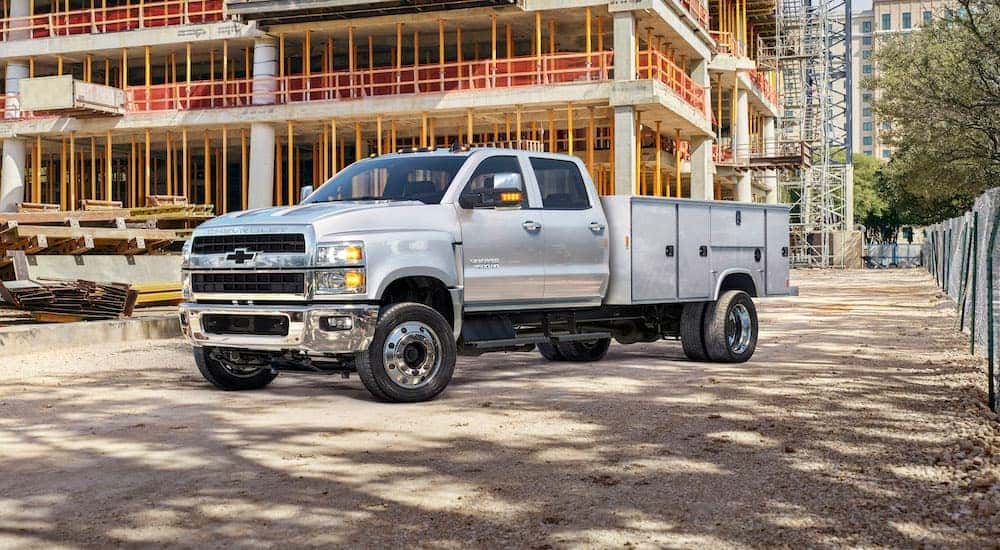 You won't hear this very often, but the Chevy Silverado 1500 might not be enough truck for you. For the vast majority of the working population that uses a truck on a daily basis, it is. But there remains a certain part of the pickup truck driving demographic that requires an obscene amount of power. This amount of power is not for everyone. It is reserved only for those who need the absolute most out of a working vehicle, more than most people even realize is possible. If you are among those numbered few, take a look at the diesel trucks for sale that Chevrolet has to offer.
Drivers today demand a lot from these types of work trucks than ever before. And there are many, many different types of work these trucks are capable of. As such, commercial pickup trucks require more versatility than your average 1500 or 2500 or even 3500. That is why Chevy has introduced all new commercial trucks capable of more strength, utility, and cargo versatility than ever before. If you thought the 3500 was big and powerful, wait until you meet the all-new 4500, 5500 and yes, even the 6500.
It would be nearly impossible to go over each different iteration of these vehicles because they are so customizable. The chassis alone have dozens of options for outfitting based on the needs of the work involved. What we can tell you is that they offer an incredible range of utility, monstrous engine power and the interior technology that will make you forget that you are driving one of the most powerful work trucks in the world. If you are part of the world that might utilize one of these incredible machines, we invite you to come down to McCluskey Chevrolet and have a personal look at one of these Chevrolet HD trucks.
Engine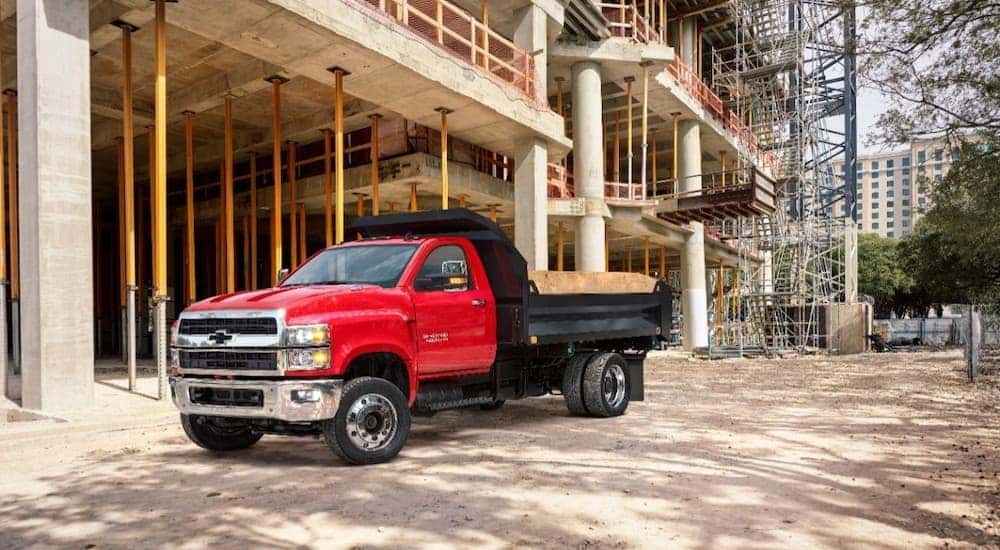 A 2019 Chevy Silverado 1500 has numerous engine options, the largest and most powerful of which is the 6.2 liter V8 with 420 horsepower and 460 lb-ft of torque. While that is enough muscle for most people, you are not most people. You need more.
The engine on the 4500, 5500 and 6500 is a 6.6 liter Duramax V8 diesel engine with 350 horsepower and a mind-boggling 720 lb-ft of torque. The massively improved torque allows for these larger work trucks to haul their much larger loads with greater ease. These trucks will be expected to be much heavier than the 1500, and that is before any personal modifications and aftermarket additions. But we will get into those later.
Additionally, these trucks can hold up to 65 gallons of diesel fuel. Not only does that give you hundreds of miles between fill-ups and much better fuel efficiency with diesel, but it also saves you valuable time while on the clock.
Versatility
Heavy Duty trucks like the Chevy Silverado 4500, the 5500 and the 6500 are designed to be work trucks like no other. They do not have the traditional cargo beds that most pickups do. The chassis is specifically designed to allow the truck to be turned into a wide variety of uses.
Because the trucks are so strong, they can be modified into buses, delivery vehicles or food trucks, even emergency vehicles. These additions and specialty modifications do put on a lot of extra weight to the trucks, from constructing the body to adding interior seating or equipment. But no need to worry, these chassis are more than capable of supporting all of that weight, and more.
If you do end up installing a flatbed, it can hold all the work materials and equipment you need to haul. They are easily able to move thousands of pounds of lumber or steel; they can even move machines that move the earth itself. Backhoes, mules, small tractors… you name it. These trucks can do it.
They are also available in varying cargo lengths. The 2019 Chevy Silverado 4500, 5500 and 6500 can come in a cargo length ranging anywhere from 60 inches to 162 inches, in 8-inch increments. That means if you need extra length for uncut building materials, you can get it all the way up to 13.5 feet long. If you prefer a more compact ride, it can be as short as 5 feet. Either way, these trucks can be modified to suit your exact needs.
Technology
These Heavy Duty Chevy trucks are not your grandpa's work trucks. They have never before seen power in the long history of Chevrolet trucks, thanks to the state-of-the-art automotive technology under the hood. However, modern technology is not just restricted to the engine and undercarriage.
In most modern vehicles, such as family SUVs, sports cars, recreational pickup trucks, and the rest, you will find infotainment tools such as a Wi-Fi hotspot, Bluetooth, Android Auto, and Apple CarPlay. These features allow you to keep connected through a smartphone or tablet safely and efficiently. These trucks feature all of these and more.
One of the features that will appeal directly to a potential owner of a Chevy Silverado 4500, 5500 or 6500 is Chevy's Commercial Link. This feature monitors things like your trucks fuel efficiency, speed, GPS tracking, and maintenance. It can be applied to a fleet of up to 15 trucks at a time and managed via a smartphone app.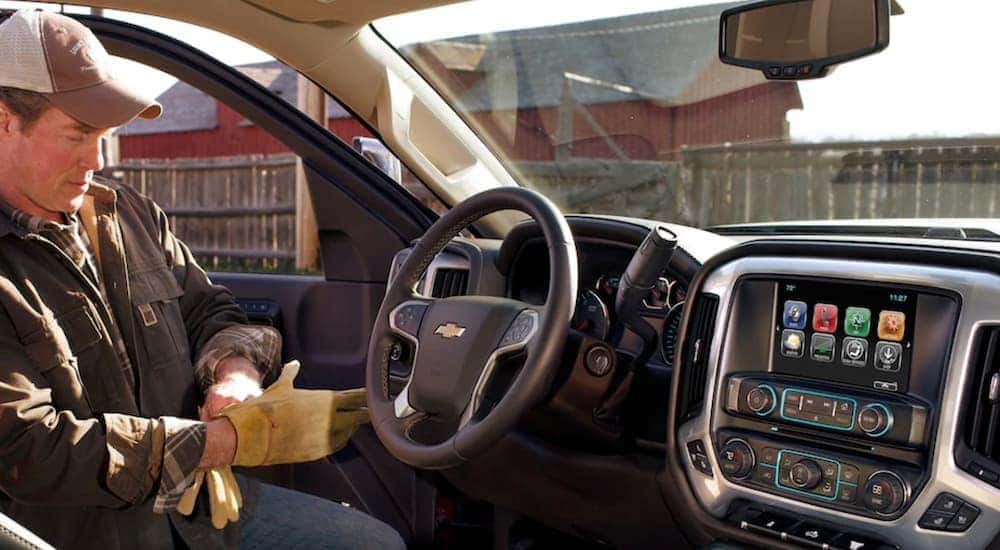 This can be vital for a business owner who wants to monitor his trucks and drivers. You can keep track of where your trucks have been, their driving habits, when the next tire rotation is due, how much diesel fuel each truck has at any given time and more. If you want to keep track of this information at the end of every workday with pen and paper, you are more than welcome to. But Commercial Link can save you immeasurable time and effort by doing all of that for you, and making it accessible in only a few short steps.
Also, it will save you a ton of money. Say you are doing this the old-fashioned way and realize that several of your vehicles are overdue for an oil change. It would be a very easy thing to miss if you have a lot of these trucks. Commercial Link will let you know when each one's oil change is due. That way, you can plan these procedures accordingly and not have your work trucks out of commission for too long. You also don't have to have them all out at once if you know those procedures are approaching soon.
McCluskey Chevrolet
The 2019 Chevrolet Silverado 6500 is the largest pickup truck Chevy has ever produced. That is quite an accomplishment, given Chevy's century-long excellence in the automotive world. If you want to get a glimpse at this beast of a truck, or the 4500 or 5500, come on down to McCluskey Chevrolet in Cincinnati as soon as you can.
We are excited about these new trucks and we believe you will be, too. They have all the power you can need combined with the intelligent engineering and versatility to make it uniquely fit your business. In the Cincinnati area, we know how important these trucks can be in the workforce. And that includes all kinds of workforces. These trucks are more than ready to service them all.
We will see you at McCluskey Chevrolet soon!