Why the Chevy Traverse Is the Ultimate Cincinnati Road Tripper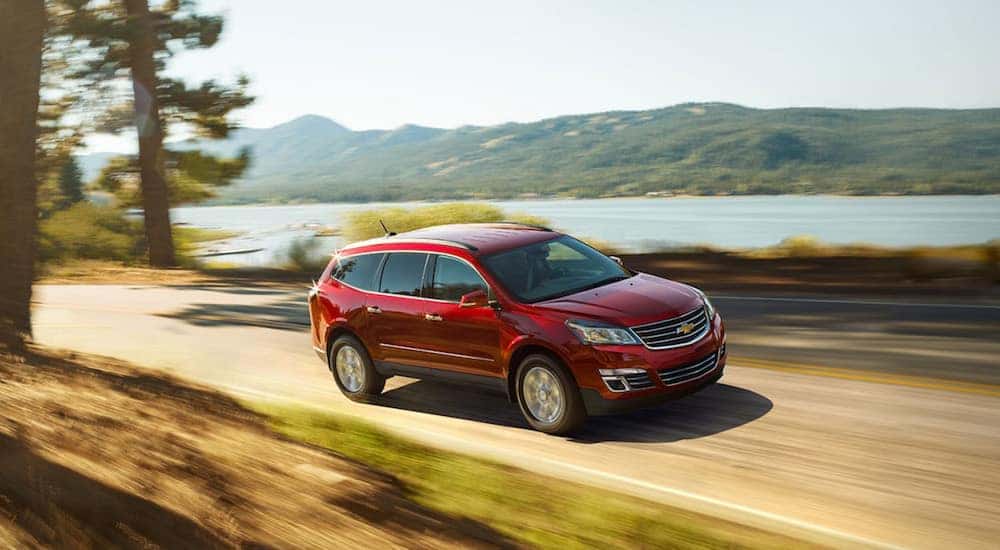 If you live in Cincinnati, Ohio or the surrounding area, you may be anticipating a road trip to any of the state's best landmarks. Perhaps you want to take a weekend excursion to Lake Erie, or maybe you're looking for a fun-filled day at Cedar Point. Regardless of your destination, you'll need a capable road-tripping vehicle to get you there in the first place.
Fortunately, you won't have to look any further than the 2018 Chevy Traverse. The vehicle contains all of the amenities a driver needs for the optimal traveling experience. Check out the main off-roading attributes below, which should provide you with some clarity as you're beginning to search for cars for sale in Cincinnati…
Road Trip Attribute #1: Cargo Space
If you're going to be traveling on a road trip, then you'll surely need enough room to fit all of your luggage. Well, that won't be an issue if you're traveling in the Chevy Traverse. The vehicle is already capable of fitting eight passengers, but unless you have a giant family, it's unlikely that you'll need to take full advantage of this capacity. Rather, you can hide most of the rear seats to unlock a best-in-class 98.2-cubic-feet of cargo space. This is surely enough room to fit any of your luggage, and you may even have some extra room to fit additional cargo, as well.
Fortunately, Chevy makes it incredibly easy to store that cargo. Thanks to the inclusion of the Smart Slide Seating, there will be no hassle accessing the back of your SUV. Meanwhile, the hands-free liftgate will open when you simply wave your foot under the vehicle. Therefore, if your hands are full of bags or luggage, you won't have to awkwardly dig for your keys.
In the unlikely event that you're looking for even more storage space, then the hidden compartment is the perfect spot to hide your more valuable cargo. Secretly hidden behind the eight-inch touchscreen display, drivers can easily hide their wallet and phone without having to worry. The until automatically locks, and it can only be accessed when an occupant enters the four-number pin.
Road Trip Attribute #2: Safety
Of course, if you're going to be traveling on a road trip, you also want to make sure that all of your occupants are remaining safe and secure. Well, you won't have to worry when you're traveling in the 2018 Traverse, as the vehicle is equipped with a number of notable safety functions. Many of these inclusions will play a significant role in helping the driver avoid collisions altogether.
Up front, the Forward Collision Alert can determine when a crash is inevitable. If the driver doesn't respond to the audible and visual cues, then the accompanying Low-Speed Forward Automatic Braking or the Forward Automatic Braking can automatically reduce your speed to lessen or avoid the collision. The Front Pedestrian Braking will play a similar role, as the SUV can detect when something (whether it be a person, vehicle, or object) is about to cross in front of your ride. Finally, the appreciated Lane Keep Assist with Lane Departure Warning and the Lane Change Alert with Side Blind Zone Alert will provide the driver with an extra set of eyes at all times, allowing them to avoid any devastating crashes.
Outback, the Rear Cross Traffic Alert can determine when a vehicle is about to cross behind your ride, allowing you to avoid minor fender benders. Meanwhile, the Rear Park Assist will be especially useful as you're attempting to back into a spot, as this inclusion will guide you into space. Of course, thanks to the Rear Vision Camera, drivers will be able to monitor all of this action at all time.
Two of the more clever inclusions will benefit older drivers and younger drivers. Those more experienced operators will appreciate the Adaptive Cruise Control, which allows them to take a brief break without compromising safety. The unit is capable of maintaining a set speed, and it can accelerate or decelerate based on the flow of traffic. Meanwhile, the Teen Driver Technology will benefit those fewer experience drivers, as the unit is intended to promote safe driving habits. Besides automatically activating the vehicle's assortment of safety functions, the technology also manipulates other areas of your vehicle, refusing to perform some basic functions until all occupants are safe and secure. Meanwhile, parents can monitor all of this information following any trip, so they can be aware if their child may be driving recklessly.
Road Trip Attribute #3: Technology
Of course, if you're going to be traveling a long distance, then you'll surely want some technology to keep you entertained and occupied. Fortunately, that's more than possible in the Chevy Traverse, as the SUV includes a number of technological amenities that will keep you from dying of boredom. It naturally starts with the brand's MyLink system, which is accessible via the eight-inch touchscreen. Thanks to this inclusion, drivers can choose from their favorite radio stations or navigation programs. Plus, thanks to the Apple CarPlay and Android Auto compatibility, they can even connect their smartphone, thus allowing them to safely make phone calls or send text messages.
Looking for even more technology? Then you should consider opting for the 4G LTE Wi-Fi, which provides a reliable wireless internet connection for up to seven devices. This will be especially important during a road trip, as this inclusion will keep your young passengers occupied.
Road Trip Attribute #4: Performance
Finally, if you are traveling a far distance, we'd assume that you wouldn't want the journey to take forever. Rather, you'd like to get to your destination as quickly as possible. Well, that will be possible thanks to the model's engine offering, which manages to pump out an impressive amount of muscle.
The 3.6-liter V6 engine is for those seeking optimal power, as the unit is capable of cranking out 310 horsepower and 266 pound-feet of torque. While these muscle specs are more than impressive, the unit is also capable of delivering an impressive fuel efficiency. Thanks to inclusions like a nine-speed automatic transmission, Variable Valve Timing, and direct fuel injection, drivers can ultimately anticipate a 27-mile-per-gallon highway fuel efficiency