Why the Silverado Chassis Cab Is More Than a Commercial Vehicle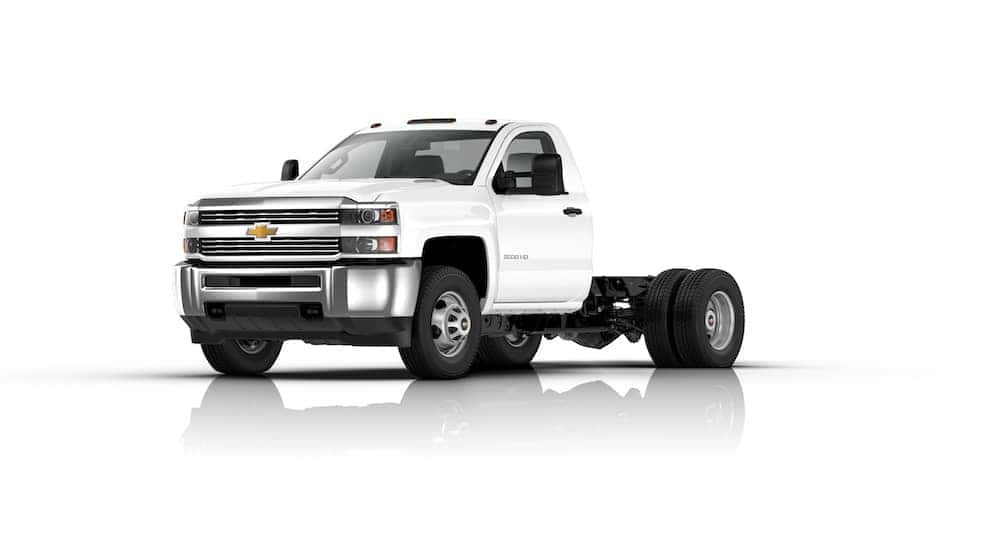 Whether you're pursuing a commercial vehicle for work or play, we're sure you're not all that excited about the impending pursuit. After all, this class of vehicles tends to be a whole less flashy than any other type of vehicle, and they're usually purchased because of their practicality and their worksite prowess. These attributes are undoubtedly true. However, consumers should also recognize that these types of vehicles provide a lot more benefits to their owners.
Case in point is the incredible Silverado 3500HD Chassis Cab. Chevy's engineers included a number of amenities that will help convince the driver that they're actually operating a pickup or SUV. For instance, the incredible performance numbers are often reserved for much smaller vehicles, while the technological features included on the inside will keep any occupant entertained and occupied. Ultimately, the driving experience of the Silverado 3500HD Chassis Cab can rival any type of vehicle that's currently on the road.
Below, we've explored several major reasons why the Silverado 3500HD Chassis Cab is more than a commercial truck. Then, when you're in the market for a new commercial vehicle, you'll know exactly what model you want to pursue…
Reason #1: Optimal Performance
Since you're going to be relying on your new commercial vehicle to haul a whole lot of weight, you'll surely be anticipating a mighty impressive engine. Well, Chevy went above and beyond, providing customers with a pair of incredible offerings. The two options are reliable and powerful, confirming why the Silverado 3500HD Chassis Cab is the perfect worksite vehicle.
The Vortex 6.0-liter V8 engine is the smaller of the two options, but it still manages to deliver an incredible amount of power. Drivers can ultimately anticipate 360 horsepower and 380 pound-feet of torque from this particular unit, which are numbers that are rarely seen from similar rides. Somehow, the Duramax 6.6-liter turbo diesel engine manages to elevate those specs to a whole new level, promising an absolutely insane 445 horsepower and 910 pound-feet of torque. If you're looking for a commercial vehicle that can travel a standard pickup or SUV, then this is surely the proper choice.
Reason #2: Flashy Interior
Chevy's engineers also did an admirable job of including a number of amenities and features that will help to improve the entire driving experience. It starts with their various technological offerings, including the Chevrolet MyLink system. The unit allows drivers to access an assortment of useful applications via the accompanying seven-inch diagonal color touch-screen display, thus maximizing convenience and safety. Thanks to the inclusion of the Bluetooth compatibility, drivers can also rely on the system to make hands-free phone calls. You'd generally expect these features from a standard car, but certainly not from a commercial vehicle like the Silverado 3500HD Chassis Cab.
If you're ever required to complete any work with you're out on an assignment, you can lean on the available 4G LTE Wi-Fi to provide you with a strong wireless internet connection. Thanks to this addition, you won't have to drive around aimlessly seeking a cafe or restaurant that offers wi-fi. Plus, thanks to the ability to connect up to seven devices, all of your fellow workers can rely on the amenity, as well. If you're going to be required to use any of your gadgets, whether it be a laptop or smartphone, then you'll appreciate the fact that the vehicle provides several outlets. The USB ports will be useful when it comes to charging your iPhone or Android phone, while the 110-volt power outlet means you can always keep your computer juiced.
To top it all off, the interior also includes several storage spots, meaning you'll never have to worry about securing your more valuable cargo. The center console storage compartment provides more than enough room to fit your laptop, while the upper and lower glove boxes (as well as the "grab and go" storage pockets) will allow you to remain fully organized.
Reason #3: Remote Access
Fortunately, Chevy also provides their customers with the opportunity to stay connected with their vehicle even when they're away. The myChevrolet Mobile Application is one of the most appreciated features in the entire industry, as drivers can remotely access their vehicle at all times. This means they can start/stop their engine or lock/unlock their doors from the comfort of their own couch. They can also send directions directly to the navigation system, and they can view vehicle diagnostics. It's all possible thanks to this simple mobile app.
Meanwhile, the Commercial Link will be especially useful to those who own a business. This system allows owners to monitor the location of their vehicle at all times, providing you with some security when an employee goes out on an errand. Owners can also monitor their vehicle's fuel efficiency, speed, and maintenance, allowing you to constantly see how your vehicle is being treated.
Reason #4: Capability
Of course, at the end of the day, you're pursuing a Silverado 3500HD Chassis Cab because of its commercial truck capabilities. Well, unsurprisingly, the nameplate more than delivers in that regard. The back of the vehicle can be customized in a variety of different ways, allowing owners to capitalize on whatever task they need to complete.
The utility upfit is for those who are counted on for a variety of different jobs, whether it be plumbing, electricity, or any other similar work. With the ability to organize tools and store larger pieces of cargo, it's definitely one of Chevy's most practical offerings. The dump truck is a logical choice if the owner needs to transport any garbage or construction aggregate, and drivers can move it without any worry of it spilling out onto the road. Finally, the flatbed is reserved for those who are tasked to move large pieces of equipment, as the upfit will provide an easy place for you to store and secure that cargo. Regardless of which option you choose, you'll surely be happy with your decision to pursue the Silverado 3500HD Chassis Cab