10 Can't Miss 2019 Bengals Games
Bengals fans, the 2019 season is at hand, and we're all looking forward to it being a good one. All you tailgaters out there: be sure to stop by McCluskey Chevy for the best car service near you to make sure you and your vehicle are both ready for game day. Whether you like to watch the games at home or spend the day tailgating with friends, there are going to be a lot of major games this season that you won't want to miss. Even if you already watch every game anyway, these are the ones that you'll want to pay attention to the most.
We won't talk about last season too much, because it was definitely a rough one. But every team hits a rough patch sometimes, and the shakeups and replacements in the coaching staff should give us a rejuvenated Bengals team with a renewed focus on building a strong, winning record. All things being equal, we have a pretty friendly schedule this year, and there's no reason our Bengals can't push into the postseason.
Week One: Away against the Seattle Seahawks
It's fair to say the first game of the season is always a "can't miss game," but there's more to it than that in 2019. With so many coaching changes this year, this game is going to be our first opportunity to see them all in place firing on every cylinder. Russell Wilson might not be the dominant force in the NFL that he was six years ago, but he played an incredible season last year and will be an excellent test for our defense. This will be a great game, and if our defense can contain or stop Wilson and the Seahawks, then it will set the perfect tone for the rest of the year.
Week Two: Home against the San Francisco 49ers
Our first home game is one you definitely don't want to miss. There isn't a ton of franchise history between us and the 49ers, but you can expect they'll want this win as much as we do. Early season momentum is very important, especially with the schedule we have this year, so a win in week two could be a major push for a strong season overall. Plus, Andy Dalton has a strong career when it comes to winning September games.
Week Four: Away against the Pittsburgh Steelers
The Steelers have been a massive problem for us in the division for years now, and the less said about the last few years, the better. With Zac Taylor coming in, however, things should change as some fresh coaching blood puts the Steelers on their heels. This game closes out the first month and is our first divisional match up of the season – so setting the tone here with a win will be huge. No matter what, when the Bengals and Steelers play, you know it's going to be a game to remember.
Week Six: Away against the Baltimore Ravens
Our second divisional match up is only a couple weeks later, in Baltimore against the Ravens. The Ravens had a dominant defense last year, so this will be a good chance to see what kind of staying power our defense and offense will have this season. Although our record overall against Baltimore is not perfect, we are 7-4 against them when we have A.J. Green healthy and on the field. As long as everything goes well, this should be a good game and a definite win for us.
Week Eight: In London against the Los Angeles Rams
This is going to be an amazing game for a couple of reasons – for one thing, it's in London, and those games are always fun to watch. It's also the last game of the season before our bye week, so a win here will be huge for keeping the momentum going into November. The Bengals' new coach, Zac Taylor, will be going up against his old team, and Andrew Whitworth will be looking at us from the other side of the ball. These two factors will definitely make this a game to remember and should be a lot of fun to watch.
Week Ten: Home against the Baltimore Ravens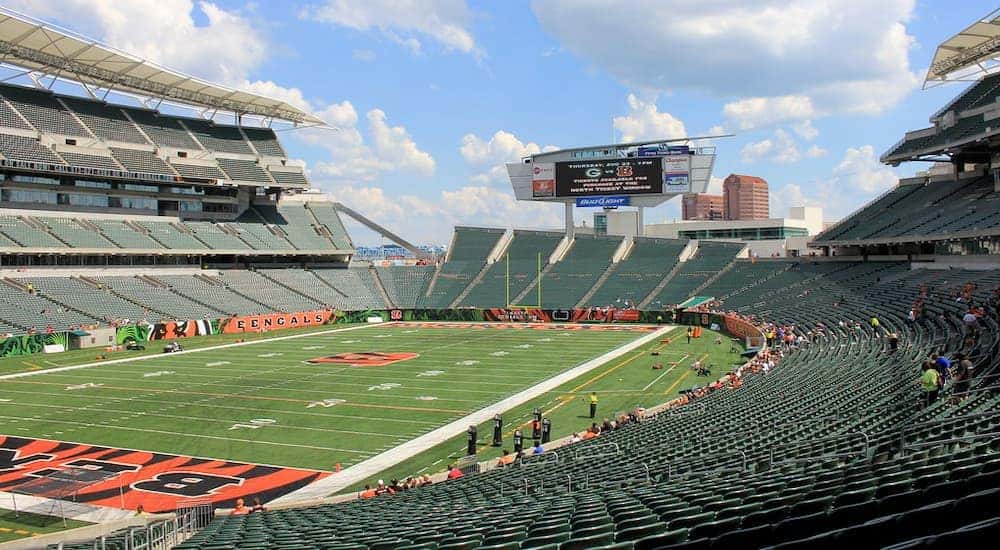 After the bye week, we go up against the Ravens again, but this time here at home. This late in the season, these games will come down to how healthy our team is and how well they can adapt to shifts in strategy throughout the league. A lot of talk is coming out of our office right now about playing physical all season long, staying strong in November and December, so this will be our time to prove it. Coming off the bye week, our Bengals should be refreshed and ready for battle – a win here will send a message to the rest of the league that the Bengals are serious.
Week Twelve: Home against the Pittsburgh Steelers
Late-seasons games against the Steelers were huge for our chances at getting into the playoffs and the overall postseason outlook. While it's impossible to guess at what our record will look like in late November this early, this will almost certainly be an essential game. If our players are still strong and in good health, this is a game we should be able to win – we have a strong record of winning at home in November with Dalton and Green.
Week Fourteen: Away against the Cleveland Browns
Our first game against fellow Ohioans comes late in the season, all the way in December. Even when the Browns have been less than impressive, they always show up for divisional games and this one should be no different. There's a lot of buzz about the talent the Browns have; it will just depend on if the coaching staff in Cleveland knows how to utilize what's available to them. Either way, this is going to be an important game for both the Browns and the Bengals. Make no mistake, it should be a lot of fun to watch.
Week Fifteen: Home against the New England Patriots
What needs to be said about the Patriots that hasn't already been said? There are strong opinions out there about Tom Brady, but no matter how you feel, you have to admit he knows how to win a game. Playing against the Patriots so late in the season means it could be a vital one for us to win as we're looking at the postseason picture. Here at home, the Bengals have a strong record against defending champion teams, so this will be one to watch.
Week Seventeen: Home against the Cleveland Browns
Our last game of the regular season is another divisional match up and our second game in December against the Browns. Hopefully, our chances at the postseason won't come down to this game, but you never know how things will shake out. Whether it all hinges on us beating the Browns or not, this will definitely be a fun game to watch with a lot of action. Since it is a divisional match up, it's possible that even if our position in January is secure, that it could still be an important one for getting the best seat at the playoff table.
December games between Ohio teams often come down to strong running, since the cold temperatures can make passing much more challenging. It will be interesting to see how both the Browns and Bengals look at the end of December – what kind of strength they still have. Our guess is that the winner of this match up will be the team with the stamina to push through one final slugfest – it's going to be a lot of fun to watch!