10 Things to Love About the New 2021 Chevy Colorado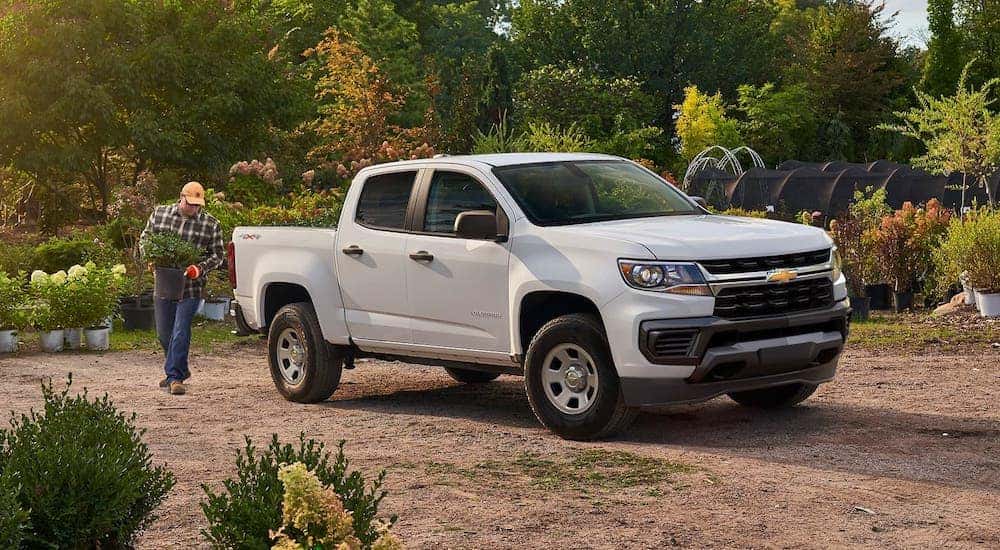 The Chevy Colorado is one of the most popular and loved trucks on the market. And the 2021 Chevy Colorado is offering just as much to drivers as its predecessors. Practicality and functionality are its two main characteristics, and it can be customized to suit a wide range of driving needs. With a trio of powertrains and a quartet of trim levels to choose from, you can find the perfect match for you.
If you have been considering purchasing one of the Chevy trucks, you should definitely take a look at this one; there are so many reasons to do so. To give you a full idea of the Colorado's benefits, we at McCluskey Chevy in Cincinnati, OH, are excited to share our handy list of the top ten things to love about this fantastic truck. So without further ado, let's get into it!
#10 A Robust Standard Engine
While there are three engines to choose from, the standard 2.5-liter I-4 engine is a solid base unit. The older 6-speed manual transmission has been retired from the entire lineup, and this particular powertrain is equipped with RWD and a 6-speed automatic transmission. Generating 200 hp and 191 lb-ft of torque, it can haul up to 3,500 pounds. It also gets about 21 MPG combined (19 city/24 highway), which is pretty good for a large truck. This standard engine is anything but ordinary.
#9 Two Available Powertrains
If the standard powertrain isn't impressive enough, you still have choices. The first optional engine is a 3.6-liter V6 that is paired with an 8-speed automatic transmission. This impressive upgraded pushes out 308 hp and 275 lb-ft of torque. And the average fuel economy sits at 21 MPG combined (18 city/25 highway). And even better, it can tow up to 7,000 pounds. That's a high enough towing limit to pull most campers.
For folks who prefer diesel, there is also a 2.8-liter turbodiesel 4-cylinder engine in the powertrain lineup. Coupled with a 6-speed automatic transmission, it produces 181 hp and 369 lb-ft of torque. It also gets the best fuel economy with ratings estimated at 23 mpg combined (20 city/30 highway). And you can pull up to 7,700 pounds with this unit as well. Also, keep in mind that any of the aforementioned powertrains can be equipped with 4WD, allowing drivers to get any type of performance they seek.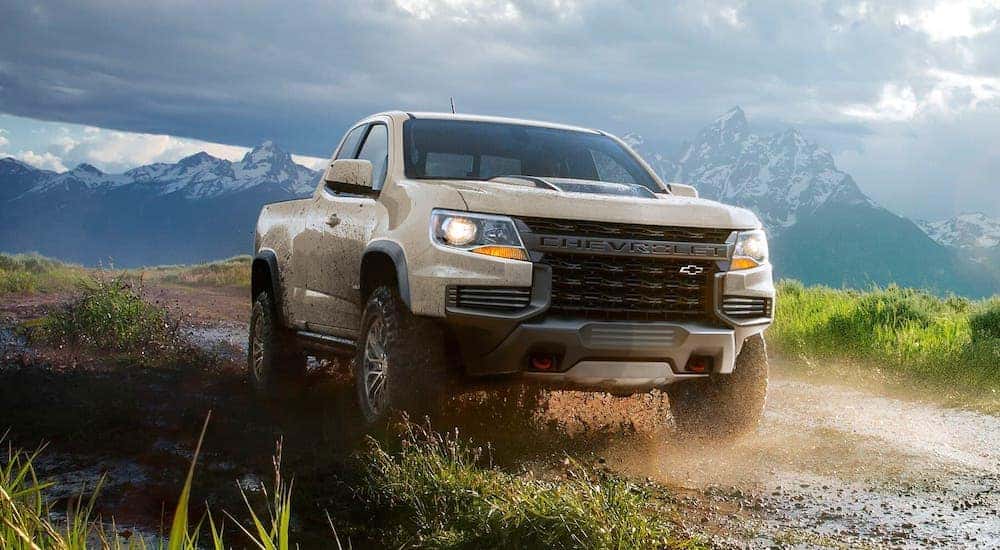 #8 Unique Paint Colors
Whenever you see a truck on the road, what color is it? Most are typically Black, White, Silver, or Red on occasion. If those seem boring to you, then you're in luck! The 2021 Chevy Colorado is available in seven unique shades, including classic hues like Black, Summit White, Satin Steel Metallic, and Cherry Red Tintcoat. It also comes in fun colors such as Sand Dune Metallic, Bright Blue Metallic, and Crush (a vibrant shade of orange). This truck is certainly a fun one!
#7 The Older Model Won Lots of Awards
The Chevrolet Colorado is a very popular vehicle. It earned the 2020 Kelley Blue Book "Best Buy" Award, which is quite a feat. The Chevy Colorado ZR2 model also won the "Editor's Choice: Best Off-Roader" title from Popular Mechanics, and the ZR2 Bison model took "Truck of the Year" from Overland Journal. And we can only assume the 2021 model will receieve even more accolades, considering it is an improved version! So, if you are looking for a mid-size truck that can handle the great outdoors and has been recognized for just that, then this is the ride for you!
#6 Various Configurations
The 2021 Chevy Colorado is offered in two body styles. The first is the extended cab model, which is sometimes referred to as a "King Cab" in the auto industry. It can seat up to four people, but it only has two doors. Built with a standard 6.1-ft bed, it's a great option for truck enthusiasts.
The second body style is known as the Crew Cab. As a four-door model, the cabin can seat up to five people. It's ideal for families and people who like to travel with friends. Additionally, you can choose between the standard 6.1-ft bed or the short 5.1-ft bed. With all of these different configurations, you can get the perfect size vehicle for you.
#5 The Work Truck Trim
Out of all of the available working trucks on the market, none are as well-equipped as the 2021 Chevy Colorado WT. Short for Work Truck, this trim level is anything but basic. It comes with air conditioning, power windows, and cloth upholstery. Vinyl flooring allows for easy clean-ups, and the tilt-only steering wheel is adjustable to suit your height.
The base infotainment system uses a touchscreen interface and features Bluetooth connectivity. Compatible with Apple CarPlay and Android Auto as well, this advanced system enables seamless smartphone integration. Dual USB ports and a stereo with six speakers are also included.
Stand-alone options that you may also add to the WT trim include a 4G LTE Wifi hotspot and OnStar telematics, remote keyless entry is also available as well as cruise control. If you want a more advanced tailgate, you can opt for the EZ lift tailgate with the remote locking feature. This is just the base trim, and it is one of the best base trims on the market.
#4 The LT Trim
The second trim level is more of a mid-level model with its semi-luxurious features. The steering wheel has been upgraded with leather and the tilt-and-telescoping function. The driver's seat is power-adjustable, and two more USB ports have been added to the cabin. Furthermore, the infotainment interface has been enlarged to an 8-inch touchscreen, and all of the stand-alone options from the WT trim are now standard.
Additional options that are available for the LT trim include automatic climate control and a premium Bose stereo with seven speakers. Heated seats may also be added as well as automatic emergency braking. As an advanced safety system, it will take control of the brakes if no action is taken by the driver to avoid an impending collision.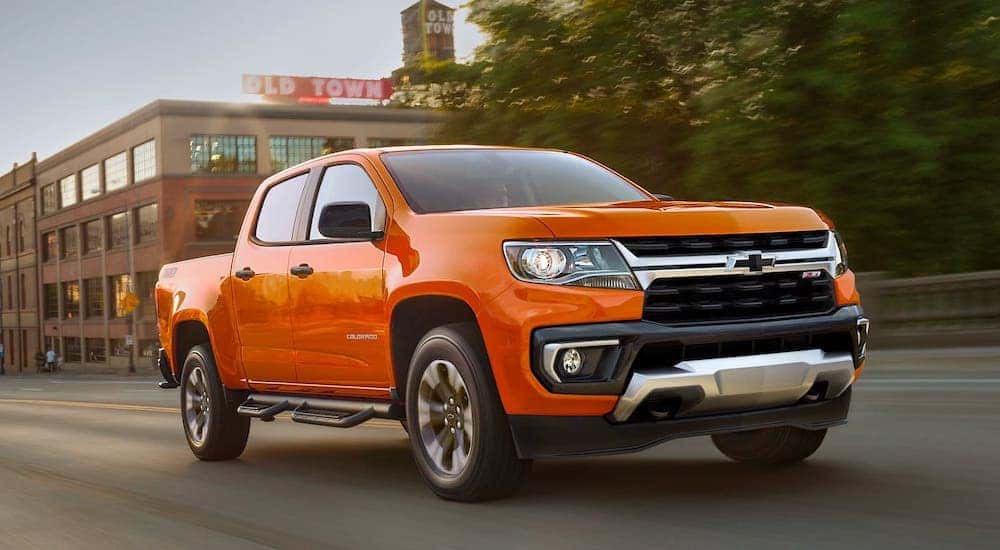 #3 The Z71 Trim
The Z71 trim level is special for quite a few reasons. This is a semi-off-roading model that comes with all-terrain tires, hill descent control, and a locking rear differential. It also includes a revised suspension that has been enhanced for the ultimate off-roading experience. The flooring has been upgraded to carpet, and all of the aforementioned features on the LT come standard.
#2 ZR2 Trim
The top-tier trim level is known as the ZR2. It has already won a couple of awards for being the best off-roading vehicle on the market in previous model years. Featuring the V6 engine and a raised suspension with edited dampers, this truck will give you a ride that you'll never forget. The all-terrain tires are larger, and an electronically locking rear differential is standard.
It also comes with a spray-in bedliner, restyled front/back bumpers, and fender flares. If you want a bit more luxury included in this off-roading model, you can opt for leather upholstery and a handy navigation system. You won't have to worry about getting lost in the wild again!
#1 The ZR2 Bison
Another previously award-winning trim in the Chevy Colorado lineup is the ZR2 Bison. Technically speaking, it is not a trim level. It is actually a package that adds off-roading enhancements. Riding on 17-wheels, the 2021 version features AEV-styled wheel flares and five protective skid plates that were built out of boron steel. A front-mounted winch is included as well as rear recovery points. This package certainly rounds out the Colorado as one of the best options on the market.