Box Trucks in Cincinnati OH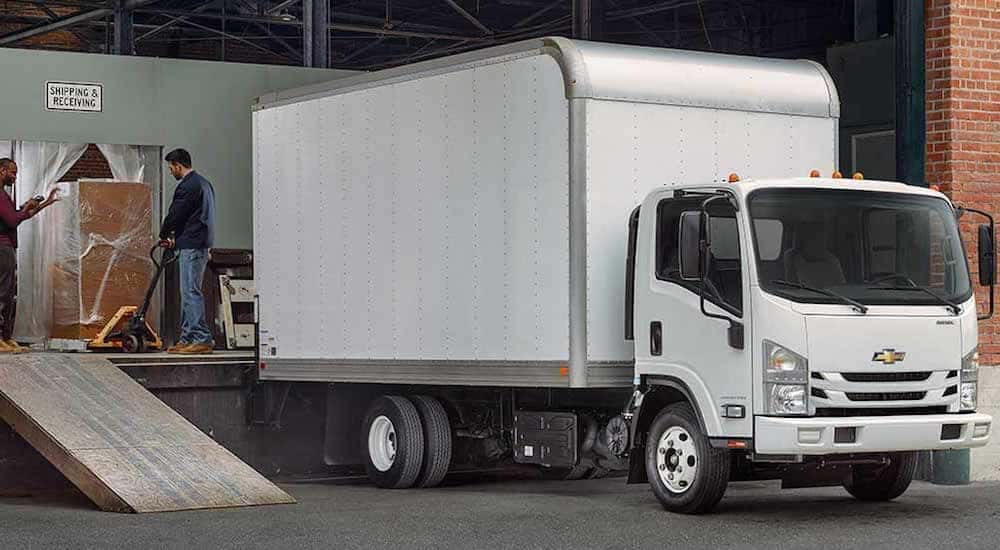 Many people and companies are always in the pursuit of more money at a lower cost. Hauling cargo is one such area where the right choice for transportation can make a major difference in the long run. Larger trucks mean more cargo with greater expenses. Smaller trucks are more affordable but less capable. While many are automatically drawn to the largest size possible, there is actually a case to be made for going the small to medium route for your hauling needs.
As odd as it may sound, it's possible to find financial success through a box truck. Yes, those smaller-than-semi trucks you see people driving around the highway carrying anything and everything under the sun. Whether it's a U-Haul or a privately owned truck, these vehicles are a more affordable entry point into cargo hauling if you don't have the budget for a complete semi.
The trick to buying a box truck is knowing what you need and what to look for when researching your options. The choice between a new and used box truck is just the first decision, but in some ways, the most important. New trucks have their own advantages such as a higher level of presumed reliability at a higher cost. Used trucks may be cheaper but riddled with unknown issues.
The correct choice for you will depend on a couple of factors, so here is a look at what you need to know and think about when starting your search for a box truck in Cincinnati.
Box Truck Size
Whether it's new or used, box trucks all have some common features that differ from your average car or truck. In some ways, they are a step under a semi-truck, but that doesn't encompass all the things that make them unique. If you have your heart set on going with a box truck, it will be extremely important to know these differences in order to make the best choice in the end.
Box trucks come in a variety of sizes, but all tend to fit in the range of "medium" truck or Class 3 to Class 7. The size of the truck is a very important point to consider since it will influence the amount of cargo you can physically and legally carry in addition to the operating expenses. To find the right truck, you will have to consider the type/amount of cargo you will want to carry. If you plan to use the truck for less-than-traditional purposes, the target final weight of the truck will still be important to know.
When you start to search for a box truck, you will come across many possibilities including the option to mix and match chassis and box lengths. In short, you might have two things to decide: the size of the chassis and the size of the box. Both will determine the final weight of the vehicle.
It's important to find the right chassis that can hold the final maximum intended weight while cruising at highway speeds. An underweight chassis will quickly limit your ability to haul cargo. In worst case scenarios, it may even lead to damage or an accident while out on the road if you try to skirt the weight limits for your vehicle.
The box itself will determine the amount and type of cargo you will be able to transport. Think about this size in the full three dimensions. Make sure you have enough length but don't forget about the height as well. Both of these dimensions will affect the overall handling and capability of the box truck.
Together, the chassis and box will open up a whole world of possibilities to you. Regardless if you go with a new or used truck, do your research and planning ahead of time to know what your options are and which ones work best.
Considering a New Truck
Going with a new box truck is an attractive possibility to many people since it makes life more simple on paper. You can eliminate a lot of the unknowns that used trucks have after they start to gain several miles on the dial. Buying new will also give you the most options when it comes time to find the right size and performance specs to purchase.
Unfortunately, new trucks aren't always the answer. For one thing, cost can be prohibitive since you will be paying the full amount of a vehicle that is in prime condition. Depending on the make and model of the vehicle, some options may also be off the table if a manufacturer limits their offerings. Most importantly, you may also have to "break in" the truck to get it running at peak performance.
The best way to approach deciding if a new truck is the best option is to consider your needs and budget. First, can you afford a new truck? Since all box trucks come in different price points, you will likely find that there is a certain cut off point for the truck you can afford. Second, can you find the options or customizability you need? Look over the different specs and packages new manufacturers offer to see if they provide you with the final truck you want.
The Case for a Used Truck
A used box truck might not be the first choice for a lot of people, but they have their merits if you want to save some money or can find the perfect fit. The most important thing to realize is that a used truck isn't always a bad option. In other words, used trucks are all different: mileage, performance, and the assortment of dents/dings will all vary.
A used truck should be a prime choice if your budget is lower than what you can afford for a new truck. In general, a used truck will always be cheaper than its new counterpart, but the total amount will depend on the age and condition of the vehicle. You can also look for special deals offered by dealerships or individual owners to get the best price possible. Be prepared to haggle or negotiate to maximize your savings.
Do as much research about possible vehicles you may buy ahead of time if possible. History information available online will give you a sense of what the truck has been through. Don't be afraid to ask questions of the current owner or dealership to get more specific information as well. Test drive the vehicles before making any final choices to get a good sense of how it handles.
The best-used vehicle should meet all of your needs, stay within your budget, and be in a decent-to-good condition. If you find something that hits all of these check marks, you might have found your new old box truck.
Making the Right Decision
There is no right or wrong answer when it comes to buying a new or used box truck. The ultimate decision will depend on everything you need out of a truck. Size, condition, capability, and price are the areas you will need to pay attention to in order to know when you have found the right possibility. Make out some lists if necessary so you can keep track of all these details.
If needed, think about what areas you can compromise in as well. If you find a truck that has most of what you need but is lacking in a couple spots, it may still be the best choice if you can't find anything else. Searching for new and used box trucks is tricky since inventories will change over time. In the end, you never know what you will find.
---
2021 Update: Chevy Box Truck Options
Now that you know a little bit more about your options and how they work for your unique commercial needs, it's time to discuss the Chevy lineup of box trucks for 2021. At McCluskey Chevrolet, we're your go-to source for box trucks in Cincinnati, and no matter what you're hauling, we have an exceptional inventory for you. Whether you choose to buy new or used, Chevrolet's revered history of designing sturdy, capable and dependable trucks shines through in each of its models, which means you have a strong set of options when it comes to your next commercial purchase. Your truck needs to be able to perform at its best because your cargo depends on it, so choosing the right vehicle to suit your business's needs is essential. Let's explore the 2020/2021 lineup of impressive Chevy box trucks.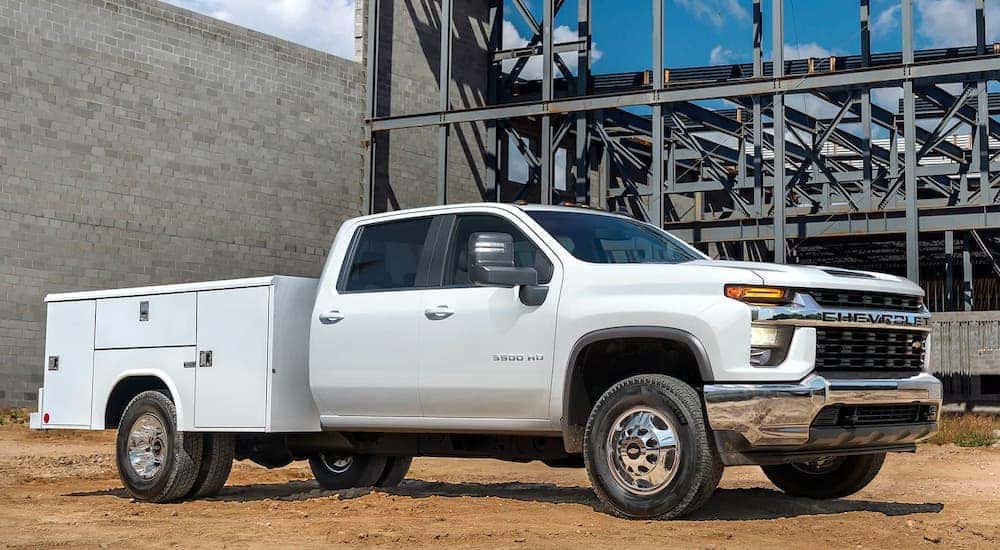 Silverado 3500 HD Chassis Cab
Starting off the list is the Silverado 3500 HD Chassis Cab, which if you know anything about the mighty Silverado, this truck won't disappoint. For maximum power, capabilities, and functionality, many businesses turn to the strength of the Silverado to lead the pack. Large axles, multiple fuel tank options, and your choice of powerful engines make this truck a surefire way to add productivity to your workday. Its Duramax 6.6L turbo-diesel V8 gives it unmatched power and performance with 910 lb-ft of torque, and with a max GCWR of 40,000 lbs, this truck takes any task head-on with absolute ease. You won't have to worry whether or not you're able to haul a heavy load when you have the Silverado 3500 HD Chassis Cab on your team.
Its strong foundation, composed of high-strength steel, and its versatile design help it to accommodate virtually any type of application. This utility/flatbed/dump truck and anything else you want it to be is built to handle more and do it with ease. If you're looking for maximum efficiency in your day, you'll get just that with its expertly-designed cabin, featuring upgraded storage options, charging stations, and loads of tech offerings to help you stay connected and productive during the busy day.
Silverado 4500 HD/ 5500 HD/ 6500 HD
If you need a little more power to get you through your task, don't worry, Chevy has a Silverado for you. The Duramax 6.6L turbo-diesel V8 is paired with an Allison transmission to provide the Silverado Chassis Cab models with maximum efficiency when it comes to horsepower and torque, as well as impressive fuel consumption. With a max GVWR of 23,500 lbs, the 4500 HD, 5500 HD, and the 6500 HD are ready to take on the toughest of tasks, and with features like a forward-tilting engine cover, you're able to move effortlessly around obstacles, even if you're carrying a heavy load. A downward-sloping hood allows for maximum visibility, and upgraded shocks provide a smooth ride, no matter where you're traveling.
With an exceptional fuel capacity of up to 65 gallons, you won't need to halt your workday for a fuel-up, and with a reinforced frame, you can have the confidence you need when you're hauling at your maximum potential. Plus, you can rest assured that with a variety of upfitting options available, you're able to turn this selection of Silverados into anything you desire, making the Silverado Chassis Cab models ideal for any type of work during your busy day.
Express Cutaway
Your workday just got easier with Chevy's Express Cutaway model, celebrated for its versatility and ability to handle just about anything. An impressive selection of powertrains, as well as wheelbase options, greet you in this reliable model. With its variety of upfits, you're able to transform this truck into whatever you need it to be, like a box truck, shuttle bus, or even a service van.
Its 6.6L V8 engine gives it all the power it needs to propel through the workday with ease, offering up 464 lb-ft of torque. With 402 horsepower, you'll be able to get moving quickly and efficiently without holding up traffic hauling heavy loads. Speaking of hauling, Express Cutaway boasts a max payload of 8,920 lbs and a max GVWR of 14,200 lbs, making it an extremely capable and efficient addition to your commercial fleet.
Don't forget about all the convenience features found inside this dependable vehicle to make your workday more efficient, like a 4G LTE WiFi HotSpot, a 120-volt outlet, and a USB port. Not only will you be able to keep all your devices charged and working optimally, you won't miss any important alerts or messages while on the job. With a variety of safety features, you'll be sure to keep yourself, your cargo, and your passengers as safe as possible during your commute.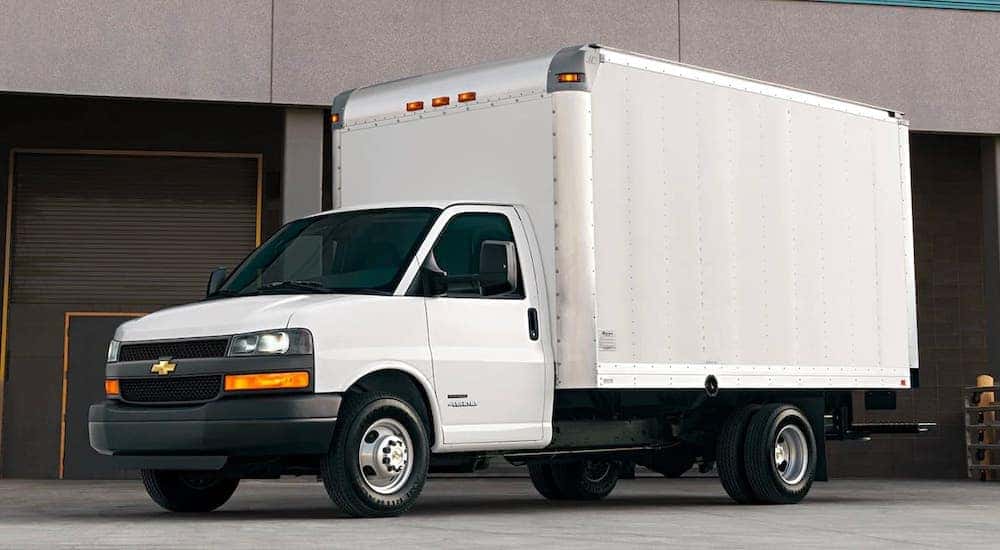 Low Cab Forward
Whether you're looking for a new addition to your fleet of construction vehicles or planning on purchasing a new delivery vehicle, the Low Cab Forward option is a solid choice. Perhaps the most impressive, the 6500 XD provides an extraordinary GVWR of 25,950 lbs, allowing it to take on some serious work. Plus, with a functional design providing it with exceptional visibility and a roomy interior, you'll be able to travel anywhere comfortably and easily. Its impressive length grants you the maneuverability you need to be able to navigate your way through complex driving situations. With fold-down trays, storage areas, and organizers, you're able to maximize the space so that your workday remains productive.
Available in a number of engine options and cab configurations, the Low Cab Forward allows you to build the perfect truck to handle your tasks. When you want a versatile, functional, and productive member of your work team, Chevy's Low Cab Forward models offer the ultimate solution to your box truck search.
Other Commercial Options
Perhaps now that you've explored some of your options, you have decided that a box truck may not suit your needs opting to search for something a little smaller, which is why Chevy also offers Express vans to accommodate these types of loads. From contractors to plumbers, electricians to carpenters, Express vans can provide the perfect solution for maximum productivity in your workday. Organize all your tools and haul materials and small equipment to the job site. With seating up to 15, you're even able to convert these options into passenger vans to help run your taxi service, airport shuttle, or any other services your business provides.
With a variety of models and engine options, Chevy's Express vans are the perfect ways to make the most out of your workday. Comfortable and roomy interiors ensure your passengers can stay relaxed while traveling and your cargo can remain safe. Whether you're hauling tools or people, materials or deliveries, there's an Express van out there that can help make the process simpler and more efficient.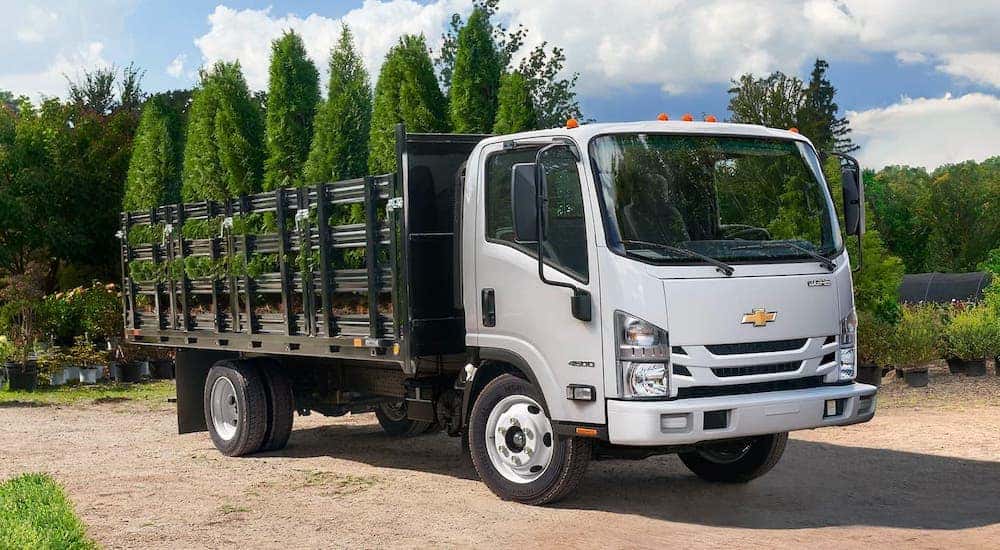 Go Commercial with Chevy
You have a lot to think about during your day-to-day grind, and your vehicle plays an essential role in your business's success. The wrong fit can cause problems like missed deliveries or, worse, accidents, which is the last thing you want to deal with during a hectic, busy day. That's why Chevy offers a number of options to choose from so that you can rest assured your business is operating at its peak, ensuring that your tasks are being completed correctly and that you have the ideal truck for your needs. From mighty Silverados to efficient Express vans, Chevy has an option available for you. Visit McCluskey Chevrolet for an up-close look at our vast selection of commercial vehicles and find the right addition to your business's growing fleet of vehicles today.