Chevy Tahoe or Suburban: Which is Right for Your Family?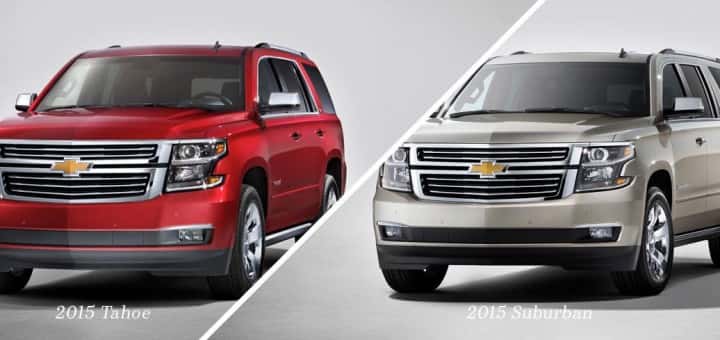 Welcome to the official blog of McCluskey Chevrolet – your one and only stop for new and previously-owned quality cars. You should never trust your car buying experience to any of the random Cincinnati used car dealerships, but rather come to a reputable dealer like McCluskey Chevrolet that has your best interest at heart. Here at McCluskey, we always try to bring you the latest information on the automotive industry, especially when it comes to Chevrolet cars, trucks, and SUVs. If you have made the decision to purchase a Chevrolet SUV, but aren't sure which one is right for you – then check out the rest of this blog post. We will go over the ins and outs of what makes the Tahoe and Suburban different from each other, so that you can decide which one is right for your family.
For the 2015 model year, both the Tahoe and Suburban received complete updates. Both SUVs have a new exterior look, which is much more rugged and "aggressive" looking than past models. The biggest difference between the Suburban and the Tahoe is size. The Suburban was designed as a larger counterpart to the Tahoe, with about a foot more of space between the captain's chairs. As expected, the headroom and legroom are a bit roomier in the larger Suburban.
When it comes to handling and performance, the SUVs do have a bit of a difference. While both vehicles get about the same fuel economy with the same V8 engine, the Suburban is decidedly more tedious to drive through small towns, navigate sharp turns, and find street parking spaces large enough to fit the vehicle. Because the Suburban is much longer than the Tahoe, you can expect to fit more cargo in the back of the Tahoe. So it really comes down to space, and convenience. Both SUVs perform about the same, offer the same engine options, and have about all the same features. If your family needs the space, go with the roomier Suburban. Come down to test drive the two vehicles today, and decide for yourself!