Hit the Trail Running in the All-New 2021 Chevy Colorado ZR2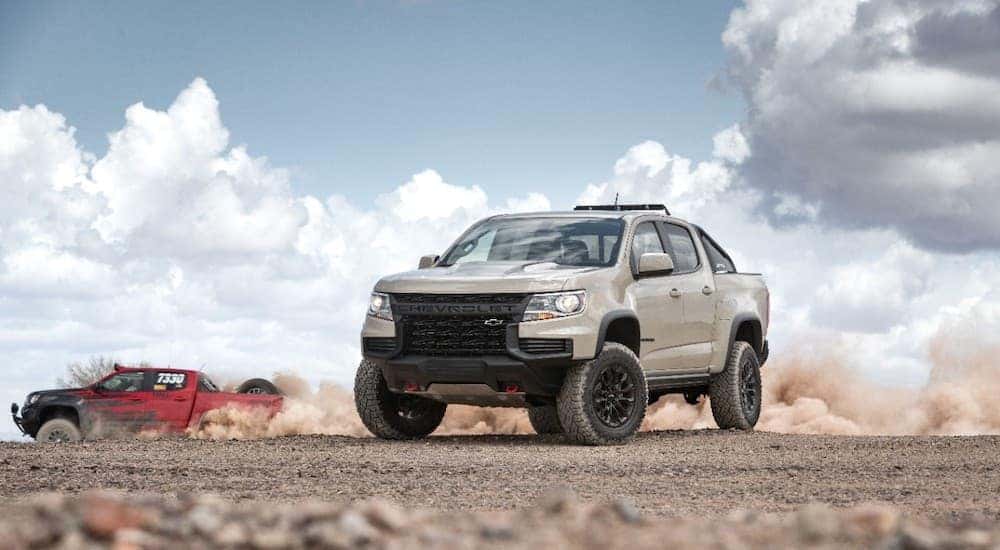 Chevy truck enthusiasts were excited when Chevrolet announced that it was coming out with an all-new ZR2 trim for the 2021 Colorado. Similar to the GMC Canyon AT4, the 2021 Chevy Colorado ZR2 is designed to be the affordable off-road choice for folks who love the challenge of tackling trails and unpaved surfaces. This announcement joined others made by Chevrolet and other General Motors vehicles about exciting new models to look forward to in the 2021 model year. However, nature intervened with the terrible coronavirus pandemic, and one after another GM model was postponed until the 2022 model year.
General Motors valiantly joined this nation's fight against this terrible disease, shifting from producing new cars, trucks, and SUVs to manufacturing masks, gloves, ventilators, and other vital personal protective equipment. Many folks were concerned that this would impact the development of Chevy Trucks in general, and the 2021 Chevy Colorado ZR2 in particular. Despite this, Chevrolet gave us all a little silver lining to this touch of grey when it made clear that the Colorado ZR2 would not be delayed, and will be showing up at dealerships, such as our own McCluskey Chevrolet, sometime this year.
With the full lineup of Chevrolet cars, trucks, and SUVs, we are you one-stop for new and used Chevy vehicles, offering you great cars at great prices. Our service department stands ready to help with your Chevy's maintenance and service. We are open seven days a week at our dealership, conveniently located at 9673 Kings Auto Mall Road in Cincinnati. Come in and find out why the 2021 Colorado ZR2 is the choice for off-roaders like you.
An All-New Look for the Colorado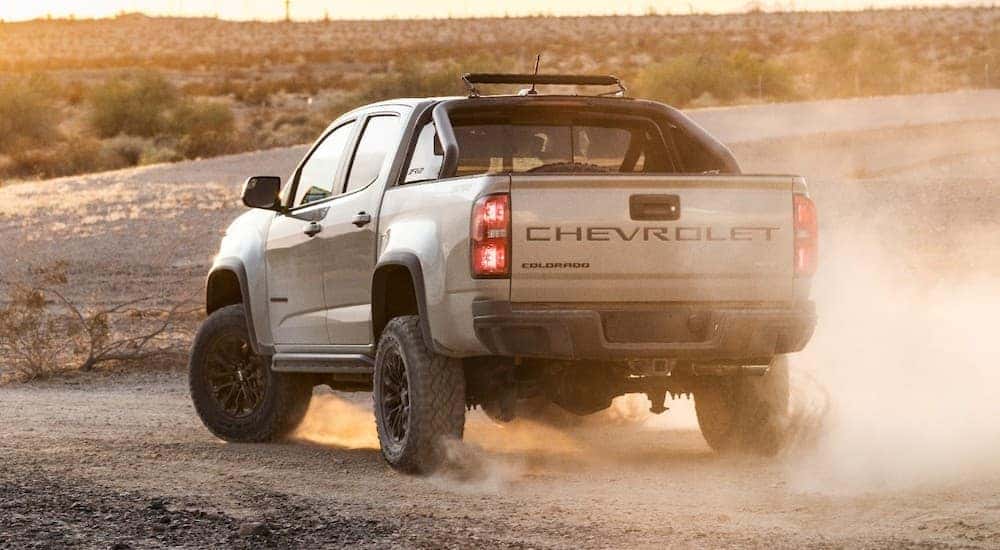 The first thing you will notice about the 2021 Colorado ZR2 is its aggressive, powerful profile. From a muscular new dark chrome grille to a stamped metal tailgate, each with Chevrolet in bold block letters and distinctive Chevy black bow tie logos, you will know immediately that this is not last year's model!
The other thing you are going to notice is some really eye-popping new colors. There is sand dune metallic that gives the ZR2 a real martial appearance, ready for this great off-roader to head into battle. This is the perfect match for an off-road truck like the ZR2. If you like something really hot, there is a cherry bomb tint coat. Your friends will spot your gorgeous new Colorado ZR2 miles away, even if you are in the densest forest. The wildest new color option may be pow zinga metallic. Yes, you read that right. What is it? It is an electric blue that makes the Colorado ZR2 look like it's flying over a hill even if you're just idling in neutral.
Setting off these new colors are a set of front and rear red recovery hooks. These may look pretty, but they are not just for show. They show the ZR2 means business, and you can use these hooks to get you up and over whatever nature throws in your way.
The 2021 Chevy Colorado ZR2 is configured as a crew cab with a short box, giving you and your passengers plenty of room, while providing plenty of cargo space for whatever gear you need to take along on your adventures. This makes it clear that Chevrolet is dedicated to the off-road trucking lifestyle, creating an entirely new midsize truck that is designed specifically for hitting the trails.
The Colorado ZR2 can comfortably seat up to five passengers, and with its trim specific suspension system, you will all be able to handle the feel of even the most rugged terrain.
Like all Chevy trucks, the ZR2 will feature Chevy's awesome Infotainment 3 system. This brings together your truck's key informational systems with entertainment features, all on a user-friendly touchscreen. USB ports will help you and your friends keep your devices charged, while an available 4G LTE Wi-Fi HotSpot keeps you connected with the world wherever your journeys take you. There will also be standard Bluetooth connectivity, as well as Apple CarPlay and Android Auto, so you and your passengers can take advantage of all those smartphone features while riding in your brand new Colorado ZR2. A standard audio system completes the package, since what is the fun of going off-roading if you can't add your favorite music as your personal soundtrack to your latest adventure? The Colorado ZR2 will also have wireless charging available as well as an optional feature.
The ZR2 Is Ready to Take on the Wild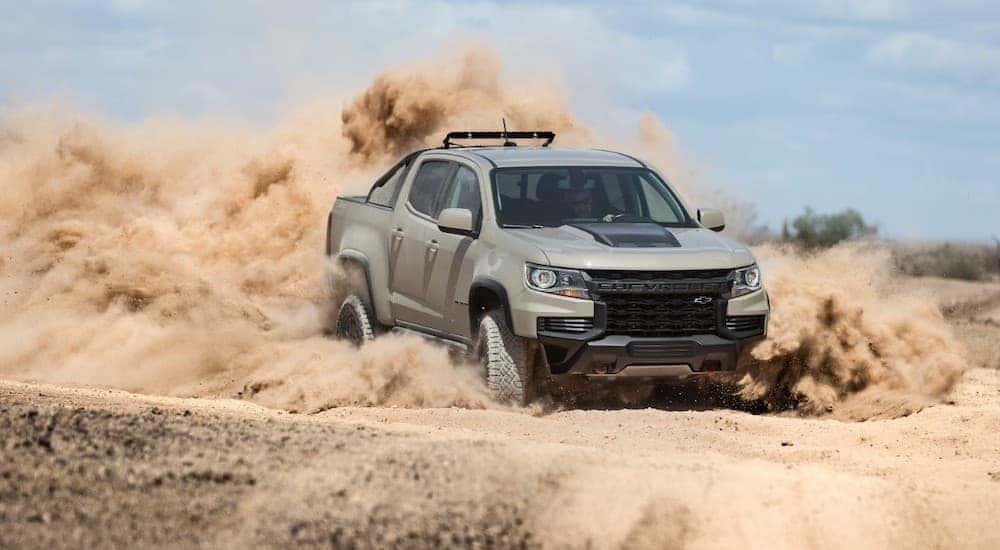 You may be asking, "Sure, the Colorado ZR2 talks the talk, but can it walk the walk?" You sure bet it can! It starts with your choice of two powerful engines. The standard engine is a 3.6-liter V6 gas engine that gives you up to 308 horsepower and 275 lb-ft of torque, so you can speed out of any jam you find out on the trail. There is also an optional 2.8-liter Duramax Turbo-Diesel engine that produces up to 181 horsepower and a prodigious 369 lb-ft of torque. That is powerful enough to allow your Colorado ZR2 to pull up to 7,700 pounds when equipped with certain additional equipment.
The ZR2 has all-wheel drive standard and sports a trim specific off-road suspension. This is paired with an Eaton rear-locking differential to give you the support and control you need whenever you take this ZR2 off-road. There are also front and rear skid plates, including one positioned over the transfer case to ensure that your Colorado ZR2 is protected from the elements.
The 2021 Chevy Colorado ZR2 also comes equipped with an Advanced Hill Descent Control System. This will help your ZR2 handle the steepest hills and drop-offs, so you are ready to roll wherever your wheels take you. The system utilizes each wheel's anti-lock braking system to adjust the specific speed. If the system detects the truck accelerating without the driver's input, it will automatically apply brake pressure to slow things down. In other words, this will give you greater control when you drive your Colorado ZR2 downhill. The Colorado will truly earn its name as you can Rocky Mountain heights in an ZR2 model.
Speaking of wheels, the ZR2 rides on standard 17-inch wheels with 31-inch Goodyear Wrangler DuraTrac tires. These wheels and tires are significantly larger than the ones on the standard Chevy Colorado model. Thus, you will get greater control and traction with the Colorado ZR2, especially on the roughest off-road trails you can find. As you can see, the folks at Chevrolet were not messing around when they designed the 2021 Colorado ZR2. This truck doesn't just look aggressive; it is strong and bold, just like you.
Chevrolet has not yet announced pricing for the 2021 Colorado ZR2. However, early indications are that it will start at a very reasonable base MSRP of $39,295. The all-new 2021 Chevy Colorado ZR2: ready to hit the trail running!