How are Used Car Values Calculated?
Buying a used car is a decision that no one should take lightly. You're likely to invest a lot into your "new" used car, and don't want your valuable time and money to go to waste. It's okay if the used car isn't 100% blemish free, but you should ensure that all used car values are properly calculated before pulling the trigger and purchasing the car. If you're looking to buy a used car from a dealership (and especially if you're considering buying from a private seller) it's essential that you do your homework before committing, as there is an array of other factors that can either improve or reduce the used car's value.
Buyers should take a deep breath and make sure they do their homework on whether the displayed value of the used car is fair before they commit. Ask yourself whether the private seller or dealer is trying to pull the wool over your eyes, or whether they truly have your best interest at heart. It may take you some additional time to follow through with these actions when all you want to do is drive a cool car off the lot, but it will be worth it when you get a great car at a great price!
Do Your Research
The first thing you as a potential used car buyer need to do is understand the car's average market price. Find out what similar cars are selling for in your area and understand the factors which might (or should) subtract from the car's overall price. This is an important step to take before the usual price negotiation with the seller. You can't go into a bargaining conversation without knowing a fair baseline. Otherwise you'll be at a severe disadvantage.
There are several websites which will give you a great understanding of what the used car in question should be worth. Kelly Blue Book, often referred to as simply KBB, is the industry standard and the Kelly Blue Book value is often used even by dealerships when they set prices. When you use a site like KBB to research the value of the target vehicle, make sure that you have all the necessary facts. These include facts like the car's make, model, year, mileage, and whether it has any special or premium features. Even things like all-weather packages can improve the overall value of the car, so you should be sure that you're including them when calculating the used car's value online. When a site like KBB asks about the vehicle's condition, make sure you always check the box labeled "fair." This is the standard most sellers use when calculating used car values.
The final bit of research you should do before committing to a used car is to research the specific car's Vehicle History Report. This report will give you a full understanding of the ownership and accidents your future car experienced. All you need is a little information about the vehicle including its VIN number. This report should give you some clarity about what the car has gone through (or not gone through) with previous owners.
Make sure to bring a printout of everything you find online as reference, especially if you're debating between more than one used car. That way you will be better prepared to compare their various features and overall prices.
Check the Car Yourself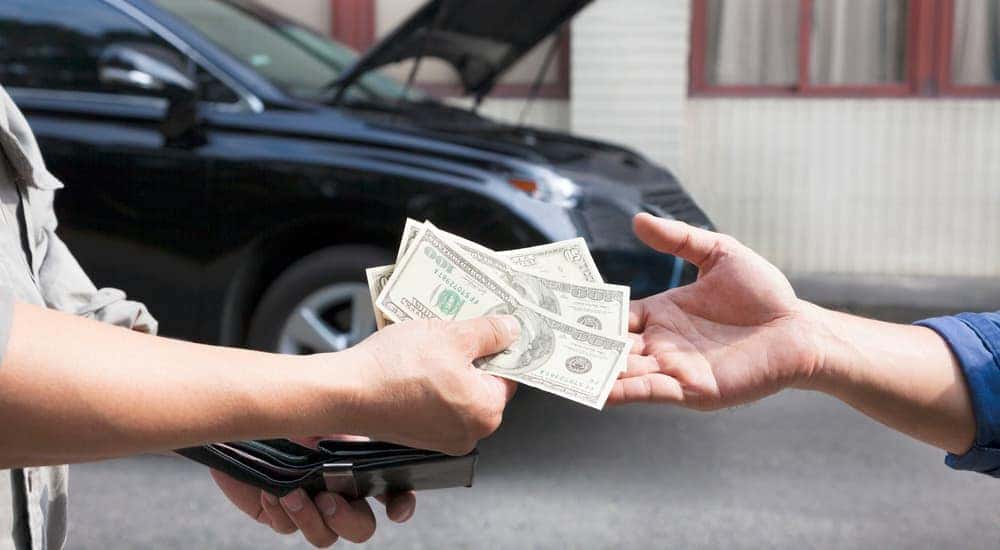 One of the first things you should do when determining a used car's value is to check the car yourself. Don't worry if you aren't the most mechanically minded, you don't have to re-arrange anything under the hood! But you should do a cursory check of all the car's features, you never know what might have slipped through (intentionally or otherwise). Things a layman can check for include working power windows, mismatching upholstery, rust, and dings or scratches. It's particularly important to pay attention to things like mismatched upholstery, not from a vain perspective, but because mismatched upholstery is a calling card for water damage. Water damage can seriously undermine a used car's value and even potentially make it a hazard on the road. It can sometimes go unnoticed, even if you've taken the car for a test drive! If you see that the trunk lining doesn't match the interior, you should raise that as a question.
Checking for external defects is a great place to start for anyone evaluating a used car's value. If you're still on the fence about a used car because you're worried about its performance, you might want to consider taking it to a trusted mechanic for an inspection. Your mechanic will be able to tell you whether anything under the hood really needs to be addressed before you drive it off the dealership lot. If they find a problem with the used car that you can live with, you may be able to save a few bucks on the final price by letting the dealership know!
Take it For a Joy Ride
The best way to "get to know" a used car is to take it for a joy ride. Any dealership worth its salt will let you take as many cars for a test drive as you want. Test driving is an important part of the car buying experience. While test driving, you'll be able to tell whether anything seems off. Does the used car accelerate properly, make a funny noise, or maybe the blinker is acting funny? Check for engine strength, stability and handling too while you're on the road. You and this used car will potentially be spending a lot of time together, and it is better to be safe than sorry when making the final decision about the car's value. If a dealership dissuades you from test driving a car, that is a big red flag!
The McCluskey Chevrolet Difference
At McCluskey Chevrolet, we take used car values seriously, and we'll never gloss over a car's imperfections or try to sell you something we know isn't worth the ticketed price. All our used cars are inspected for problems prior to heading to the market and we stand by our commitment to selling excellent used vehicles. We value integrity, honesty, and partnership above simple profits and work tirelessly to ensure you'll be satisfied with your new-to-you used car's value.
You'll be astounded by our vast array of new and used cars and extended hours, not to mention our friendly and knowledgeable showroom staff. McCluskey Chevrolet is fully stocked with over 500 used vehicles in the lot at any one time. We also house more than 1,000 new vehicles if you're looking for a more modern vehicle! Want a truck? We have 100+ of those in our lot as well!
It can be difficult to actually make it to a dealership and have enough time to ask all your questions and test drive a few used cars. That's why we have extended open hours at McCluskey Chevrolet! Some might think they're a little extreme, but we know that your time is valuable and that many folks don't work conventional 9 – 5 shifts. Both the dealership and the service department are open seven days a week. The service department even opens at 7:30 AM during the week and closes at 3:00 AM Monday through Thursday! These extended open hours will ensure you don't have to miss work to buy your next used car. Instead, you'll be able to take your time and make your purchase with confidence knowing you didn't make a rush decision!
We know that as a happy McCluskey Chevrolet buyer, we'll be able to foster a relationship with you for the years to come.