How the 2018 Chevy Equinox Has Your Back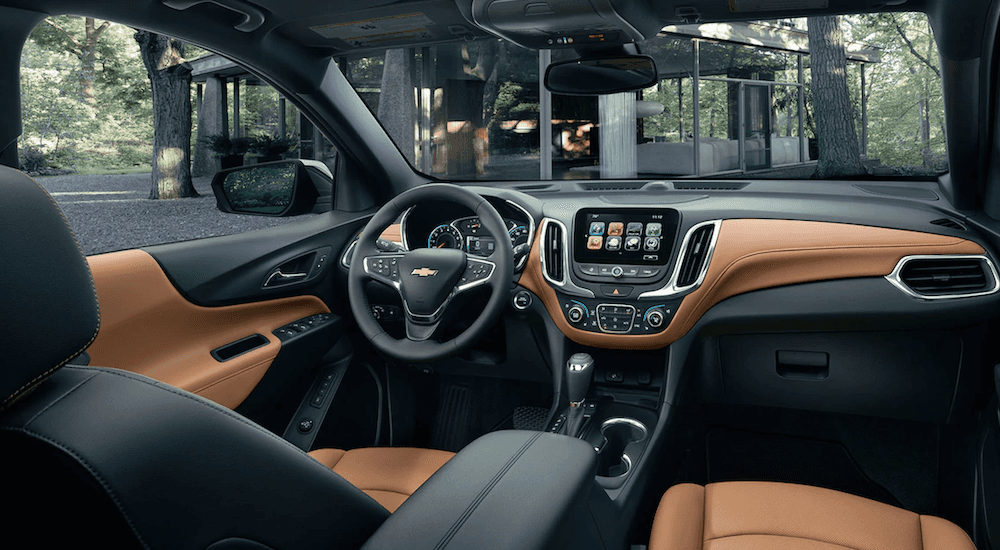 Customers are seeking a number of attributes for their new ride, including safety, power, technology, and comfort. However, few consumers account for their target's durability and ability to last long-term. Often times, these car buyers are disappointed when their recently-purchased vehicle begins showing signs of age after only half a decade on the road.
Fortunately, for those in the market for a new SUV, there's a perfectly dependable offering that you can last you for years. The 2018 Chevy Equinox is one of the most dependable and durable vehicles in the entire industry, providing consumers a great bang for your buck. The sentiment is emphasized by the vehicle's interior upholsteries, but there are a number of additional attributes that help confirm this notion. Continue reading to see why you should be opting for this specific Chevy model…
Many car brands can tout that their materials or upholsteries are among the most durable offerings in the entire class. However, when Chevy makes this bold statement, it's not hyperbole. Rather, the brand has done an admirable job of adorning their vehicle in a number of materials and upholsteries that will surely overcome any small spills or strains. Normally, it'd require a professional cleaning service to fix up these indiscretions. However, thanks to their clever inclusion of easy-to-clean materials, owners simply need a wet washcloth to clean any spills.
"Many fashion trends disappear after a year or two, while the Equinox is designed for the long haul, making the durability of its materials very important," said Mara Kapsis, the color and trim designer for the 2018 Equinox. "By following real people and absorbing the little things in life that help or hinder them — such as photos posted of muddy paws, spilled drinks or stains on the seats — we learned more about how we could make the new Equinox easier to live with and enjoy every day."
Specifically, these materials are "denim-like," making it tough for liquids to be absorbed into the materials. Customers can also opt for a leather offering, which will serve a similar purpose in protecting your interior from any accidental spills. Normally, if you opt for this pricey leather, you'll probably request that no one drinks anything but water in your new SUV. However, thanks to the new material, you'll never have to worry about these spills.
"The Equinox is designed for the way our customers live," said Kapsis. "Complementing its style with durable, easy-to-clean materials helps ensure it and its owners make a fashion statement every day."
Perhaps best of all, these materials won't compromise the interior quality and opulence of your Equinox. Normally, these materials are garish or jarring, and they don't seem to mesh with the rest of the interior. However, thanks to the stylish design of these materials, owners can appreciate a durable and flexible material that won't compromise the look and feel of your interior.
"The fabric is very durable, while the color and even the pattern help hide dirt and stains," said Kapsis. "It's also very easy to vacuum and clean, which saves owners time and helps keep the interior looking great year after year."
Of course, it's not just the upholsteries and materials that are durable and dependable. Rather, if you end up purchasing a 2018 Chevy Equinox, you can expect several additional attributes to last throughout your ownership of the vehicle. For instance, the vehicle's 63.5-cubic-feet of interior space won't compromise due to age, as you'll always be able to take advantage of the incredible amount of space. Plus, thanks to the inclusion of the 60/40 split-folding rear seats, owners can continue to enjoy the convenience that accompanies the storing process.
Meanwhile, while the technology may become outdated, you can still expect these entertainment amenities to have your back throughout your ownership of the SUV. The main technological star is the Chevy MyLink system, which provides easy access to an assortment of applications via the accompanying touchscreen system. Plus, thanks to the inclusion of Apple CarPlay and Android Auto compatibility, drivers can seamlessly connect their smartphone to the unit. This means you can enjoy many of your phone's basic functions without compromising safety, and this includes listening to your favorite playlists or making phone calls.
Perhaps most importantly, the vehicle's various safety functions should continue to protect you for years and years. These various features will play a significant role in preventing accidents from occurring altogether, thus reducing the chance that you end up in an accident. Inclusions like the Low-Speed Forward Automatic Braking system will help reduce your speed when necessary, while the Lane Keep Assist (with Lane Departure Warning) will assure that you're remaining in your intended lane at all times. The Forward Collision Alert is the most notable inclusion, as it can anticipate an impending accident and adapt accordingly. In the rear of the vehicle, drivers will appreciate inclusions like the Rear Vision Camera, Rear Cross Traffic Alert, and Rear Park Assist, which will help reduce pesky fender benders in the parking lot. Meanwhile, inclusions like the Side Blind Zone Alert and Lane Change Alert will help provide the driver with an extra set of eyes when they're traveling on the highway. Whether you're looking to reduce drastic accidents or minor fender benders, it will certainly be possible when you opt for the 2018 Chevy Equinox.
"More than anticipating where design will be when the vehicle is introduced, you've got to balance it with a timeless quality that will keep it looking modern for years to come," said Kapsis. "There's risk involved with that, but it paid off with the new Equinox."
As you've read, that sentiment is more than true. While the 2018 Chevy Equinox's interior materials are an easy, tangible way to prove the vehicle's durability, you'll quickly learn that several of the SUV's other amenities don't compromise due to age. If you're pursuing a vehicle that can last you for more than a decade, then this may be the perfect nameplate for you