How to Enjoy the Five Best Parks in Columbus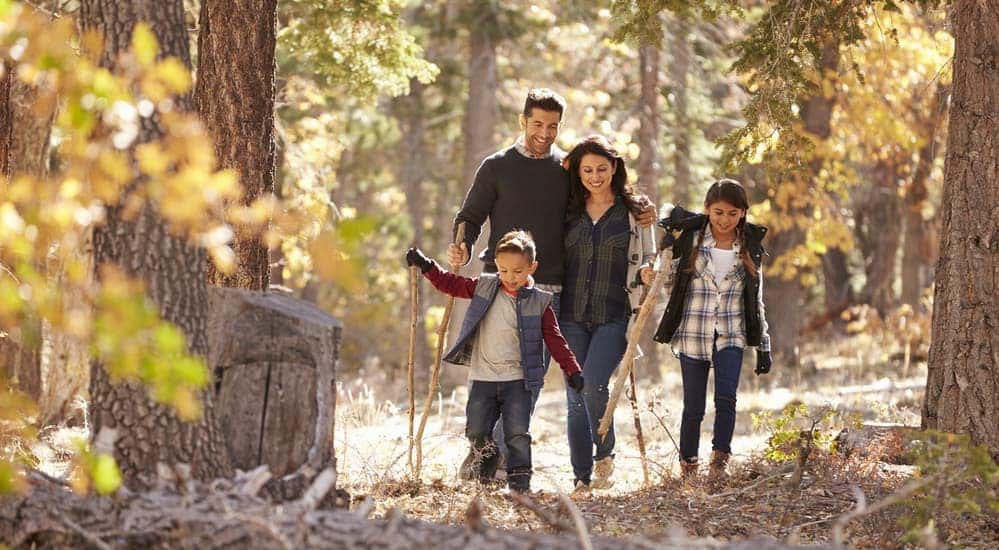 Columbus, Ohio is home to over twenty different outdoor parks and nature centers. Based on rankings by thousands of reviewers on TripAdvisor, these are the top five must-see locations.
1. Franklin Park Conservatory and Botanical Gardens
Located on 1777 East Broad Street, Franklin Park Conservatory and Botanical Gardens is full of opportunities to enjoy nature, participate in an educational class, or organize a large event. They host children's garden parties, summer camps, weddings, and corporate events. If you're looking for a unique space to gather, celebrate, or spend the day immersed in the beauty of nature, this is it. With a mix of outdoor and indoor gardens, artwork, interactive demonstrations, and exhibitions, the Franklin Park Conservatory makes for an exciting day trip for all ages, any time of the year.
One reviewer note, "The Franklin Park Conservatory's different biomes transport you to a butterfly filled rainforest complete with waterfalls, lush palm garden, stunning desert, and crip Himalayan mountain area."
Stop by the Hot Shop for a 25-minute informative demonstration on the art of glass blowing. From April through October, weekly themes are created for kids and their caregivers to participate in through Discovery Activities. Programs are led by staff at the Discovery Station every day between 10 am-2 pm for visitors.
After a five minute walk from the Conservatory building, you'll find Scott's Miracle Grow Community Garden Campus. This four-acre garden space serves as a "living classroom." There are over 40 community garden plots, along with a variety of herb and fragrance gardens, a rose pavilion, a berry house, and an apiary. The Live Fire Cooking Theater is an exciting place for chef demonstrations. If you'd prefer something more hands-on, you can sign up for a cooking class in the demonstration kitchen.
Cash and credit cards are accepted, and parking is free for visitors. There is a fee to enter the Conservatory, but discounts are offered for AAA members, active and retired military as well as college students. If you live in Franklin County and the City of Columbus, take advantage of free admission on the first Sunday of each month!
When the weather is warm, and you're bringing kids, it's recommended to come with swim-appropriate clothing, towels, and sunscreen. Just in case they want to venture into the Sandstone Creek. Outside food and beverages are not allowed, so plan to grab lunch or a snack at the Garden Cafe (open daily) or the onsite Food Truck (open Thursday-Sunday). Hours for the garden range from 10 am-5 pm, seven days a week. The only exceptions are Thanksgiving Day and Christmas Day.
2. Scioto Mile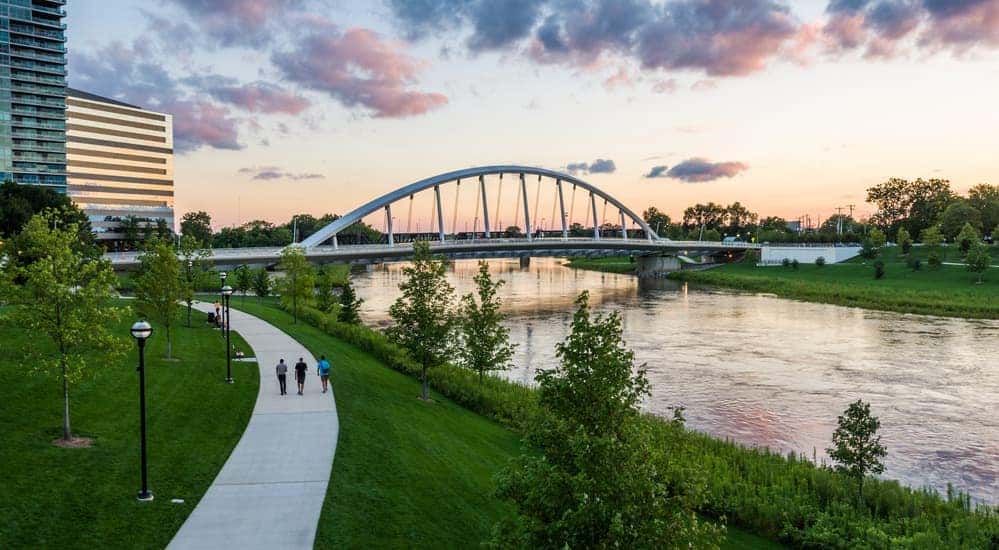 Scioto Mile on 233 Civic Center Drive is the perfect place for walking, biking, scootering or rollerskating. This "Downtown Destination" consists of 175 acres, with eight different parks that are complete with riverfront views and winding paths along the center of Columbus. Be on the lookout for fun outdoor festivals and concerts, including the Jazz & Rib Fest, which provides three days of continuous live music and delicious BBQ.
The Rhythm on the River Music Festival is a free day-long summer concert with a range of different artists and genres, as well as food trucks and beverages available for purchase. Its counterpart in December, Winterfest, offers food trucks, breweries, music, and artwork for purchase. Enjoy the beautiful festive lights that are set up starting on November 21st. A portion of the proceeds from Winterfest goes to fight hunger with the Mid-Ohio Foodbank.
Beautiful landscapes, sculptures, fountains, and architecture line the river, making Scioto Mile the perfect place to bring the kids, sit and read, take photographs or go for a stroll. Because it's right near downtown, there's no shortage of great restaurants to visit before or after your walk. Enjoy a sunny picnic in the summertime or sit with a hot cup of tea in the winter to take advantage of this beautiful space. The Splash Pad at Bicentennial Park is a must-see attraction for anyone with kids. They run fountains and misters from 7 am-11 pm for endless playtime.
3. Schiller Park
Located on 1069 Jaeger Street, Schiller Park is a whimsical outdoor space, rich with local history and charm. Catch a free play or yoga class in this relaxing park. The playground and paved walking paths make it the ideal space for a stroller walk with the baby or an afternoon playdate. Fountains, a pond, and a bridge attract lots of birds and ducks to the area. It's also a pet-friendly atmosphere, with plenty of space to walk your dog.
The history of German Village comes alive in Schiller Park. It is the second oldest park in Columbus, originally called Stewart's Grove by early settlers in 1867. In 1891 it was renamed Schiller Park after Friedrich Von Schiller, the famous German Poet. His statue can be found prominently displayed in the center of the park. Today, Schiller Park is fondly referred to as "The Jewel of German Village."
Facilities available at this 23.45-acre park include picnic areas, a softball diamond, and a fishing pond. Lighted tennis courts, a basketball court, and a recreation center make it the ideal meet-up space for scheduling a pick-up game. If you're looking for an excellent place to chat with a friend or read a book, enjoy the gazebo in a setting full of floral displays at this mystical outdoor oasis.
4. Park of Roses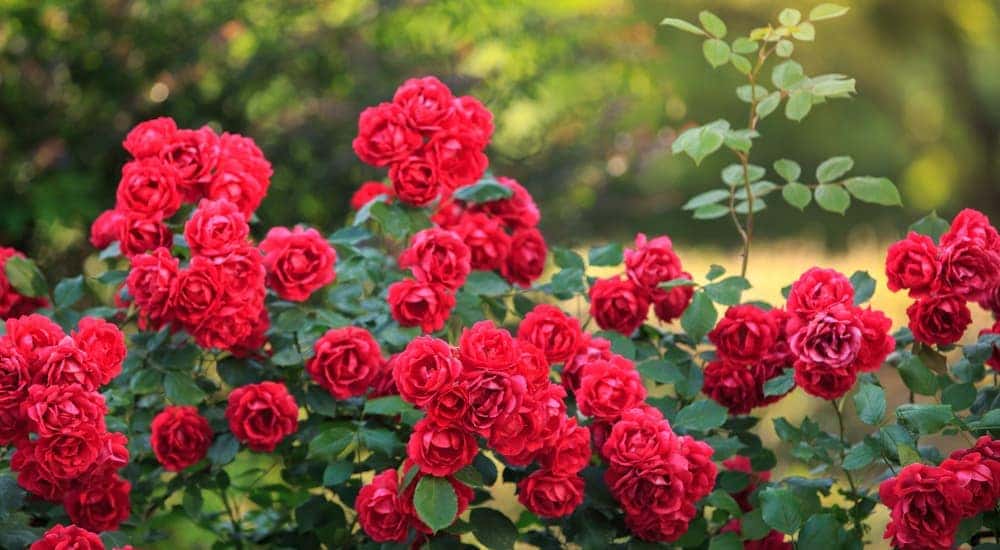 Located within the Whetstone Park at 3923 North High Street, is the famous Park of Roses. This is one of the most extensive municipal rose gardens in the country. With more than 12,000 dazzling rose specimens, this 13-acre park is a sight to be seen. Herb gardens, daffodils, and perennials also decorate this unique space. In 1951, a committee was formed to create the Park of Roses. After the City Council agreed to issue bonds for funding, the project was completed in 1953. It has been open to the public ever since from 7 am to dusk, daily with plenty of free parking nearby.
Events you can find at the park include the Columbus BioBlitz, a community science and environmental fair with wildlife and demonstrations. The Park of Roses is considered a "hidden gem" by many residents and travelers. It's a romantic place for wedding photos. You can find outdoor car shows or live plays in the amphitheater scheduled throughout the warmer months. Lovely trails, along with a nearby playground and library make for the perfect outing.
5. Topiary Garden
On 480 East Town Street, The Topiary Garden is a unique setting that's worth a visit. With an exciting mix of art and nature, you'll find a larger-than-life recreation of Georges Seurat's famous painting "Sunday Afternoon on the Island of La Grande Jatte." Sculpted out of evergreens, this garden mimics the animals, humans, and boats reminiscent of the famous work of art.
Take a short detour from downtown to enjoy a quiet moment in nature. It's a small park, with a tranquil walking path and serene sitting space. Inexpensive metered parking is available nearby as well. Although there's not much beyond the artistic rendition at this park, it's surrounded by stately homes and an excellent spot to sit and reflect. With such a wide array of different outdoor experiences to be had in Columbus, this list just scratches the surface of intriguing points of interest.