The Best Place to Go for an Oil Change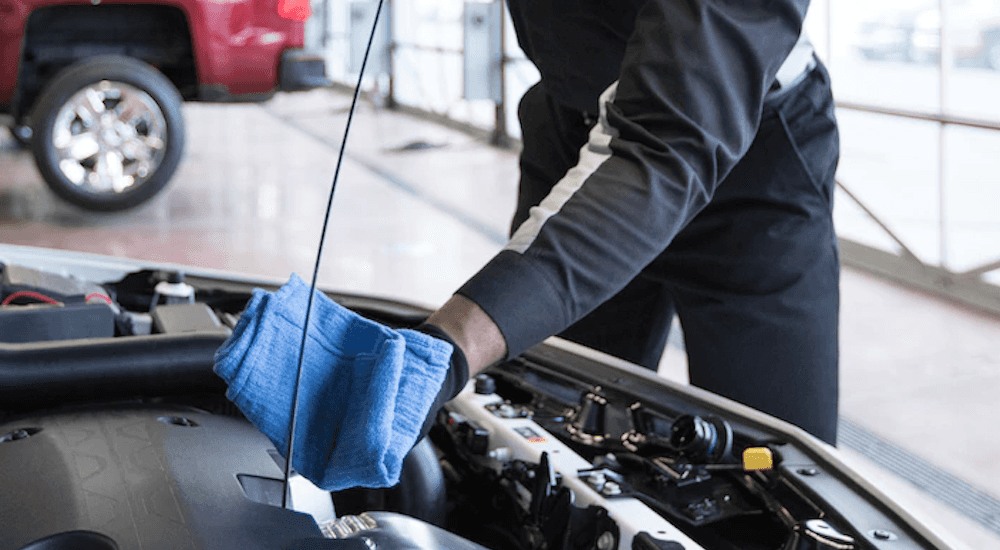 No one likes to see the wrench light come on in their dashboard indicating that their oil level is low. At McCluskey Chevy, we know our customers are busy and on the go and want maintenance for their vehicle that is quick, easy and done right. If you are in need of an oil change in the middle of a busy day, come to McCluskey Chevy – we'll have you covered.
Customer Service
At the McCluskey Chevy Service Department, each of our staff is Certified Service Experts. We pride ourselves on our vehicle knowledge and making sure that the same helpful knowledge is passed on to our customers. Our fully trained staff will get your vehicle on the road as soon as possible and you can sit back and relax in our comfortable lobby with complimentary coffee, snacks, and water.
We also make it easy to set up an appointment. You can either schedule an appointment online through our easy to navigate website or give us a quick call and we can make that appointment for you. And if you're looking for an oil change the same day, feel free to show up at our service department and we'll make sure to give you the best service as quickly as possible to get you back on your way.
Vehicle Knowledge
Our fully trained staff are vehicle experts. Don't worry if your car is not a Chevrolet. Our team is trained on all brands and all sorts of models – from SUVs to trucks and sedans, as well as hybrid vehicles. If your car is used and going on ten years, we'll use our knowledge and experience to offer the best maintenance possible for the vehicle and help to extend its utility. If you bring in a new model for an oil change, your car will leave as if you just bought it off the lot, and we'll make sure to offer any preventative maintenance we can.
Services We Offer
If you stopped into McCluskey Chevy for an oil change, make sure to check out the many other services we offer. The best way to care for your vehicle is with regularly scheduled maintenance and preventative maintenance to help ensure the vehicle won't have any unexpected problems down the road. Equally as important is to schedule a service appointment at the first sign that something may be wrong with your vehicle – don't wait for it to become a worse, possibly more expensive problem.
At McCluskey Chevy, we offer a variety of other services besides an oil change. We also offer front end alignment, replace/adjust brakes, muffler/exhaust prepare, coolant flush, electrical services, tire rotation, filter replacement, and much more! We also offer parts replacements and will do our best to order any parts we don't have as soon as possible and perform the replacement quickly. If you come in for an oil change, but need help with any other issues from a headlight or tail light change, to air conditioning or an electrical fix, don't worry  – McCluskey Chevy can be a great one-stop-shop for your vehicle.
Cost
At McCluskey Chevy, we pride ourselves on lower prices and lower rates. We know cost is of prime importance to our customers and buyers and those looking for repairs don't want to break the bank doing so. We make sure our prices are fair and reasonable for all of the services we offer. Our affordability and well-trained staff get the job done and make us unique in the vehicle market. Additionally, for more efficient and expedient ease, we have customer payment portals on our site so the majority of your bills can be paid quickly and online.
Getting the Job done right, quickly
If you're coming in for an oil change, you can rest easy that the oil change should take no longer than 20-30 minutes. In addition, along with an oil change, we will also inspect your vehicle and make sure that no other components need maintenance. At McCluskey Chevy, we're here for you and want to make sure that you leave with a vehicle you're confident in.
Service Hours
In need of an oil change or service but can't find the time?  We offer service at nearly any time of the day or night to make sure we are you when you need us. We know having flexible hours is important, so we offer extended service hours during the week to fit with any of our customer's schedules. Our service hours are Monday-Thursday 7:30am-3am, Friday 7:30am-6:00pm, Saturday 9:00am-4:00pm, and closed on Sundays. If you're looking for other services, our Parts Department works under the same hours, and the Body Shop operates from Monday-Thursday 8:00am-7:00pm, Friday 8:00am-6:00pm, and closed Saturday-Sunday. If you are looking to speak to our Sales Department, their hours are from Monday-Thursday 9:00am-9:00pm, Friday-Saturday 9:00am-6:00pm and Sunday 10:00am-6:00pm.
At McCluskey Chevy, we have been in the car business for years. We know that quality service makes for loyal customers, and we make sure that everything from our lot and inventory and service to maintenance, has the highest standards and the most well-trained people on the job. When it comes to vehicle care, we know that excellent service and repair will keep a vehicle running for years. When you come into our service department, we make sure to get your vehicle running like-new, in the best condition possible, and at the most affordable price. We also know time is of the essence and will do our best to get your vehicle back on the road as soon as possible. So, whether you're coming in for an oil change or looking for further repairs, McCluskey Chevy will take care of you and all of your vehicle needs.