The Chevy Spark: Your Saving Grace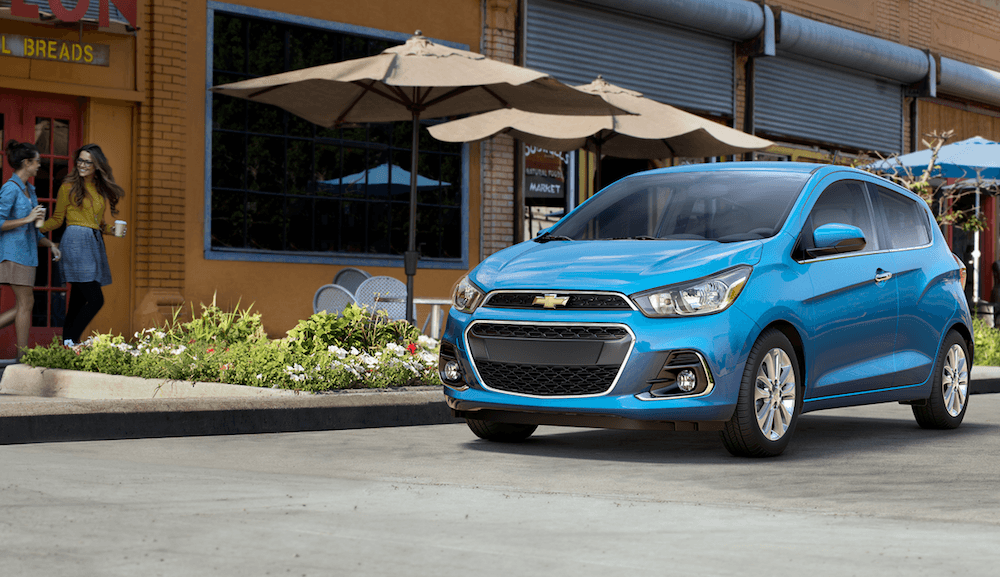 Let's be honest: saving money is a drag. Yes, it's awesome when you have those extra bills lining your wallet, but getting there – woof! It's miserable. Of course, we all know the key steps to saving money: don't drink designer coffee, don't eat out, do nothing. Save, save, save. Ugh.
It used to be that way for cars, too. If you were going the budget car route, your car was, quite frankly, going to suck. If you were spending under $15,000 on a new car, you were basically Fred Flintstone. However, with the release of the 2017 Chevy Spark, those days are over. Rolling in with an MSRP of $13,000 and available at all the best Chevy Dealers in Indianapolis, the Chevy Spark offers buyers an affordable car that won't make you drive out of the dealership feeling like a cheapskate. With its well-appointed interior and solid performance, you'll be cruising down the freeway feeling like a millionaire…and you'll have the extra dough to show for it.
Anything but Cheap on the Inside
The Chevy Spark is a subcompact hatchback car – by which we mean, it's pretty darn small. However, it does seat four passengers, although you might be feeling a little too close for comfort. Front seat passengers have 41.7 inches of legroom and back seat passengers have 33 inches. So, will you want to take your three best friends cross country with you? No, probably not. But will you be happy nipping around town, commuting and running errands? Sure – especially because what the Spark lacks in space, it more than makes up for in standard features.
The Spark comes in three trim levels. The base model, the LS, comes with features that rival many other manufacturers upper trim levels. If you opt for the 2017 base model Chevy Spark, your subcompact is going to ride on 15-inch steel wheels and have a rear spoiler, automatic headlamps, air-conditioning, 60/40-split folding rear seats, a trip computer, an outside temperature display, carpeted floor mats, and a height-adjustable driver seat.
I know, that all seems kind of boring, right?
Well, here's the really good stuff you'll find in the LS: a rear-view camera, a 4G LTE WiFi hotspot, a seven-inch touchscreen display, a USB port, phone and audio Bluetooth capability, Apple CarPlay, Android Auto, smartphone app integration and a four-speaker audio system with an auxiliary jack.
That's base model, folks. Best of luck finding that in any other car on the market for under $15,000.
Why don't we move up a trim level to the 1LT, which has a starting MSRP of $14,825? Still under $15,000 and you're getting fog lights, heated power mirrors, 15-inch alloy wheels, remote keyless entry, cruise control, power windows and locks, satellite radio, a six-speaker audio system and steering-wheel-mounted audio and phone controls.
Finally, just edging past the $15,000 line is the 2LT with an MSRP of $16,325. Splash out on this top-of-the-line trim, and you're getting leatherette seats, a leather-wrapped steering wheel, heated front seats, keyless entry and ignition, chrome exterior trim and rear parking sensors.
And if you have a few more bones left in your wallet, the Spark 2LT can be equipped with Chevy's Driver Confidence package, which means you'll have forward collision alert and lane departure warning technology. The LT models also come with the option of a sunroof, so you can ride in your subcompact but feel like you're in a convertible.
Also – if you're worried that the exterior of the Spark won't match the surprisingly luxe interior, you have nothing to fear. The Spark is available in 10 colors including Red Hot, Mosaic Black, Nightfall Gray, Kalamata, Silver Ice, Splash, Toasted Marshmallow and Summit White. Brimstone and Mint round out the Spark's color choices, but they'll cost you a little extra.
Above Par Performance for a Subcompact
Okay, let's be clear here: we are talking about a budget subcompact car – not a Ferrari. So, are you going to fly in this little guy? Nope. But you'll actually be surprised at how the Spark's 1.4-liter engine – which only generates 98 horsepower – actually moves along at a pretty quick speed. Fastest car on the market it is not, but it will certainly get you from here to there in a respectable time.
When it comes to saving at the gas station, you could do better, but the Spark is certainly decent with an EPA-estimated 29 miles to the gallon in the city and 38 mpg on the highway with manual transmission. Opt for the automatic transmission, and you'll get 30 mpg in the city and 38 on the highway. Not terrible but not amazing, either. Of course, if you're really interested in saving at the pump (and saving the environment while you're at it) you should check out the Chevy Bolt EV- MotorTrend's 2017 Car of the Year. Of course, at $36,620 the Bolt is more than twice the cost of the Spark, so take that into consideration.
No Skimping on Safety
So now you're probably thinking that Chevy poured all its money into giving the Spark a fancy-pants interior and totally neglected to provide you with a safe ride, right? You're definitely wrong on that. Chevy equipped the Spark with standard safety features that include not only the rearview camera discussed above, but also hill-hold assist, stability and traction control, four-wheel anti-lock brakes, front and rear side airbags, front-seat knee airbags, and full-length side curtain airbags – 10 airbags in all. OnStar is also available if you want roadside assistance or automatic crash notification.
The Insurance Institute for Highway Safety gives the Spark its top mark of Good while the National Highway Traffic Safety Administration has yet to test the 2017 Chevy Spark.
Spark up your Savings
The 2017 Chevy Spark is proof that more money does not always equal more fun. The little subcompact makes a great case for why less is more… in fact, in the Spark's case – it actually does come equipped with more great features than you'd find in many other cars, especially base models. So, if you're looking to save space and save cash, then save time shopping and head straight to your Chevy dealer to check out the 2017 Spark.