Top Used Cars for Commuters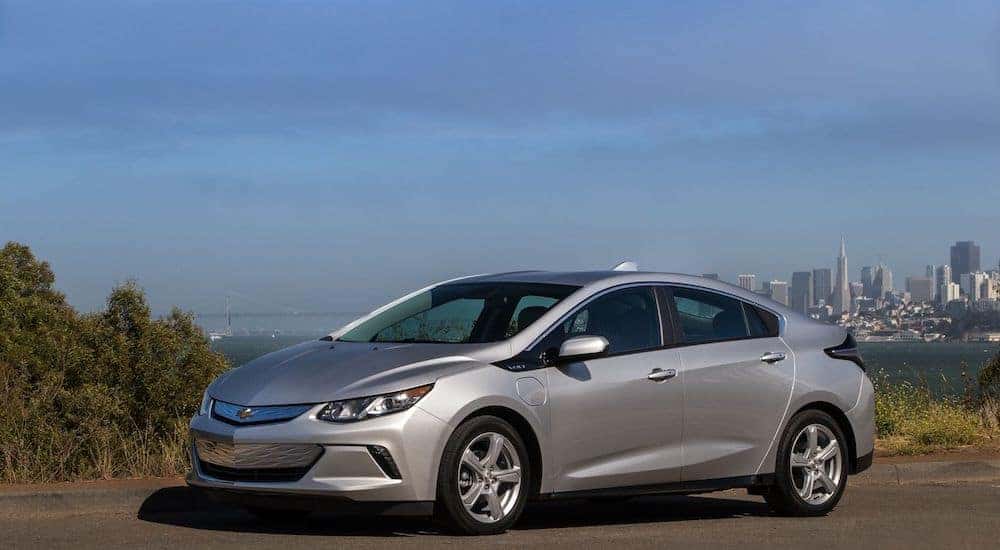 Americans drive a lot. According to the U.S. Census Bureau, the average person has a 25.4-minute commute. That commute time doesn't even account for all the other time spent behind the wheel running errands, taking the kids to school or extracurriculars, and traveling. All of that time driving adds up; the average American spends 294 hours each year on the road. All of that driving means more accidents, more time wasted in traffic, higher gas bills, and more road rage. However, driving the right car can make for an all-around better driving experience. The perfect commuter car has good fuel economy and is equipped with the kinds of high-tech features and comfortable craftsmanship that will make you feel right at home. To help boost both your sanity and what's in your wallet, we've compiled a list of the best used cars for commuters. Whether you're looking for an environmentally friendly electric car, a sedan, a hatchback, or even an SUV, there are cars out there that will make your commute easier—and maybe even a little more enjoyable.
Toyota Prius
The Toyota Prius is the champion of commuter cars based on fuel efficiency alone, and it's well-known for making hybrid vehicles mainstream. The hybrid engine gets about 134 hp and a whopping 51/48 miles per gallon in the city and on the highway with the standard 1.8-liter four-cylinder engine. The interior boasts a roomy and modern design, with the dash providing vital vehicle information while the built-in screen can be used for both directions and Bluetooth connectivity. The standard safety package includes a rearview camera, forward collision alert, pedestrian detection, lane-keep assist, and adaptive cruise control.
Chevrolet Volt
The Chevy Volt is a fully electric car with a backup engine to extend the electric engine's 35-mile range. Once the lithium battery runs out, the car switches over to the 1.8-liter engine for an additional 315 miles of range, more than enough to get you through an average day's commute. Fully charging the battery takes between four to 10 hours, depending on the voltage of the power source being used. As it only seats four, the Volt is ideal for singles, couples, or small families with older children.
Ford Escape Hybrid
The Ford Escape may seem like an odd choice for a ranking of ideal commuter cars, but once you look at its stats, there's no denying that this SUV earned its spot on the list. The hybrid engine gets between 31 and 34 miles per gallon, which is pretty impressive for most vehicles, let alone an SUV. Plus, that excellent fuel economy comes with a hefty 66 cubic feet of storage space. This extra space makes the Escape ideal for someone who has to carry a lot of product or materials with them on the job—or someone who needs to cart children to and from practices and lessons.
Mazda 3
Mazdas are known for their smooth handling and responsive steering, making them great for navigating the busy city streets. The Mazda 3 holds the top spot among compact cars, letting you get around and park with ease. Plus, the car is also an Insurance Institute for Highway Safety Top Safety Pick, so you can have peace of mind while you drive. The Mazda 3 also comes with luxurious bonuses, such as a large center screen and the aforementioned top-of-the-line safety features.
Nissan Leaf
The Nissan Leaf is a fully electric car that gets around 100 miles of range with its electric engine. A full charge takes about six hours using a 240-volt power source. Standard features include a heated steering wheel and seats, and the rear seats provide enough room to make everyone comfortable. The Leaf is also the world's top-selling electric car for seven years running, from 2010 to 2017, which gives you lots of options when it comes to buying used.
GMC Acadia
The GMC Acadia has good all-around value based on average price, safety features, and fuel efficiency, making it an ideal vehicle for commuters with families. For example, the Acadia has an innovative rear seat alert system to remind the driver to check the back seat for children or animals before leaving the car. You'll never worry about your phone dying with with five standard USB ports, and staying online is easy with a built-in Wi-Fi hotspot. The base trim also comes standard with automatic tri-zone climate control, satellite radio, Bluetooth, a six-speaker audio system, a rearview camera, and push-button start. This SUV will make you feel right at home during your commute.
Chevrolet Bolt
The Bolt is one electric car that can really handle the distance of exceptionally long commutes. On its fully electric engine, the Bolt has a range of about 200 miles. Plus, if you need an extra boost of range, you can go 90 miles on a 30-minute charge when using a DC fast-charging station. There is room for five people to sit comfortably, and the Bolt comes with a variety of features to make your ride even more luxurious. For example, the basic trim comes with a 10.2-inch touchscreen, a Wi-Fi hotspot, rearview camera, Bluetooth, voice recognition, two USB ports, satellite radio, and Apple CarPlay or Android Auto capability. There is also an eight-inch driver information display that shows speed, distance traveled, and remaining battery charge.
Toyota Highlander Hybrid
The hybrid Toyota Highlander is ranked fourth among SUVs, making it a solid choice for any commuter. It gets good gas mileage, comes standard with all-wheel drive, and seats up to eight, making it an especially good choice for commuters with larger families. A National Highway Traffic Safety Administration five-star safety rating recipient, the Toyota Highlander includes a rearview camera, Toyota Safety Sense with a pre-collision system, pedestrian and vehicle detection, lane departure warning with steering assist, and adaptive cruise control. You can feel confident on the road with safety features like that.
Whether you want an electric car or an SUV, there is a vehicle out there with the right combination of fuel economy, features, space, and price for you. This list barely scratches the surface of good commuter cars, but it is a roundup of some of the best choices on the market. To learn more or test drive some of your favorites, contact us as McCluskey Chevy today to shop our amazing pre-owned vehicle selection