Which Chevy SUV Is the Biggest?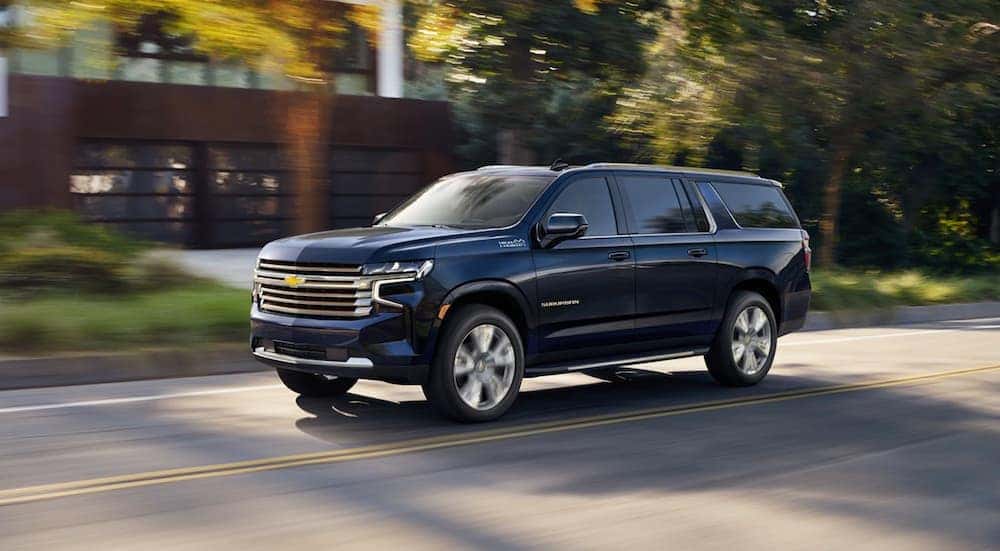 We at McCluskey Chevy often get the question, "Which Chevy SUV is the biggest?" So, today, we thought we would take a moment and talk about this because it's essential to know the difference between Chevy's big full-size SUVs. When looking at Chevy SUVs, you'll notice that both the Chevy Suburban and Tahoe offer spacious interiors and an abundance of cargo space for all your family's gear and luggage. So regardless of which one you end up deciding on, you are sure to have enough space for your family and friends. But the question remains: which one is bigger? The Suburban, of course. The 2021 Chevy Suburban is the biggest Chevy SUV. In fact, it's also the biggest in its class, with more cargo capacity than even the Ford Expedition Max and Toyota Sequoia.
Featuring 144.7 cu.ft. of total cargo space, you will have a hard time finding a bigger passenger vehicle on the road. You might actually find dorm rooms with less cargo space than the 2021 Chevy Suburban. With seating for up to nine passengers, the Chevy Suburban not only can haul all of your gear, but it can haul the whole neighborhood too. You will find an impressive 41.5 cubic feet behind the third-row seats for big shopping trips, and 93.8 cubic feet of space with the third-row seats folded. If this isn't enough room to accommodate your lifestyle, well, you can always buy a travel trailer, because the Chevy Suburban can tow a lot behind it, even further expanding the cargo space. But besides all of that, there is so much about the Suburban that makes it unique. And that is exactly what we are going to talk about today!
Through the Generations
Everything about the Chevy Suburban is big and expansive—including its past. With the 2021 model marking a fresh generation, and a complete redesign, let's take a look at the Suburban's larger-than-life generations and its long history of being the biggest SUV on the block. Spanning nine decades and 12 generations—from 1935 to the present day—the Chevy Suburban's storied history is built into the fabric of America. Reeling from the Great Depression, the Chevy Suburban emerged to provide a heavy-duty wagon built on a half-ton truck chassis. This generation would still be considered roomy today, as it featured 115.1 cu.ft. of storage. The second-generation Chevy Suburban was introduced during World War II, while the third-generation Suburban debuted after the war in 1947 as a do-it-all workhorse.
The fourth generation saw Chevy's first V8 engine, along with four-wheel drive, while the fifth generation brought A/C and rear-seat heating. Sixth- and seventh-generation Suburbans saw new body styles, with the seventh-gen Suburban measuring 129.5 inches, front to back. The Chevy Suburban really gained in popularity with its eighth generation, helping to spur the SUV boom of the '90s and continuing this trend with each successive generation to the present day, where we see parts of each generation contributing to the Suburban's sleek and eminently-useful current form.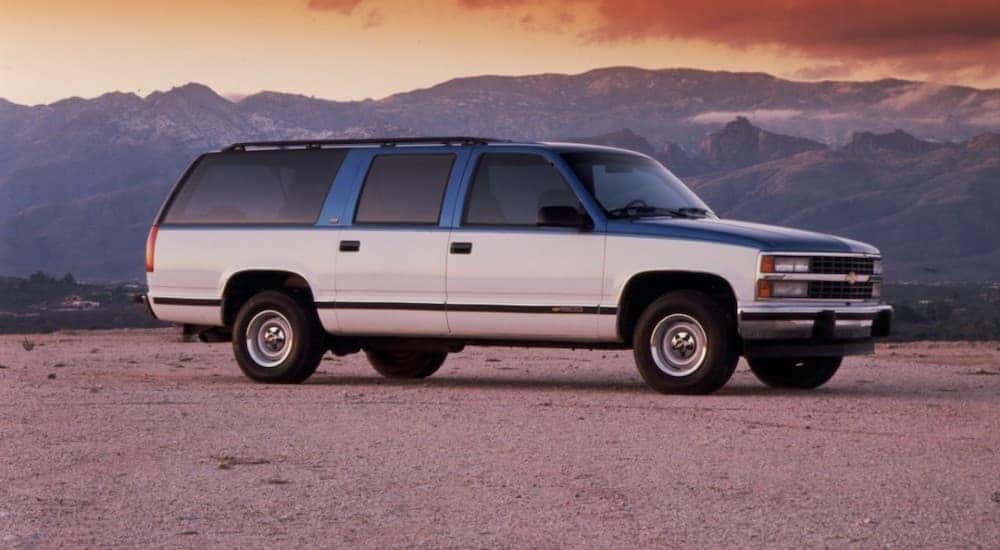 Inside the 2021 Suburban
With the 2021 Chevy Suburban, you have lots of options for configuring the interior space. You can choose a model that seats up to 9 passengers and has three rows of seats. This setup can be had with the LS trim and features a front-seat bench for large families. This is an excellent alternative to buying a commercial van because, with this model, you will also find convenience and tech features like tri-zone climate control, power-adjustable front seats, a 10-inch touchscreen, and Apple CarPlay/Android Auto.
If you do not need to fill that many seats, you can opt for an 8-passenger setup, or you can choose a 7-passenger trim that features second-row captain's chairs. You'll find that the passenger space is very similar to the Chevy Tahoe, except for the third row. The last row is much more comfortable in the Suburban and can accommodate adults with ease. The 2021 Chevy Suburban also has much more cargo space than the Chevy Tahoe, with 16 more cu.ft. than the Tahoe behind the rear seats.
Redesign Brings More Room
One of the reasons for the increase in cargo and passenger space is the 2021 Chevy Suburban's new suspension. Not only does this new feat of engineering bring a smoother, more refined ride, it also allows for more space in the Suburban's interior. It's no small feat, as the new suspension increases the Suburban's interior space dramatically. Employing an independent rear suspension instead of a live axle and leaf springs, the Suburban's multi-link suspension setup with coil springs lowers the floor, creating more room in both the cargo area and the second- and third-row seats. There are also suspension upgrades available, including dampers and air springs with four inches of height adjustability for further refinement.
The Chevy Suburban also gets a wheelbase stretch of 4.1 inches, which means that it is now 15 inches longer overall than the new Chevy Tahoe. The increased size, along with the new suspension, gives the Suburban significantly more cargo and passenger space. It gains 2 cu.ft. of cargo space behind the third row, as well as 2.2 inches of third-row legroom. It also gains a few inches of legroom in the second row. There is no way passengers will be cramped inside this spacious vehicle.
More Space Means More Everything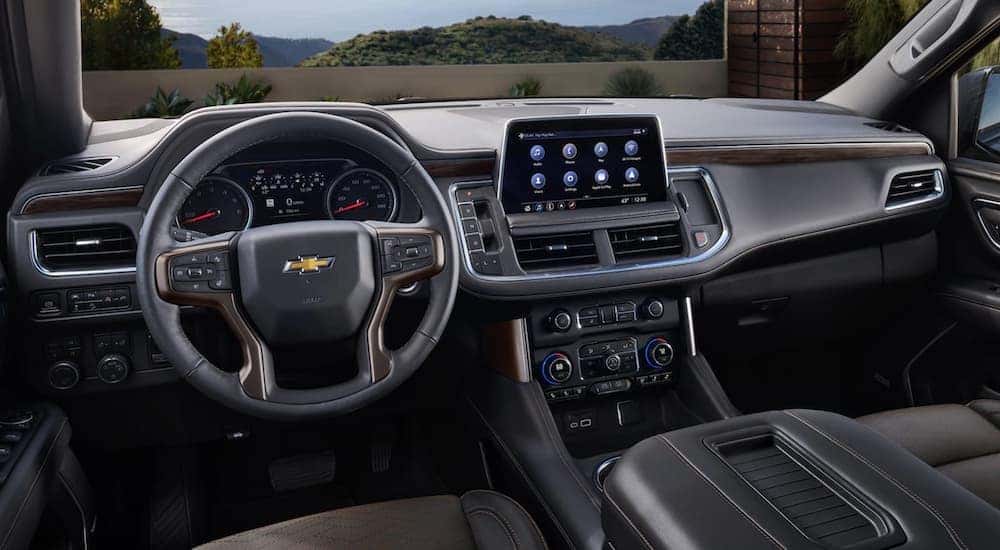 The 2021 Chevy Suburban also gets more standard equipment—and digital displays everywhere. You'll find a 10.2-inch touchscreen as standard equipment, while available screens include a digital gauge cluster, a large color head-up display, and dual 12.6-inch entertainment screens for the second and third rows. The rear-seat entertainment screens can send content back and forth, and the front touchscreen can mirror the display if you have an Android smartphone.
Moving up to the mid-level LT trim brings features like a hands-free power liftgate, leather interior, 9-speaker Bose audio, memory driver's seat, wireless phone charging, auto-dimming rearview mirror, universal garage remote, and heated front seats. And all Suburban trim levels include GM's OnStar connected services, as well as 4G LTE integration with in-vehicle Wi-Fi. Upper trim levels include magnetic ride control, 12-way power front seats with heating and ventilation, power-release rear seats, navigation, 10-speaker Bose audio, and an 8-inch digital instrument cluster. The High Country—the top trim level—includes the 6.2-liter V8, head-up display, surround-view camera, and a rear camera mirror. So no matter which trim you choose, you are sure to have lots of space and plenty of tech and convenience features for the whole family.
Go Big with McCluskey Chevy
Whether you are looking for the biggest full-size SUV on the planet for your family and friends or a subcompact crossover for your growing family, McCluskey Chevy provides the customer service you and your family deserve. We understand buying a vehicle can be a difficult process, which is why we like to talk about the "McCluskey Difference." You'll notice this as soon as you walk into the dealership. We pride ourselves on providing excellent customer service by doing the right thing, not just saying the right thing.
We take pride in turning your car-buying experience into a joyful event—that's right, buying a car can be fun. Not only do we have an extensive selection of new and used vehicles to choose from, but we also provide a customer-centric experience. Shop online on your own terms. Calculate payments and see the value of your trade-in vehicle. Or stop by and take a test drive. We're here to help get you on the road in the car of your dreams!