Branding on Balding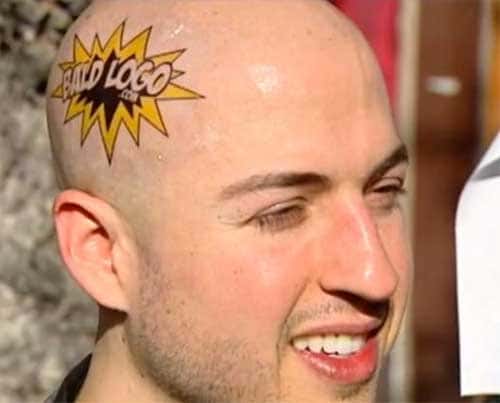 There are a lot of different ways to advertise these days. As technology progresses, it's easy to have custom tailored ads appear to your exact demographic while they browse the internet. So in a world of pop-ups, AdWords, and ubiquitous Google, is there still room for low-tech methods? Let us here at McCluskey Chevrolet, home of the 2017 Chevrolet Volt, tell you about one man who is trying to make advertising a much more personal affair.
The man is Brandon Chicotsky. The company is BaldLogo.com. The idea? He creates temporary tattoos of your businesses logo and wears them around town, right on the side of his shiny bald head. We here are your Chevrolet Dealer Cincinnati know that there's a "head for business" joke ripe for the picking, but we're going to let this one go.
"Because I didn't get to choose to be bald I thought I'd bring bald and beautiful back," said Chicotsky.
So far, he seems to be doing an okay job of it. According to Brandon, he was flooded with requests from businesses and his head doesn't come cheap. It's just over $300 a day to get your logo on that dome, but he promises it will receive plenty of attention. He spends upwards of six hours walking around Austin, TX wearing the logo on his head. If that isn't enough, he also offers a service where he is accompanied by a beautiful woman or a man in a body suit with a giant sign.
Would you consider this kind of advertising for a business you're involved with?