Finding the Right Tire for Every Season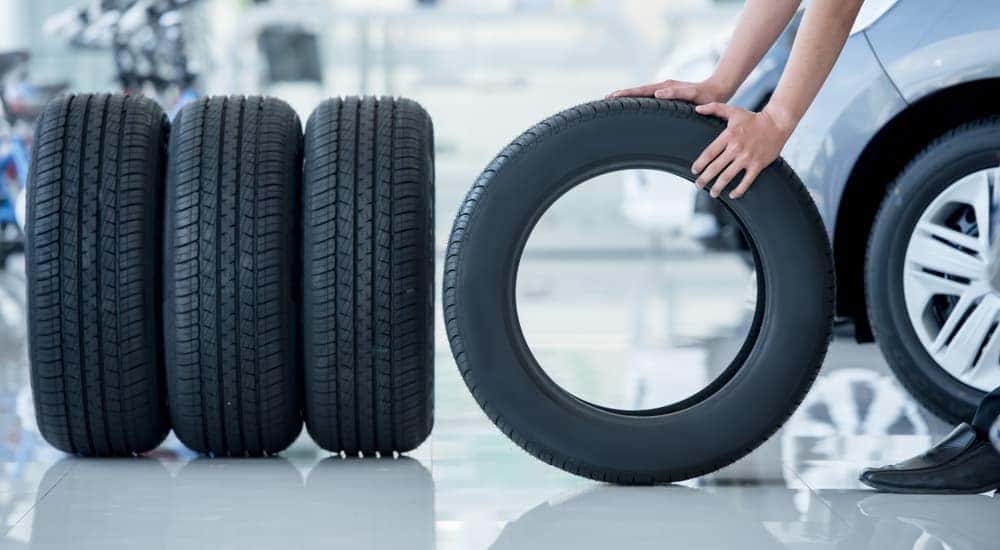 What is an all-season tire? Seriously, we know this might sound like a funny question or something that everyone should know, but it is actually a relatively new concept. The first all-season tire was not developed until 1977. Before then, everyone had a set for winter and a set for summer, or at least that was the idea. But now most vehicles come outfitted with all-season tires. In fact, over 97% of vehicles employ these year-round tires, regardless of whether they are switched out for a winter set before the snow and ice arrive. So let's consult the tire shop and see if this is something you should be using on your vehicle even when the flakes start to fly.
Why Do I Need the RIGHT Tire?
Most people do not give a lot of thought to the kind of tire they put on their vehicle. But choosing the right tire can not only save you money, but it can also save you from expensive repairs, or from getting stuck on the side of the road. You do not want to be one of those people abandoning their vehicle in a snowstorm, right? You want your tires to get you through all conditions, as the name implies, not just the warm months, but the months of heavy, wet snow too. Well, the heavy snow might be a problem for any tire, but all-season tires are now getting much closer to winter tires in terms of performance in snow and ice. So while it is possible to find a tire that can handle these conditions as well as provide long-term performance summer after summer, it is not always recommended.
How Do I Know What Tires to Buy?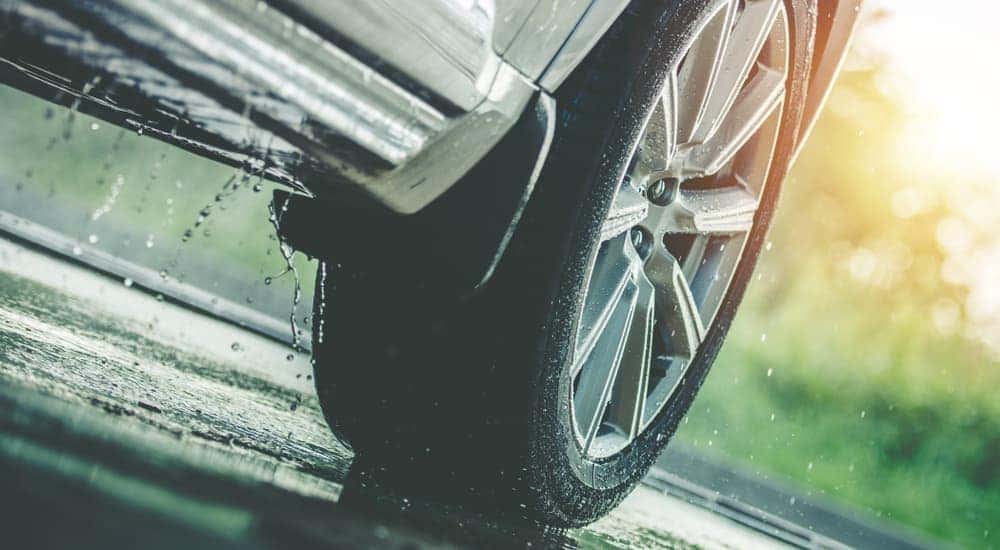 First, you will want to consider where you live. If you live south of the Mason-Dixon line, you probably do not need to worry about winter tires. But if you live north of the Mason-Dixon line, you might want to consider a set of winter tires. So if you live in Cincinnati, we're sure you already know the difference a set of winter tires can make in a blizzard. All-season tires are made to perform well in every condition, though they are not the best tire for every condition. So you will find that they perform well on dry and wet roads, and roads that have light snow. But they won't give you the same handling and grip that you'll find with a summer tire in the sweltering heat, and they won't give you the same handling and grip in the snow and ice that you will find when running winter tires.
How Do All-Season Tires Perform in Winter or Poor Weather?
Generally, an all-season tire is meant to be used in temperatures above 45ºF (7°C). When you use an all-season tire in temperatures below 45ºF (7°C), the tire can become stiff and not grip the road as well. It also might not be as efficient at shedding ice and snow from its treads, which can cause you to lose control of your vehicle easier and can cause more spinouts. This is due to the soft-rubber compound hardening, which causes traction to suffer. Technology has gotten better, though, as there are now tire compounds that do not harden as easily and are able to retain their grip in cold-weather conditions.
You might have noticed the mud and snow (M+S) symbol on some all-season tires. These are tires that have passed certain winter tire traction tests, so buying a tire with this symbol will give you more capability in inclement weather. It does not mean that you should take the tire out mudding, however, or that it is recommended for ice and slush. It means only that the tire has some all-season capability when compared to summer tires. If you're not planning on frequently driving in icy conditions or heavy snow, then this is a good choice for a year-round tire.
The latest grading system for all-season tires is marked by a mountain/snowflake symbol molded onto the side of the tire. This is a more helpful measurement for winter performance. When you see this symbol, you know that the tire has been tested more stringently and meets true winter traction performance requirements. These are tires that have been rated for severe snow service and ones that can be run all year even in places that, by law, require winter tires, such as some Canadian provinces. With these tires, you also will not need to carry chains in the mountains if you have four-wheel drive. Generally, if conditions worsen, they will close the roads before requiring chains as well as winter-rated tires and four-wheel drive.
All-Season Tires or Winter Tires?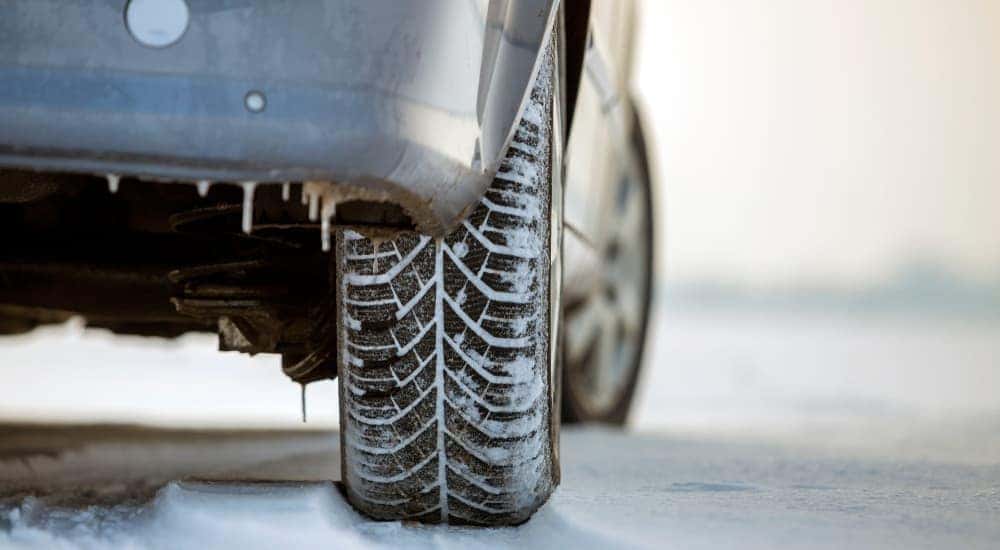 More and more, we are seeing this symbol on all-season or all-weather tires. Not only are they good in cold-temperature conditions, but they can also be left on the vehicle year-round. Of course, they are also more expensive, so sometimes buying a set of winter tires is more cost-effective. A set of winter tires can be used for some time because they are only put on in the winter months. If you live in an area where the temperature regularly drops below 45ºF or where you experience frequent snow, slush, or ice conditions, then winter tires are recommended.
There really is no right choice, though; you will want to look at your budget and weigh that against the worst-case scenario where you live. Convenience is also a factor in deciding if you want to hassle with changing your tires out twice a year. What is the worst weather you will be driving in, and can you take public transportation on those days? Or carpool? Most likely, you work with someone who has big mud tires on their truck, right? Surely, they would be happy to give you a ride to work on those big snow days. Regardless, you will want to make sure you are safe on the road and that you find the right tire(s) for your budget.
Choosing Your Tires
While choosing a tire might seem like a daunting task, it's really a fun thing to think about, because you get to think about every situation you've ever encountered. The piles of drifted snow in Wyoming; an ice storm in Kansas; the wet snow in the Sierra. Once you find a good all-season tire, the only decision now is whether you need to add a winter tire to your garage. Keep in mind that "all season" does not always mean the tire that will get you through "all storms," so if your budget allows for it, and you live somewhere where you are uncomfortable driving in the winter months, then a set of winter tires can make a big difference.
At McCluskey Chevrolet, we are here to answer any questions you might have about tires. Our expert staff at the tire shop can recommend the perfect set of tires for you and your family. We will find a budget-friendly solution for you regardless of what kind of vehicle you drive. While we specialize in Chevrolet vehicles, we are also experts in all things tires, so you can be assured you will be ready for any situation. This way, everyone in the Cincinnati area will be sure to have the proper set of tires on their vehicles when the flakes start flying. Remember, you do not want to be that person having to abandon their car on the side of the road. At McCluskey Chevrolet, it truly is a small price to pay!