Tire Shop – Cincinnati, OH
If you are the proud owner of a new Chevy vehicle or even if you have had your Chevy vehicle for years at this point, it is likely that you are enjoying it quite a bit. However, it is important to keep it in good condition – particularly when it comes to your tires. The best way you can do that is by finding the right tire shop.
Good tire maintenance is key, and driving on tires that are not in the proper condition can be detrimental not only to your driving experience and overall comfort in your car, but the actual condition of the car itself apart from the tires, as the condition of the car can be hugely affected by poorly maintained tires. From issues of underinflation to an uneven wear pattern caused by an improper balancing of the tires or even a lack of regular tire rotation, tires can sometimes wear out and cause damage. At this point, replacing them often becomes the best option. But tires, especially ones that are brand new, can certainly be more expensive – and some people will even decide that they are more expensive than they are worth, further risking potential damage to their vehicle in the long run.
Fortunately, discount tires in Cincinnati from your local Chevy dealership, like McCluskey Chevy, provide a viable option for tire replacement for your Chevy vehicle for a number of reasons.
Why McCluskey Chevy?Order PartsContact Parts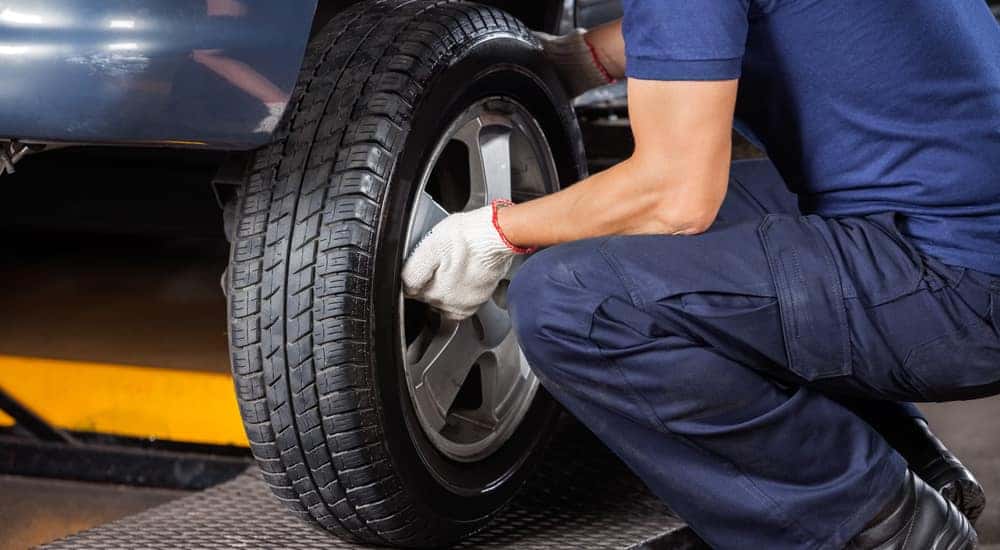 #1. You'll Save Money
Here at your local Chevrolet dealership, McCluskey Chevy, saving money is a priority for many of our customers, and something that we help them to do to the best of our abilities, from picking the right vehicle for their needs as well as finding the best replacement parts when it comes time and is necessary to keep your car in the best condition possible.
At least in the case of your tires, discount tires in Cincinnati are a perfectly reasonable and viable way to save money in the long run. Discount tires in Cincinnati will be sold at what is usually a much-reduced price than tires sold at a typical retail price, and the salespeople at your nearest Chevy dealership are likely to be able to make this a reality through working with you and discussing your needs. At McCluskey Chevy, we are eager to sit down with you and help to sort out your budget more thoroughly, and ultimately find how purchasing new tires will fit into it. If you find yourself with a tight budget, one that might even be difficult to stick to if you decide to purchase brand new tires, discount tires in Cincinnati can provide a great option for those looking to cut back on their vehicle-related costs.
#2. Your Tires Are More Important Than Many People Realize – Until It's Too Late
Though many people might not realize it when they initially purchase a car from their nearest Chevrolet dealership, tire maintenance is hugely crucial and can mitigate the need for a tire replacement such as with discount tires in Cincinnati for quite some time. This tire maintenance involves the rotation of the tires that is recommended by the factory that produced the car. It is important to follow this schedule as well as rotation pattern, as the rotation pattern is likely to vary from vehicle type and each type of vehicle might have different needs when it comes to tire rotations than other vehicles that you may have owned.
If you do not regularly rotate your tires as is recommended, it is possible (and even likely and common) that you will eventually see a pattern of uneven wear on your tires. This pattern of uneven wear can vary from tire to tire and from back tires to front tires, and this pattern of uneven wear can even cause detrimental effects not only in the tires (where the problem is visible and obvious) but in the car as a whole as well, causing damage and a much more uncomfortable riding experience to boot.
If your car has already sustained damage like this to the tires, it is likely that it will be recommended for you to simply have the tires replaced. If you had not anticipated this damage occurring (as the vast majority of people, in fact, do not, as this is how the damage happens and culminates in the first place), it can cause a good deal of anxiety when it comes to the projected cost of replacing all four tires – or even just one tire, at that. But getting a discount tire in Cincinnati or multiple discount tires in Cincinnati (if the uneven wear is extensive and problematic throughout all the tire on your car), can certainly help to reduce this cost and make getting replacement tires much more feasible for the everyday person or even the one who might be currently struggling financially at the time that they need a tire replacement.
#3. Your Car Has Been in an Accident and Sustained Damage – And You Are Liable for The Accident
It's hugely important to be a conscientious driver whenever you can, but sometimes car accidents happen and can be difficult to prevent. And often, unfortunately, damage is sustained in these accidents. While, in some cases, your insurance will cover the damages that have been sustained by your vehicle, even in the cases that tire replacements become necessary, this is not a guarantee. If you have been found to be liable for the accident, as can sometimes happen, even if you were not driving recklessly or in a dangerous fashion, then it is often the case that insurance will not cover the cost of any repairs. It is also even possible, in the case of your liability for an accident, that you will even need to give the other party a sum of money called a settlement. This will often be the case more so if injury has been sustained by the accident, and if the injury was sustained by the other party, they might seek settlement money to make up for the pain and suffering, as it is legally called, that has been endured as a result. If this ends up being the case, you might find yourself in an uncomfortable financial position – and still with car repairs that need to be made.
This is the perfect opportunity to look into buying discount tires in Cincinnati from a dependable dealership, like McCluskey Chevy, to try (and more often than not, succeed) at beginning to offset the cost of the repairs, sometimes extensive, that will need to be made. Discount tires in Cincinnati will still be high-quality replacement tires in the event that yours have sustained damage in the process of the accident, but they will hardly be as expensive as they could have been had you decided to buy them brand new.
Choose McCluskey Chevy for High-Quality Discount Tires
On top of it all, discount tires are also typically very high-quality, though it will be important to buy discount tires in Cincinnati from a reputable dealership like McCluskey Chevy who has been verified to sell high-quality car parts – such as Chevy parts. Discount tires in Cincinnati will save you money, and will likely give you a good deal of peace of mind when it comes to your financial standing and your budget. For many, discount tires present the best possible option for replacement tires.