Reese Cup Bandit!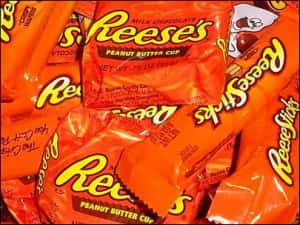 Everyone loves candy, and is there any better pairing in all of candy-kind than the beautiful marriage of chocolate and peanut butter? There's a magic alchemy that occurs when the two are mixed, it's a wondrous amalgam whose whole is greater than the sum of its parts. Is there any line a man wouldn't cross to get a taste of that sweet tincture? Let us here at your Chevy Dealer in Ohio tell you about one man who was willing to risk it all to get the one thing he truly desired.
In Lorain, Ohio, police are chasing an infamous peanut butter cup thief who has been robbing a local gas station for months now. Employees say he walks in after midnight, grabs handfuls of Reese's peanut butter cups, and then flees on foot. It may seem like a simple crime, but the still unknown thief has stolen over 500 dollars' worth of candy since the crimes began.
Authorities and employees have tried to stop the thief but they have had little success. One employee tried to bar the door but the thief was able to slip around him. Another employee tried to grab the thief but was overpowered and spun away, allowing the man they have dubbed the "Reese Cup Bandit" to again escape. Police are monitoring security footage but the perpetrator wears a black hoodie that completely shrouds his face.
Employees haven't seen the man since the story first hit the news, but they remain vigilant. If the police ever do catch the guy, he may have a fairly lucrative career as a Reese Cup spokesman.