Six Clever Accessories for Your New Pickup Truck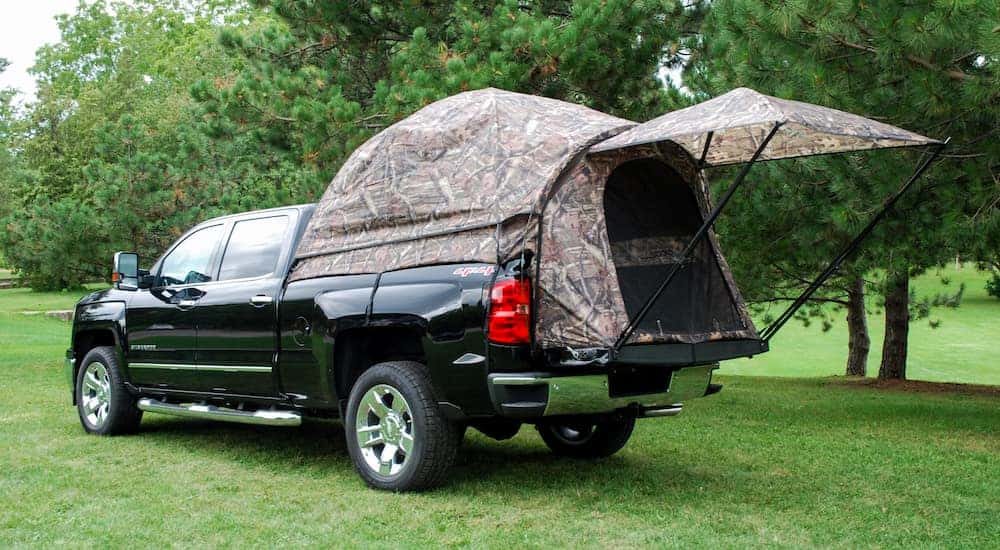 Have you recently purchased a pickup truck? Well, congratulations! Regardless of your reasons for pursuing this type of vehicle, we're confident you made the right choice.
While these vehicles tend to deliver all of the amenities a driver could possibly need, we wouldn't blame you if you're looking for a bit more from your new ride. Well, you could solve this predicament by pursuing truck accessories for your new ride. There are a number of features that can transform your ride. For example, there are several amenities that would prove to be the perfect accompaniment for the worksite, and there are even some accessories that can turn your truck into the perfect tailgating machine.
Below, we've reviewed six specific accessories that you can pursue for a pickup. Then, whether you've recently purchased the vehicle or you're currently shopping for a new ride, you'll know exactly what truck accessories you'll want to do add…
Accessory #1: Hammock/Tent
This amenity might be a bit unconventional, but it could prove to be the perfect addition to your truck. Personally, I'm constantly wanting to take a nap while I'm at work. However, reclining the seats and cranking the air conditioner doesn't really lend itself to comfort. However, by pursuing a hammock from your truck bed, you can relax, be comfortable, and enjoy the fresh air. When you're not lying on the material, it can be used to cover your cargo, providing a valuable shade for your equipment.
If you're someone who enjoys camping, then you could even pursue a tent for your truck. This offering fits snugly into the pickup's bed, providing you with a comfortable, safe place to sleep. If you're not a fan of sleeping on the ground during an excursion, you can simply rely on your truck bed to get a good night's sleep.
Accessory #2: Bed Extender
If you're going to be relying on your pickup truck to move any equipment or construction materials/aggregates, you might find that the longer pieces of cargo don't necessarily fit inside your bed. Often times, owners will dangerously tie up these materials and attempt to travel to the worksite, even though there's a considerable risk that these pipes or pieces of wood could easily slide out.
Fortunately, there's an easy solution to this issue. By pursuing a bed extender for your vehicle, you'll have few issues fitting those longer pieces of cargo. This inclusion could add an extra few feet to the back of your vehicle, allowing you to fit whatever equipment you need to bring along on your journey. If you're still worried about the status of your cargo, then you could also purchase tie-down straps or hooks. This amenity will assure that your equipment or materials are secured to your truck, so you won't have to worry about anything falling out during your commute.
Accessory #3: Ramp
Do you find that you're often trucking around an ATV, motorcycle, lawn mower, or snow blower? If you are, then you're surely familiar with how difficult it can be loading those large pieces of equipment into the back of your truck. Normally, you'd need multiple people to help you lift these tools into the bed, and that process usually leads to several scratches or dents on your truck's exterior.
However, if you pursue a ramp for your truck bed, you'll have few issues rolling those pieces of equipment into your bed. This won't only preserve the quality of your truck and the pieces of equipment, but it should also play a role in preventing any vicarious injuries.
Accessory #4: Storage/Tailgate Amenities
A truck bed provides owners with plenty of space, so you can truly transform this unit into anything you desire. If you have to lug equipment or tools everywhere you go, then you could consider opting for a giant toolbox. This inclusion would allow you to stay organized and assuming the unit is lockable, you could safely secure your more valuable tools without fear of them being stolen.
Perhaps you rely on your pickup truck as a commuter, in which case you'll have maximum versatility when it comes to adapting your bed. Owners could consider installing a grill to the back of their truck, transforming the vehicle into the ultimate tailgating machine. You could also add a cooler and fridge, and you'd surely be the star of any pre-game event.
Accessory #5: Body Armor
If you're going to be relying on your pickup truck as a rugged off-roader, you'll surely want to add a number of amenities that can preserve and protect the exterior of your vehicle. Body armor is a clever inclusion, as it will provide a buffer between your literal vehicle and the elements (whether it be rocks or tree branches). Drivers could also opt for an upgraded bumper, especially when you consider that the standard inclusion tends to compromise relatively quickly.
These parts do look a bit silly, but they're also easy to install. Therefore, you could opt for an array of protective gear, and you could subsequently equip your vehicle when it's time to go off-roading. If you're particularly focused on preserving the like-new condition of your vehicle, then this is the perfect accessory.
Accessory #6: Floor Mats
Similar to how owners want to maintain their vehicle's exterior beauty, the same goes for the pickup's interior. If you've ever gone off-roading, you're surely familiar with the fact that it doesn't take much to dirty up the cabin. Mud, dirt, and grime will naturally embed itself into your truck's upholstery, and the interior could also be compromised due to rain or water.
Well, by purchasing floor mats for your new ride, you'll at least have a fighting chance at keeping your interior as clean as possible. These inclusions will protect the floors of your vehicle, meaning they won't be dirtied by any mud. You could also opt for seat covers, which will assure that no grime or water makes its way into the upholstery