Tire Treads Getting Low? Buy From a Tire Shop in Cincinnati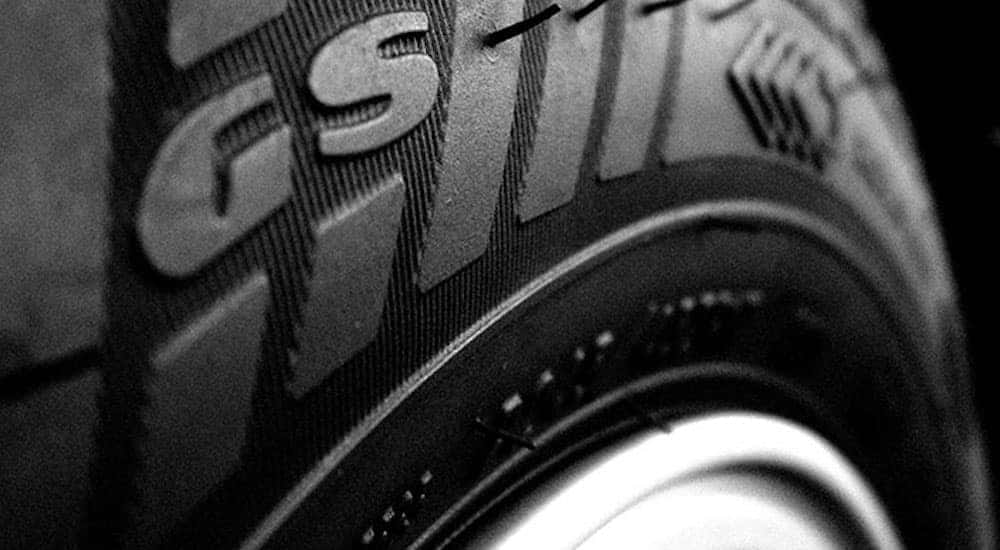 No one likes showing up at their service department and being told that their tires are worn, and treads are low and need to be replaced. Or worse, noticing it yourself when you're driving in bad conditions and lose control of the vehicle.  Replacing worn or damaged tires can be inconvenient and a hassle, but at McCluskey Chevy in Cincinnati we have all of your tire needs and at our high-quality tire shop.
Knowing When Your Tires Need to be Replaced
One way to know if your tire tread is low is by placing a penny in the tires grooves. If you always see Abe Lincoln's head, it means your tires are shallow and worn, and it's time for a tire change. In general, we also recommend changing your tires at least once every six years to ensure that your tires are high quality and that they are not worn from the climate or the elements. If you have tested your tires, and know they need replacement, at McCluskey Chevy in Cincinnati we have a large selection of discount tires for you.  If you still aren't sure if you might need new tires, we would be happy to evaluate them and advise you on the best course of action.
Discount Tire Pricing
Price is important when it comes to vehicles – especially for repairs and maintenance. At McCluskey Chevy in Cincinnati, we know that affordability is important for our customers, which is why we offer discount tires for any of your tire needs. We are proud to offer our customers low prices and low rates since we know that vehicles can be a lifelong investment and we want to make sure you leave with the best components at the best price.
The Right Tires to Buy
Knowing the right tires to buy can be a tricky process and does require some research. The best method to follow is what is listed in your car owner's manual, which will state the correct size, brand, and pressure for your tires.  However, if you want to expert advice from factory trained service technicians, we are more than happy to let you know which tires are best suited for your vehicle. At the McCluskey Chevy Service Department, we have highly trained and certified automotive experts who will be able to tell you which tires are best for your vehicle, no matter the car model or brand.
Tire Maintenance
There are a number of ways to care for your car tires – all of which are important and will extend the life of your tires. One of the best ways to check your tires is to check the air pressure. Your owners manual or a tag on the drivers side door typically list recommended tire pressure. Make sure to check that number and compare it to the current pressure of your tires. If your tire pressure is lower or higher than the number listed on your tire, be sure to inflate or deflate so it matches the number listed. Tires that are under or over inflated can affect the overall car performance and can cause the tires to wear unevenly and cause lasting damage.
Another way to maintain your tires is to get the tires rotated when you come in for your oil change. Rotating the tires will ensure that the wear on the tires is equally distributed. This provides that not only one area of your tire is being worn, and the rotation will ensure that the tire quality remains consistent.
Another, simple and easy step to take is to make sure that there are no rocks in the grooves and tread of your tires. Stones or other road debris that get stuck in the tread can cause damage and may eventually pop the tire. Ensuring that these rocks are removed will extend the life of your tire. In addition, making sure not to go over the load capacity of your vehicle is extremely important. Going over capacity can put undue pressure on your tires, causing them to pop or cause lasting damage.
Tire Performance and Why to Buy
Some people don't think about this, but worn tires can affect the overall performance of your vehicle. If you replace worn tires with new tires, you will notice that the car drives smoother, there will be better fuel efficiency, handling will be easier, and you will notice the overall performance of the vehicle is vastly improved.
New tires will also improve the overall safety of your vehicle. Driving around on worn tires in the rain can affect the handling of the vehicle and can lead to hydroplaning and skidding. New tires will help the vehicle handle poor weather conditions, and prevent dangerous and unnecessary accidents. At McCluskey Chevy in Cincinnati, we can easily inspect your car's tires and offer your our best opinion on your new tires needs at a discounted price.
Tires for Weather
If you are going on a long journey or live in an area that is very hot or very cold, it is always a good idea to choose tires that are best suited to these weather conditions. Tires that are resistant to high heat are especially important for those living in hot or humid locations. And tires that can handle ice, sleet, and snow are especially crucial for those who live in areas that endure severe winters. At McCluskey Chevy, we have the knowledge to give you our best assessment for your tire needs – from all-season tires to max performance summer tires or studless ice and snow tires, we'll give you our best opinion for what tires your car needs.
Tires can affect a car's performance, and it is essential to get them regularly serviced and replaced. At McCluskey Chevy in Cincinnati, we are proud to be able to offer you the best discount tire prices, best expertise, and best service for vehicle needs. So, come to McCluskey Chevy for discount tires in Cincinnati – where providing high-quality service and affordability for our customers is our top priority.