Customizing Your Chevy Silverado – Silverado Mud Flaps – Cargo Liners
You love your Silverado – It's dependable, hard-working, and it looks good while doing it all. At some point, you may decide you want to get some add-ons, upgrades, and customization for your vehicle. Whether your Silverado is a hard-working work vehicle or serious weekend warrior recreational vehicle, Chevy offers a large selection of parts and accessories that are made specifically for your Chevy Silverado.
Customizing The Exterior
The Chevy Silverado is a good looking truck. It's got real road presence, and customizations can take this to the next level. Whether you are upgrading your Silverado on the exterior or interior, you will find so many options to make your truck your own. A great aftermarket upgrade always enhances not only the look of your truck but should also enhance the way it functions. Protection, function, and beauty are three of the most popular ways that customization makes your Silverado even better than it was before. Here are a few of the most popular parts and accessories you can buy to customize the exterior of your Silverado:
Tonneau Covers
Tonneau covers are a great upgrade if you want to keep your cargo safe and protected from the elements. Tonneau covers come in many different sizes and styles, including folding, roll-up, snap-on, and retractable covers. There are also toolbox covers and painted options to match your Silverado. Make this function go even further with accessories that let you carry more, pack more, and keep all of that cargo safe from whatever the road may throw at you – for work or for play.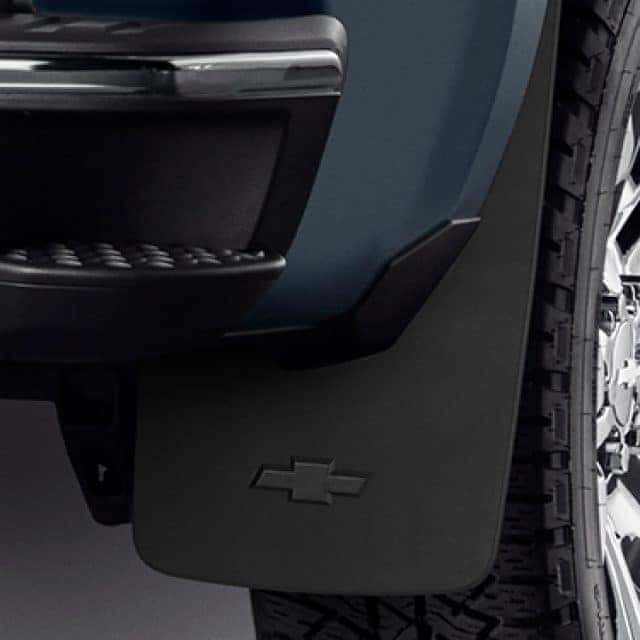 Silverado Mud Flaps
Silverado mud flaps make your truck look great and also protect the side of your truck from rocks, gravel, tar, and mud scrapes, dents, and splatters. There are a wide variety of Silverado mud flaps to choose from including, universal fit, off-road styles, kickback and long john, pivoting, and no-screw Silverado mud flaps. There are also hitch mount, LED, and branded Silverado compatible mud flaps. Silverado mud flaps come in different colors, materials, and brand-accented styles. You are sure to find one that fits your Silverado perfectly. Give your truck the edge it deserves by choosing a great set of Silverado mud flaps to enhance its looks and keep its paint and body in great shape.
Bed Liners, Mats, Roll Bars, and Grille Accessories
Bed Liners and mats are great options to protect your Silverado from dirt, dents, and scratches. Roll bars provide added protection to your Silverado and also give it a more aggressive look. Roll bars come in several colors, from chrome to black, and are available with a rack for a spare tire.
Lighting
Adding aftermarket lighting to your Silverado is a great way to enhance both style and function. Choose from backup safety lighting, headlight strips, light guards, and covers, corner, bumper and parking lights, fog lights, and much more. Accessory lighting can be added to make almost any part of your Silverado really shine and pop.
Customizing The Interior
Cargo Liners
Cargo liners come in different materials from vinyl and velourtex to traditional felted fabrics. Many colors are available as well so you can match or contrast your truck to your liking with this aftermarket add-on. Floor liners enhance the look of your Silverado but also add a great layer of protection from dirt, scratches, and dents. With cargo liners, you don't need to be afraid to really put your Silverado's cargo capacity to the test.
Organizers
When you are on the go, keeping your cargo organized saves you time and hassle. Choose from a variety of console and storage organizers, such as floor organizers, GearBox storage boxes, Hammock cargo nets, center console and floor console organizers. There are also hanger bars and truck cab organizers so you can keep everything you need in your Silverado and at an easy to find, arm's reach away.
Fabric and Material Customization
Your interior fabrics say a lot about your style. Customize the interior of your Silverado with seat covers in a variety of styles and fabrics. You can also upgrade your steering wheel cover in leather or fabric styles. Floor mats and floor liners also upgrade the look of your Silverado's interior while protecting your truck from mud, salt, and stains.
The Benefit of Factory-Approved parts
There are several things to consider when you are asking yourself about the importance of buying factory approved and dealer installed parts on your Silverado. It's crucial to remember a few things about aftermarket parts and accessories, specifically what parts and how they are installed can affect your vehicle. There are two major components to aftermarket customization that will most affect you.
First, function. Because Chevy parts are made specifically for your vehicle, they will allow your vehicle to continue to run in a factory-intended manor. Using parts and accessories that are not brand-approved puts your vehicle at risk.
Second, warranty. Parts and accessories that are made specifically for your vehicle ensure that your vehicle will remain under your warranty.
There are many benefits to using factory approved parts and accessories for your aftermarket customizations. When it comes time to upgrade your Silverado to make it work or play harder, check out your local Chevy dealership and let the team of Chevy professionals help you find the perfect parts.