How Many Reasons Do You Need to Own a Car in Ohio?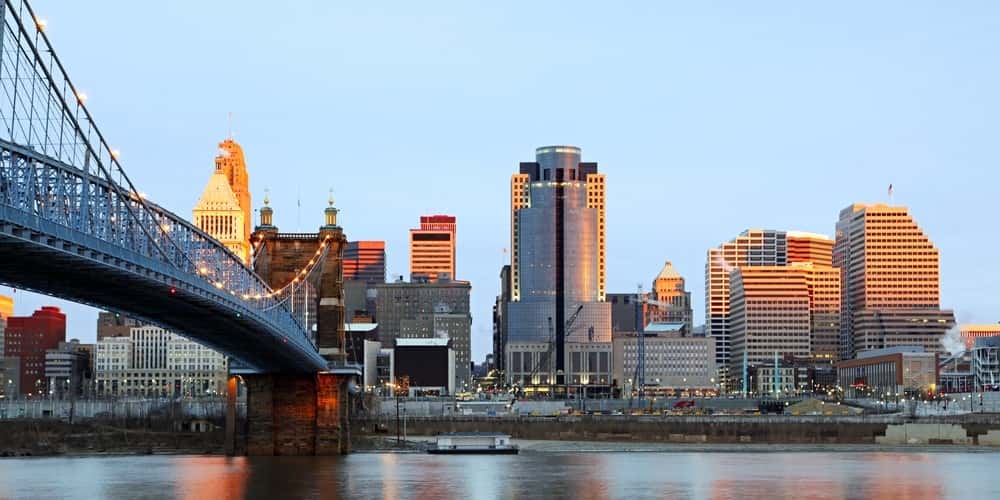 Like any dealership in the state, Chevy dealers in Ohio operate with the knowledge that Ohio is one of the best states in which to own a car. That's right. The ownership and usage costs paid annually by an Ohio driver are lower than those paid by drivers in any other U.S. state. When combined with the nation's second-lowest insurance premiums, plus historically lower gas and maintenance costs, Ohio is a great place to own a car!
And it's a great place to own a Chevy, with its full-sized pick-ups, Malibu, and Impala ranking among the most popular vehicles in the state. At McCluskey Chevrolet, we have hundreds of vehicles on our lots from the newest model year, to used and GM-certified pre-owned vehicles. Our extensive selection of makes and models is among the widest inventory of Chevy dealers in Ohio. While on mccluskeychevrolet.com, take a moment to look through our inventory and find that perfect next vehicle for your Ohio lifestyle.
McCluskey Cars
What automotive awards might sway your decision when shopping for a vehicle? A MotorTrend 'Car of the Year?' A Car and Driver '10 Best?' An IIHS 'Top Safety Pick?' What about JD Power and Associates award for 'Most Dependable' or a Kelley Blue Book citation for 'Best Resale Value?' Perhaps our friends with a environmental mindset might prefer a commendation for 'Most Fuel Efficient' or, even better, a recognition as 'Green Car of the Year.'
While it may seem like we're rambling off awards arbitrarily, the above distinctions have one thing in common: each has been awarded to Chevy cars within the current model year. So which is the best fit for you?
If you're interested in following in-state trends, the Chevy Malibu has been named the 'Best Midsize Car for Families' (by U.S. News & World Report) and an IIHS 'Top Safety Pick' (when equipped with the Driver Confidence package). Starting at $21,680 MSRP, the turbocharged Malibu is powered by a 1.5-liter four-cylinder (standard) that delivers 31 mpg (combined). Looking more like a luxury-inspired sedan, than an economical midsize offering, the Malibu is certainly deserving of its popularity within the state of Ohio.
The Impala follows suit, having been recognized as 'Best Large Car for the Money' (by U.S. News & World Report) and by Kelley Blue Book as one of the '10 Most Comfortable Cars Under $30K.' With a starting MSRP of $27,500, the Impala has been recognized as a '(Best Value) 5-Year Cost to Own' among full-size offerings. While the (standard) 2.5-liter four-cylinder offers a solid 196 horsepower and 186 lbs-ft of torque, the optional 3.6-liter V6 summons a walloping 305 horsepower and 264 lbs-ft. Average 22-25 mpg, the Impala is worth a look.
If you like the looks of either, but are not interested in buying new, we offer both in used and GM-certified pre-owned designations. But our selection of cars does not end with these two models, and it certainly isn't limited to Chevrolet. There's so much more to be excited about when you shop at McCluskey.
McCluskey Crossovers and SUVs
If a crossover or SUV is more appropriate for your lifestyle, Chevy has a number of options worthy of your consideration. Combining agility, efficient use of space, and boundless technology options, one could argue that these are representative of SUV's ultimate destination.
For example, the Trax is recognized by Kelley Blue Book as both (one of the) '10 Tech-Savviest Cars Under $20K' and 'Most Fuel Efficient SUV.' Catering to both the driving experience and the demand of sustainability, the Trax is a perfect subcompact through which to enjoy urban adventure. A 1.4-liter four-cylinder produces a commendable 138 horsepower, 148 lbs-ft of torque and 28 mpg combined.
Named among the (5) 'Best All Around' vehicles by the Automotive Science Group, the Traverse speaks to innovation. Representing a lot of value, the Traverse was named 'Best Large Car for the Money' by U.S News. This is fitting, considering its class-leading cargo space, making it a perfect consideration, no matter what you're transporting. Powered by a 2.4-liter four-cylinder engine, the Equinox delivers 182 horsepower, 172 lbs-ft of torque, and 1500 LB towing capacity (when properly equipped). Opt for the 3.6-liter V6 and you can expect 301 horsepower, 272 lbs-ft, and a towing capacity of up to 3500 LBS.
Consider the Equinox, Traverse or top-of-the-line Suburban and it becomes easy to see how high a bar Chevrolet sets. Even in the highly-competitive crossover / SUV segment, Chevy meets the challenge of making sure that the vehicles possess features that will satisfy every type of passenger. But they also take notable strides to make sure that there is a vehicle that will satisfy every type of driver.
McCluskey Trucks
If a truck is what you're looking for, you won't need to look far.
The Chevy Colorado has garnered such awards as Edmunds 'Most Wanted Midsize Truck,' Autobytel's 'Best Small Truck,' U.S. News 'Best Compact Truck for the Money,' and Kelley Blue Book's ' 5-Year Cost to Own (Midsize Pickup).' Depending on the trim level, you have two  engine options to choose from; a 2.5-liter inline four-cylinder (delivering 200 horsepower and 191 lbs-ft of torque) or a redesigned 3.6-liter V6 (that serves up 308 horsepower and 275 lbs-ft).
The Silverado wins acclaim as J.D. Power and Associates' ' Most Dependable Large Heavy Duty Pick-up' 3 Years in a Row, also earning Kelley Blue Book commendations for 'Best Resale Value' and '5-Year Cost to Own.' The options abound, so if you're looking for a heavy-duty truck, take the time to explore them and find which one is right for you.
The McCluskey Way
Whether you're a longtime Ohioan, or someone who would factor cost-to-own in deciding to relocate (we're talking to you, 'Michiganders'), don't worry. Your Chevy dealers in Ohio have exactly what you need. Come down to McCluskey Chevrolet and let us sweeten the deal further, with our lower prices and lower rates. We can help you enjoy, not only the experience of owning a car, but the experience of buying one