When in Cincinnati…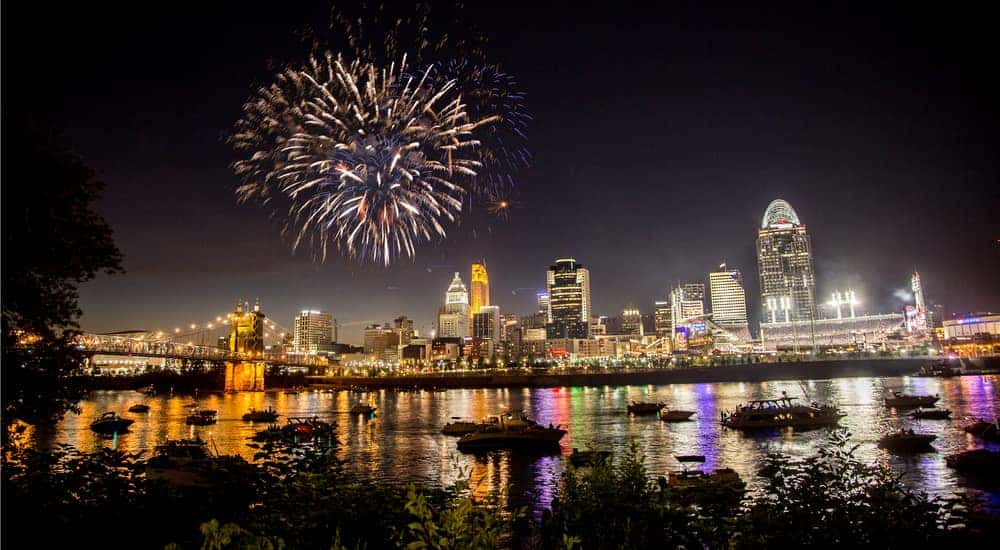 So, you're interested in buying a vehicle. Fantastic! But before we get into that, we'd like to let you in on a little secret we've learned. At first, it surprised us, but with the increasing frequency with which it happens, we can't help but want to clue you in.
Each and every day, we meet more and more customers for whom a visit to McCluskey is just one of many stops being made in Cincinnati. In addition to visiting the area's best Chevy Dealers, Columbus drivers (and customers from all over) are exploring everything that Cincinnati has to offer, in addition to our extensive selection and unparalleled service.
That gets us thinking…
Since we take great pride in putting our customers first, maybe we can help you to make the most of your visit to Cincy.
Seeing Cincinnati
As with any city, there are sights to be seen that visitors love.
Fountain Square (myfountainsquare.com) serves as one of Cincinnati's hubs of social activity. Surrounded by various shops, restaurants, and offices this historical landmark has been renovated twice in the last half century to make sure that it remains a true sign of the times
You don't have to be a Reds fan to have a great time at the Great American Ball Park (although it doesn't hurt). With seating for over 42,000 baseball fans, we're sure that we have a seat or two with your name on it. Visit https://www.mlb.com/reds/ballpark for tickets, and for more information.
The second-oldest zoo in the United States, the Cincinnati Zoo & Botanical Gardens delivers 74 acres worth of nature's wonder (and a touch of historical significance as well). Learn more at cincinnatizoo.org
The iconic architecture and stunning stained glass windows of the Cathedral Basilica of the Assumption make for a breathtaking visual. While pictures are available online (covcathedral.com), we highly suggest you experience the splendor for yourself.
Local Culture
We are proud to share our city's unique culture and history with our guests.
Considered one of the highlights of many visits, the Cincinnati Art Museum is one of the oldest museums in the United States. With a regular influx of exhibits, it is rarely the same visit twice. Visit cincinnatiartmuseum.org for more information.
Chronicling the pivotal significance of racial equality and struggle within our history and culture, the National Underground Railroad Freedom Center serves as a 'beacon of light for inclusive freedom around the globe'. Open minds can be inspired further at freedomcenter.org
Take a quirky look at history and culture by visiting the American Sign Museum (americansignmuseum.org) and find appreciation for the 'rich history of signage'. By far one of our favorite destinations, it provides an informative (yet lighthearted) perspective of our national legacy through the evolution of signage.
Brewery & Winery Dining
Whether you're looking for a drink, a quick bite to eat (or a little of both) there is no shortage of options here in Cincinnati.
Rhinegeist Brewery (rhinegeist.com) is housed within a refurbished 19th-century brewery and serves as a testament to the evolution of Cincinnati as a thriving brewing community. Even if you don't stop in, keep your eyes open, because you just might see Rhinegeist on-tap in any number of Cincinnati restaurants.
Fifty West Brewery (fiftywestbrew.com) combines an appreciation for craft brewing, with fine cuisine and a wide range of outdoor activities. Ranging from bike-riding to kayaking and canoeing, there is no shortage of activities to engage in while appreciating some delicious beer.
For wine lovers, the Henke Winery (henkewine.com) makes for a favorite stop. As one of the most celebrated urban wineries in the country, Henke Winery offers a refined menu to accompany its list of inspired wine selections.
Back to the beer, the Mt. Carmel Brewing Company (mtcarmelbrewingcompany.com) makes for another stop worth considering. From their signature 'porch parties' to trivia night, a visit to Mt. Carmel Brewing makes for a great time.
Innovative Dining
Sometimes you just need a night out. On these nights, why not take a chance, stepping outside of your comfort zone? And while if you're here, why not experience the unique offerings of our city's cuisine. Recently, Cincinnati Magazine shared their pics for the 10 Best Restaurants in town, and (since we agree with the picks) we'd like to share them with you.
We could go on-and-on about these refined dining experiences, but take a minute to visit each online and see which best suits your palate.
Restaurant L (lcincinnati.com)
Mita's (mitas.co)
Sotto (sottocincinnati.com)
Salazar (salazarcincinnati.com)
Abigail Street (abigailstreet.com)
Boca (bocacincinnati.com)
Metropole (metropoleonwalnut.com)
Miyoshi Japanese Restaurant (miyoshirestaurant.com)
Phoenician Taverna (phoeniciantaverna.com)
Orchids at Palm Court (orchidsatpalmcourt.com)
Best Dealership in Cincinnati
We would never be so presumptuous to call ourselves that, but we can aspire. We can only hope that you give us the opportunity to make ourselves your favorite dealership. We may not be able to offer you some of the beautiful visuals, historical wonder or cultural experience of the destinations above, but we still have a lot to offer.
For example, the beautiful visual of Cincinnati's widest selection of new, pre-owned and GM Certified vehicles. Our wonderful history of satisfied customers, who we are fortunate to form lasting relationships with (and who we hope to count you among). And finally, the chance to experience our culture, and find out why McCluskey Chevrolet makes for a trusted partner for so many car buyers.
Of course, it begins with our vast selection of new, pre-owned and GM Certified vehicles. With hundreds of vehicles on our lot at all times, we are dedicated to helping our customers to buy the car that they want. If we don't have that vehicle, rest assured, we're prepared to search coast-to-coast in order to find it. It's the least we can do for our valued customers, especially those that come in from out of town
We look forward to seeing you soon (and hearing all about your plans and experiences here in Cincinnati, as well)!