Used Trucks Cincinnati
If any city in this pride-driven nation knows how to make something old look beautiful and crafted with quality, it is Cincinnati, Ohio. In fact, the famous Over-the-Rhine district is renowned for its historical and stunning 19th-century architecture, which inspires us at McCluskey Chevrolet to be known for our striking inventory of dependable and quality used trucks, Cincinnati drivers choose us as their go-to dealership. So, if you desire something that puts more of its passion into overall quality than being new, then Cincinnati is the perfect place to begin your journey. Let's start breaking down why.
Why McCluskey Chevy?Used SpecialsUsed Trucks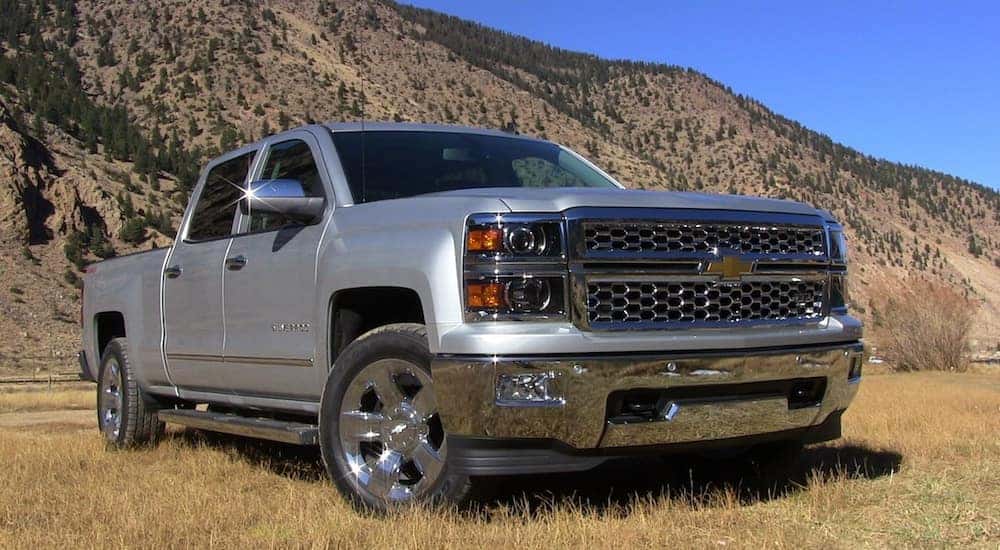 Why Buy Used?
Worth
If you compare trucks of the same make and model, without any single doubt the used vehicle will be more affordable, and the only difference could be something so insignificant you would never even notice if you weren't told.
Depreciation
The second a new truck leaves the lot for the first time the value automatically goes way down. Within its first year of use alone, a brand new truck will lose a massive 40 percent of its worth. With a used car though, that depreciation goes out the window. It's already a known used vehicle so there is honestly very little harm that can be done at this point to depreciate its worth since the original owner took most of that hit.
Insurance Rates
Insurance is such a pain, and anyone who says differently is trying to sell you some. The great thing about used trucks though is that insurance rates plummet a satisfying amount. Why pay any more than you have to for something that may never even happen?
Selection
You never know what kind of gem you will find in the treasure trove that is a used truck dealership. You may not be able to build it like you can a new model, but you can now get models you would never see in current lots. It's also great for those who don't want to do all the boring work and just want to have everything pre-made and tested.
Misconceptions about Used Trucks
There are so many myths created about used vehicles that just aren't true. So, in order to spread awareness and help make the buyer's market a more user-friendly place, here are some busted myths:
Used does not mean something must be wrong with it
Used does not mean ancient
There is not always a hefty down payment
Amazing credit is not a requirement
Warranty is NOT required right away, but it's not always a scam
Blank history does not assure quality
Used Trucks Catalogue
Our inventory of used trucks in Cincinnati is enough to please even the most meticulous truck fan. Here is a helpful list to display every top-quality used truck in Cincinnati we offer:
Chevrolet
Silverado 1500, 2500HD, and 3500HD (Amazingly heavy-duty)
Silverado (Full-sized, well-rounded)
Avalanche 1500 (Full-sized, dependable)
Colorado (Mid-sized stunner, classy pickup)
SSR (Powerful, unique, and fun to drive)
GMC
Sierra 1500 (Heavy-duty)
Canyon (Mid-sized, raw passion)
Ford
F-150, 250SD, and 350SD (Dependably tough)
Dodge
Ram 1500 and 3500 (Just plan tough)
Nissan
Frontier (Fair and fierce)
Titan (Dominate)
What is Certified Pre-Owned?
This is kind of the best of both worlds when it comes to new and used vehicles. It has new vehicle reliability and used vehicle price. A certified pre-owned (CPO) vehicle is refurbished, inspected, and authorized by the manufacturer or dealership. This does not imply you shouldn't put the vehicle through your own inspections before buying though since every certification process is not exactly the same. Just always be sure to check whether your vehicle choice is manufacturer or dealership certified since a manufacturer approved vehicle will often be tested much harsher and can only be sold at approved dealerships. A simple tip to be sure everything is up to code though is ask the what, why, and how of CPO vehicles:
What did they inspect?
Why was that inspection required?
How is that inspection a benefit to drivers?
A CPO vehicle will cost a bit more than a second tier used vehicle, but the benefits are pretty satisfying. You get everything cleaned and repaired to manufacturer standards, you have a higher chance of it being a less used vehicle, and you get plenty of coverage with an extended warranty. Even if you have decided on either a new or used truck in Cincinnati, there is always a good chance a CPO truck may be perfect for you.
Tips When Buying Used Trucks
Even a genius needs a few friendly tips now and then to get them through a difficult subject, and used trucks is definitely a worthy tip giving field. So, here are some of the best purchasing tips for investing in your new hidden gem:
Always go in with confidence and be prepared for anything
Be sure of your comfort price points
Perform your own inspection of the full truck in-person
Test drive, test drive, and please test drive
Use these simple tips and your trip to the dealership should feel like a walk in the park. It is all about having confidence in your own research, decisions, and organization.
Our Used Truck Policy
Speed
This is a fast-paced world, and we are willing to do everything in our power to keep up with. We want this normally frustratingly snail-like process to be as quick and convenient as possible so that everyone can just move on with their busy lives. We do this by giving a plethora of resources to make the search easy and opening more lines of communication, so we are always available to make magic happen.
Standards
Our standards are centered on giving customer service that is customer-centric. Each individual has a specific need, and we must treat each case as a unique one. It's not just about having standards though; it's about keeping them. As a respected automotive dealership, we operate on the trust and reliability we build with our customers by having high standards for ourselves and applying them consistently.
Satisfaction
Your satisfaction will always and forever be our satisfaction. At a dealership, it is essential that everyone from CEOs to new drivers work together to thrive in the automotive world. By breeding satisfaction on both ends, we gain valuable customer loyalty, and you gain the truck you want, at a price you could handle. We are an ecosystem, and together we will grow to have a truly ideal buying and selling experience.