We Have the Truck You Are Looking For
Here at McCluskey Chevrolet, we have a huge selection of used trucks for sale, which makes it easy for us to help you find exactly what you need. Although our inventory of pre-owned models changes regularly, we typically have well over 100 used trucks to offer you from a wide range of manufacturers and in every size class. If we somehow do not have the vehicle you need here in Cincinnati, then we can use our patented Nationwide Search technology to access tens of thousands of vehicles all across the country. No matter what you are looking for, we will help you find it and make sure you get the truck you need.
If you have a clear idea of what you need in your next truck, whether that is a particular model or simply a set of minimum specs you need to hit, then we will help you find it. From a used Chevy Colorado or Silverado to the Ford F-150, even impressive import models like the Nissan Titan and Toyota Tacoma – we will make sure you find the truck you want. Many of these models have numerous trim levels available, as well as different configurations and engines that were offered when they were sold as new. We will help you navigate all of these different options and features to ensure you get a pickup that meets your needs and keeps working hard for you for many years to come.
On the other hand, if you are just getting started with your search for your next pickup and feel overwhelmed by options, then we are here to help you figure things out. We will show you all of your options in a way that makes it easy to eliminate what will not work for you and start to focus on the trucks that can best meet your needs. Our friendly and knowledgeable salespeople can answer all of your questions, discuss which models have the features you are interested in, and ask you about what you are looking for in a truck. That is the difference it makes to choose a dealership that understands your needs and will work hard to ensure that you drive away in a pickup you will love.

Great Compact Truck Options
Although we certainly appreciate large and powerful full-size trucks (more on those in a moment), sometimes you need something smaller. A compact pickup is one designed to easily fit into even a modest lifestyle, with a smaller design that is typically shorter and is not as wide as midsize or full-size options. There have been pretty limited options for anyone interested in a compact truck in recent years, but the growing popularity of smaller pickups has resulted in new models being introduced, which is leading to more options for a used compact truck.
In recent years, the Nissan Frontier was your best pick if you were interested in a compact truck to help you maneuver in cities and job sites where small stature is advantageous. The Frontier is a great option that has offered impressive power and performance for many years, though it has recently been joined by more options. While you might not find quite as many of them out there just yet when shopping for used models, the Hyundai Santa Cruz and the Ford Maverick are both excellent compact pickups. These trucks have all proven that choosing a small option does not mean you have to sacrifice capability or bold performance.
Impressive Midsize Trucks
If you are looking for a truck that offers a "middle way" between the small stature of a compact model and the full power of a larger pickup, then a midsize option is a perfect choice. These are among the most popular models on the road because they deliver on that balance between size and capability, giving you impressive performance that can meet a wide range of needs. While they cannot match the monster capability of a full-size truck, a midsize pickup can still be a great choice for many owners, even those who work in trades.
One point of unnecessary potential confusion: a lot of people will refer to midsize models as "small" or even "compact," especially in previous years when there were almost no actual compact trucks available. It is important to know exactly what you are looking for in terms of size and – perhaps more importantly – capability in order to ensure you are checking out the right size class. While a compact model like the 2015 Nissan Frontier can be as short as just 205 inches in length, a midsize model like the Chevy Colorado from the same year can be nearly 225 inches long, which illustrates just how different these classes can be.
To get a sense of the kind of capability you can find in midsize models, the 2018 Chevy Colorado, for example, can handle between 3,500 lbs and 7,000 lbs of conventional towing, or more than 1,500 lbs of maximum payload depending on the configuration and engine. Similarly, the 2019 Ford Ranger can handle up to 7,500 lbs of maximum towing and can have just over 1,800 lbs of maximum payload when properly equipped. These are high-end examples of two of the best midsize trucks on the road, but if you do not need anything beyond those limits, then this class can be a great option for you.

Unbeatable Full-Size Pickups
On the other hand, if you are looking for the largest and most powerful trucks available, then a full-size option is definitely the way to go. These are trucks designed to handle pretty much anything you can imagine throwing at them, giving them capabilities beyond what compact or midsize pickups can come close to. Just like with other options, the full capability of these trucks depends on numerous factors, including the engine and configuration, so keep that in mind as you look at different used options. But in general, if you need serious power and the ability to handle massive amounts of weight, then a full-size truck should be on your radar.
There are some specific and unique terms that you will often hear when looking at different full-size pickup models; understanding what they each mean can make it a lot easier to find the right one. You will frequently hear people refer to "half-ton," "three-quarter-ton," and "full-ton" or "one-ton" pickups. All three of these categories refer to full-size models, but they are ways to specify the amount of capability that you are looking at with a truck. The potentially confusing issue, however, is they are simply descriptive terms these days and not literal expressions of how much weight a truck can handle.
Many decades ago, these terms were literal: a half-ton truck could handle up to 1,000 lbs (a half-ton) of payload capacity – three-quarter-ton models had 1,500 lbs of payload, while one-ton or full-ton trucks could handle up to 2,000 lbs of payload. You might notice, however, that the Chevy Colorado we looked at up above, a midsize model, can handle more than 1,500 lbs of payload and should therefore be a three-quarter-ton truck – but no one is going to call it that.
These days, the old terms are simply a carryover that makes it easy to refer to the three different classes of full-size trucks available. Popular half-ton models include the Chevy Silverado 1500, the Ford F-150, and the Ram 1500 – as well as the Nissan Titan and Toyota Tundra. These are also sometimes called "light-duty" models since they are the full-size trucks that have the lowest towing and payload capabilities. The 2019 Silverado 1500, for example, can handle up to 12,200 lbs of towing and more than 2,200 lbs of maximum payload.
When people refer to a three-quarter-ton truck, they are referring to models that can handle more weight than the light-duty pickups. They include popular options like the Chevy Silverado 2500 HD, the Ford F-250, and the Ram 2500. To give you some context of capability, the 2019 Silverado 2500 HD can handle more than 14,000 lbs of towing capacity. Finally, the one-ton trucks of today are among the most powerful pickups on the road, also called "heavy-duty" models, and they include the Silverado 3500 HD, the Ford F-350, and the Ram 3500. When properly equipped and using a gooseneck hitch, the 2020 Silverado 3500 HD, for example, can handle more than 35,000 lbs of towing capacity.
Diesel Trucks
Once you've decided which size truck works for your needs, you'll want to carefully consider the engine beneath its hood. For many, diesel trucks are superior due to the fact that diesel engines are high-performing, efficient, and capable of tackling a myriad of tasks. From construction sites to highways, diesel trucks thrive, and Chevy has an arsenal of trucks with available diesel engines just waiting to exceed your expectations. From the midsize Colorado to the full-size Silverado, the Duramax Turbo-Diesel can be outfitted into these tough trucks to maximize your drive like never before. When your day entails monumental tasks, the heavy-duty models in the Chevrolet inventory can also be armed with diesel capabilities to ensure a heightened level of performance on the job site and beyond.
Besides incomparable strength, diesel engines are also pleasantly efficient, achieving much better fuel economy than their gas-powered counterparts. This outstanding source of usable energy performs better than gasoline, allowing diesel trucks to harness more MPGs than many other trucks on the road. Diesel engines also tend to last longer and clock more miles than gasoline engines, making a diesel truck worth the initial investment. They're also better for the environment, producing less CO2 per gallon compared to traditional gas vehicles. It's even been found that diesel-powered vehicles tend to depreciate at a slower rate, maintaining their high value and respect in the industry.
When you want to complete tougher tasks while also taking advantage of an all-around better-performing engine, a diesel truck won't let you down. When you buy used, you'll be able to find a durable diesel truck for far less money than buying new, allowing you to really focus on what you want to get out of your ride, with no compromises necessary. That's why here at McCluskey Chevrolet, we keep our used lot stocked with top performers in the industry, like diesel trucks, because these trucks have what it takes to outperform the competition.
Lifted Trucks
Perhaps your journey frequently takes you off the pavement; this may warrant a lifted truck to help you propel over obstacles with agility. Fortunately, Chevrolet showcases a number of off-road-ready trucks with factory-installed suspension lifts to ensure maximum thrills on the trails. From the legendary ZR2 to the Trail Boss models, the Chevy brand knows how to design fearless trucks that can take on some of the most challenging obstacles in existence. Whether they're rolling over rocks or fording through water, rest assured that Chevy's lifted truck arsenal is well-equipped to handle difficult environments.
In addition to clearing more obstacles in tricky situations, lifted trucks offer better visibility, which comes in handy not only on the trails but also on the open highway. You're also able to easily make adjustments to your truck when it's lifted, adding bigger tires to conquer the elements or reinforced skid plates so that you don't have to worry about what awaits you out in the wilderness. Better handling and control means a better time enjoying the elements, and when you want to look the part of a true off-roader, a lifted truck will achieve this.
Many drivers opt for lifted trucks, and whether you find a truck that has a lift already installed or you decide to add one on later, McCluskey can help. We carry a fine selection of lifted trucks designed for every type of driver, from off-roaders to hard workers and everyone in between. We also showcase a phenomenal service department that can help you find the lift kit that works for your truck and driving needs.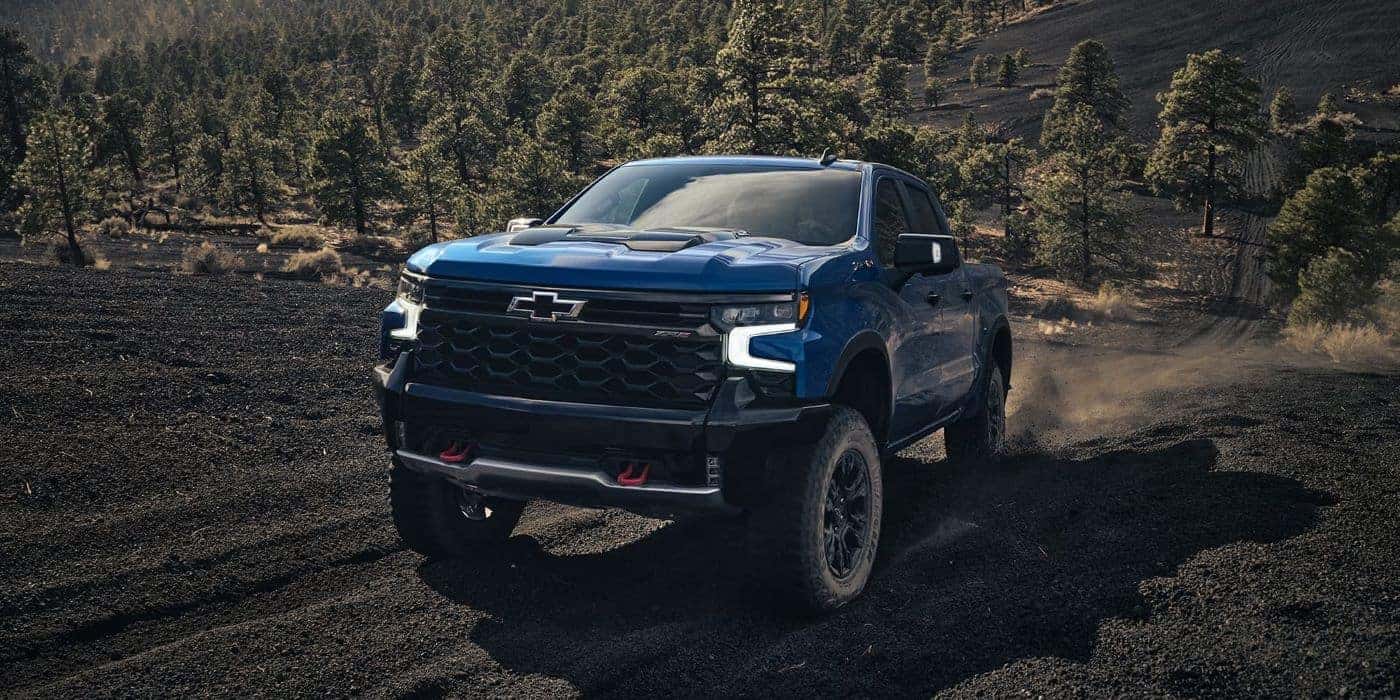 Certified Pre-Owned Trucks
Another thing you'll want to consider is which type of used truck you wish to buy: pre-owned or Certified Pre-Owned (CPO). CPO trucks offer more assurance, with models being hand-picked for the program after having passed through strict requirements set forth by the legendary Chevrolet brand. All models with CPO status are six years old and newer, with fewer than 75,000 miles on them. They have been put through a detailed 172-point inspection process, have undergone all recalls and repairs, and have been reconditioned to uphold the reputation of excellence that Chevy has set forth.
The biggest perk of buying a CPO Chevy truck is that there won't be any guesswork about your vehicle. All CPO Chevy trucks come with a detailed vehicle history report, and only the highest quality models can be a part of this prestigious program. There are also plenty of perks that go along with buying a CPO Chevy, including two factory-backed warranties to add assurance to any journey. A 6-year/100,000-mile Powertrain Limited Warranty and a 12-month/12,000-mile Bumper-to-Bumper Limited Warranty, both with a $0 deductible, make it easy to choose a CPO Chevy truck that caters to your needs.
You'll also get to take advantage of 24/7 roadside assistance and courtesy transportation services for the duration of your Powertrain Limited Warranty. OnStar Safety & Security and SiriusXM satellite radio can also be enjoyed through a limited trial offer. Choosing to buy used has its definite benefits, especially when you want to get more features for a more affordable price, but there's always a risk. That risk is vastly minimalized with CPO vehicles, with the CPO lineup comprising some of the most high-quality trucks available. At McCluskey Chevrolet, we're proud to showcase a selection of CPO vehicles that perform above and beyond the competition, just waiting to add intense value to your everyday travels.
Expert Financing Assistance
Just as important as finding the right truck to meet your needs is figuring out a financing solution that will work for you. Trucks, even used models, are designed to be some of the most powerful vehicles on the road, which can make them a bit pricier than many other types of vehicles. Finding the best way to afford your truck and ensure you get something that will fit your budget can not only help you get your job done but help reduce stress and worry.
Our financing experts are here to help you with everything you need as you figure out the right financing solution for your next truck. If you already have a lender that you want to use, then we can make sure that is your best option by showing you all of the possibilities available to you. Even if your credit is not as great as you would like, our guaranteed credit approval and easy online tools like a payment calculator and pre-approval form can help you find the right way to afford your next vehicle.
Whether you are looking for something that you can use for going off-road and getting around town, or you need a truck to help you get your job done or add to a business fleet, we are here to help. Figuring out financing does not have to be stressful or keep you from getting the truck you need, but going it alone can make the process much more difficult. Let our financing experts help you find the right way to get the perfect truck and have it fit your budget.

Long-Term Service and Support
Once you drive away, completely happy in your truck, our time with you does not come to an end – we believe in building long-term relationships with all of our customers. Part of that is our ability to help you with the next vehicle you need many years from now, and part of that is ensuring you enjoy your truck for as long as possible. That is why our certified service center and parts department are here to assist you with everything you need for years to come.
Whether you need extensive repairs after something goes wrong, or you are simply looking for scheduled maintenance for your pickup, we are here to help. Our service experts know trucks inside and out, including a wide range of different models, so we can help you with any repairs and maintenance you might need. You rely on your truck to be able to get your job done; keep your pickup in great shape so that it will be there for you every time you need it.
With our parts department, it is easy for us to keep a wide selection of different parts on-hand so that we can get work done as quickly as possible. And if we do not have something we need, then we will order it and get it here right away to get you back on the road in no time. Even if you prefer working on your truck yourself, we can help you with ordering the right parts for your pickup and get them to you quickly so you can keep your ride in the best shape possible.
Order Parts to Customize Your Truck
Whether you're looking to add durable elements to take on the trails or you wish to add some fierce style to your truck, McCluskey Chevrolet has a parts department ready to impress you. Not only do we offer a wide range of parts to help you tailor your truck to your exact specifications, but we also offer factory-trained service technicians who are ready and eager to help you customize your truck and make it work for you. We carry OEM parts designed just for your vehicle because we understand the importance of harnessing maximum capabilities and performance, no matter where you're heading.
From wheels to floor liners, storage solutions to lifts, our parts department has what you're looking for to make your truck truly yours. Cargo management systems allow you to remain organized while you use your truck for work, while console tablet holders help you stay in tune with your workday from the road. Bed products, electronics, security features, and work-ready options can also be found to help you achieve heightened productivity during your busy day. Not only do we have many helpful parts in our inventory, but if we need to order your part, we work with various respected retailers to ensure that it arrives quickly and on time. We offer parts from Thule, TracRac, Curt, and others to help you modify your truck to perform optimally, no matter what task it's tackling.
Placing a parts order is easy and hassle-free, with the ability to order parts from the form on our website or by working alongside our knowledgeable team at our service facility. With a purchase as big as a pickup truck, it only makes sense that it operates how you need it to, which calls for the right parts for the job. This is exactly what you'll find when working with the parts experts at McCluskey Chevrolet.
McCluskey Chevrolet Is Here for You
As you can see, here at McCluskey Chevrolet, we really understand the needs of our customers looking for a great truck. Whether you want a compact model that is perfect for getting around Cincinnati, or you need a one-ton heavy-duty pickup to handle a massive amount of towing, we will help you find it. All of us here at McCluskey Chevrolet live, work, and play here in the area, so we understand what you are looking for in your next pickup. From hauling a boat to the river on the weekend, spending a day off on the trail, or getting to a job site and staying in touch with other contractors, we will ensure you get a truck that can handle everything you need.