Chevy Corvette Stingray History – From Concept to Convertible in Sixty Years
For those familiar with the Corvette, the name "Stingray" should have deep and meaningful connotations.
That's because the title, although referring now to a specific model of the 2016 Chevy Corvette, once graced the nameplate of Corvettes that impressed the auto world for decades. In fact, one of the very first Corvette models was actually a 1959 concept, designed by former Chevy director of styling Bill Mitchell as a high-performance racing model.
Creating A Classic Model
Combining the racing-style chassis of the defunct Corvette SS concept with a new, highly-styled fiberglass body gave the orginial Sting Ray concept model the sleek, muscular style of a classic muscle car. Plus, with a high-compression, fuel injected 283 cubic-inch V8 engine, this impressive racer could pump out 315 horsepower. Built to take on the soon-to-be-banned manufacturer-sponsored professional racing circuit, and although certainly capable on the track (at least enough to take a Sports Car Club of America National Championship in 1960), the Sting Ray concept was eventually retired from racing and significantly modified with the addition of a passenger's seat, among other things, and displayed as a show car.
Also driven by Mitchell as his personal car on weekends, this model had a lasting and profound effect on the design and styling of future Corvette models to come – starting with the C2 model line in 1963 through 1967, which actually bore the Sting Ray nameplate. This line boasted the now-classic muscle car look of peaked fenders, a short tail, and a long nose.
This same look would continue through the following generations of Corvette, moving next to the C3 model – the last to officially bear the Sting Ray name until the 21st century, although almost all subsequent Corvette models would owe some design cues to the historic Sting Ray model from these first few generations.
Influencing The Early Corvette
Like the generation before it, the C3 Sting Ray was available in both coupe and convertible styles – the 1971 being the last soft top convertible of the Corvette line until almost fifteen years later, in the mid-'80s. As gas prices rose and demand for high-powered muscle cars dropped off, so too did the demand for the Corvette, which would notably shrink its production numbers through the next few years.
Things would be relatively quiet on the Stingray front for almost twenty-five years, and as generations four through seven of Corvettes passed by the Stingray nameplate was continually snubbed. Although the classic Corvette design would still trace its roots to the original Sting Ray style, no Chevy would be called a "Stingray" until nearly four decades later. Corvettes would eventually become more clean and muscular, minimizing lines and aggressive styling elements for a more refined, less intimidating look. And for decades, this was the norm – until Chevy decided it was time for a change.
The Stingray Reborn
In honor of the 50th anniversary of this classic model, and to celebrate the new Transformers movie in which it would appear, Chevy debuted its Chevrolet Centennial, also known as the Stingray Concept. This impressive concept, with scissor-style doors, a rear-view camera with night vision capabilities, a hybrid drive with high-performance capabilities, and ergonomic race-style seats, came about as an internal design challenge within Chevy to combine the classic style of the Corvette with the high-tech vision Chevy is building for the future of its vehicles. And, between the carbon-fiber coating and the reverse-clamshell hood that opens at the push of a button, this model seriously looked like something out of the future – but with all the attitude of the classic Sting Ray.
Chevy insisted that this model would not simply be a preview of the next generation of Corvette, the C7, released in 2014. This would prove to be the first generation of Corvette to bear the Stingray nameplate since the mid-'70s – and the first to embrace a stylized, aerodynamic design with an attitude not seen since the early Sting Ray models of years before.
If there's any doubt that the Sting Ray tradition has left its mark on the Corvette line, the new 2016 Corvette Stingray blows it out of the water.
Although prior Corvette models have generally minimized more aggressive design elements like air vents and sharp angles, this Corvette directly opposes that trend. That's why this model looks so aggressive compared to its immediate predecessors – boasting a squared-off rear with trapezoidal, angled taillights that fade into recessed reflectors, bold styling lines, and finely-tuned cooling vents for the brakes and engine, this model squarely hearkens back to the days of tough, muscular Corvette. And although prior Corvettes minimized headlight, this Stingray model brings back the stylized, flared headlight style with its Bi-Xenon HID headlamps, and features LED accents that add that touch of modern class.
The Stingray also features several of the premium design features that make the Corvette so beloved, like an aerodynamic rear spoiler with a high-mounted stop lamp. A functional hood air extractor catches and precisely angles oncoming air for optimal handling, reducing lift and cooling the engine block in the process. In fact, this Stingray is built to be aerodynamic and efficient, with two separate heat exchangers that use airflow to help cool the powertrain, while optional brake ducts available on the Z71 Performance Package use airflow to help cool the braking system for optimized stopping power.
Perhaps most impressive about this new Stingray model is its ability to seamlessly drop the top. Available in both convertible and coupe styles, this model utilizes a fully-electric system activated by a button or by the key fob to automatically lower the drop-top – even at speeds of up to 30 miles per hour. And, you won't have a folded cover bunched up in the back, since the Stingray hides the top in a body-colored tonneau cover behind the rear seats.
And when Corvette promises a race-ready performance vehicle, that means a modern vehicle as well. This is clearly evident in the driver-oriented cockpit, which features two 8-inch diagonal LCD screens and an available Heads-Up on-windshield display for total, safe control on the road. With available Napa leather upholstery on the Competition Sport race-style seats, you'll be able to ride in comfort, while the unique flat-bottomed steering wheel puts you as at home on the track as you are on your neighborhood roads.
But what really lets this Sting Ray launch is its 6.2L LT1 V8 engine, capable of cranking out an amazing 460 horsepower that can push your Corvette from zero to 60 in just 3.7 seconds. Plus, with standard Brembo brakes, a customizable and constantly adapting suspension system, and a standard 7-speed manual or available 8-speed paddle-shift automatic transmissions, there's pretty much no competition that can outmuscle the Stingray.
With all of these impressive upgrades combined with the classic, muscular styling of the original concept vehicle, the new Stingray Corvette offers plenty of performance power with all of that classic style we look for in a Corvette. If Bill Mitchell could see where his designs have taken the Corvette today, we think he'd be pretty impressed. If you haven't been over to your local Chevy dealer to check out the new Corvette Stingray yet, the time is now – before they're all gone.
---
2020 Update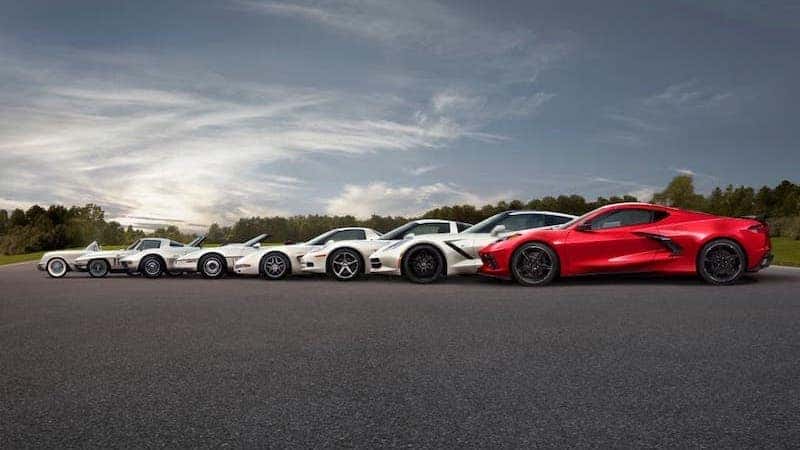 History in the Making!
Too often, when we look at history, we dwell only on those things that have come before and which brought us to where we are today. While the past is certainly important, and the context it gives us for what we see now is vital, it's also important that we realize when we are in the midst of a moment that will certainly be regarded as an integral part of history in the future. That type of moment is happening right now with the 2020 Chevy Corvette Stingray and its mid-engine design, a vehicle that is redefining everything we thought we knew about the Stingray.
How We Got Here
Before we really take a look at the 2020 Corvette Stingray and everything it has to offer, we should take a moment to dig into history again and get some context for it. Something like a complete reinvention of an American classic doesn't just happen by accident or overnight. In fact, for nearly the entire lifespan of the Corvette, there has been the idea of creating one with a mid-engine design and a single man that championed it for decades: Zora Arkus-Duntov.
Duntov was an engineer that worked for General Motors, and while he loved the design of the Corvette, he believed its engine and mechanical system were flawed. From the very beginning, he recognized the potential for a mid-engine Corvette and worked on designing one for mass production numerous times throughout his career at GM. Starting with the CERV I (CERV stands for Chevrolet Engineering Research Vehicle) in 1959, Duntov first introduced an open-air vehicle with a mid-engine placement that looks more like a rocket car than a Stingray.
By 1964, however, Duntov introduced the CERV-II, which looked quite a bit more like a Corvette Stingray and was designed as an experimental racecar. We got a bit closer to a mid-engine Corvette in 1968 with the XP-880 Astro II, which was a show car designed by Bill Mitchell and engineered by Duntov. Though never mass-produced, the show car gives a clear depiction of what a classic mid-engine Corvette might have looked like.
Throughout the 1970s, there were several more attempts made at introducing a mid-engine Corvette, but they were shot down at every turn. The oil crisis made sports cars much less popular, so GM was never quite bold enough to develop anything as controversial as a mid-engine Corvette. By the time the 1980s rolled around, Bill Mitchell and Zora Arkus-Duntov had left GM, taking their vision for a production mid-engine Corvette with them.
Still, there were signs of what could be: in 1986, a Corvette Indy concept car showcased a twin-turbo V8 engine located behind the cockpit; the 1990 CERV-III took that Corvette Indy idea a step further and really showed what a mid-engine Corvette in the '90s would've looked like. All of these concepts and show cars never reached any kind of full production, however, and we were left with only hopes and dreams of a mid-engine Corvette decade after decade. Until now…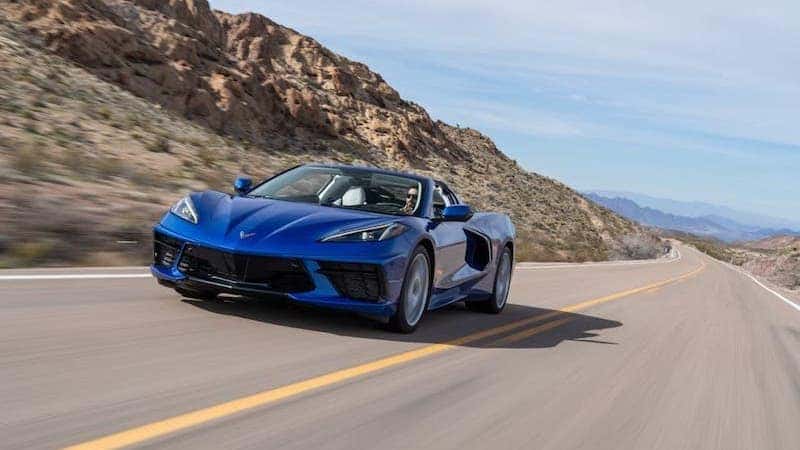 A Bold New Design
And that brings us to today––when the mid-engine Corvette Stingray is no longer the fevered dreams of engineering visionaries but has become a reality. The 2020 Corvette is a mid-engine beauty with its powerful V8 located right behind the cabin, just above the rear wheels. This makes it easy for power to go from the engine to those wheels and shifts the weight of the engine further back to provide better overall balance and handling for the Corvette. In other words, it gives you more power and makes the car drive better––what more could you want?
Of course, this shift in design has other results too: for one, since the engine has been moved behind the cockpit, the entire cabin has been shifted forward significantly. For decades, the Corvette Stingray has been known for its long nose and short rear end. That design is no more: the 2020 model has a short nose and a larger area behind the cabin, which has certainly led to some controversy. Diehard Stingray fans have been rather vocal about the new design – some love it, some hate it, but it's hard to argue with the incredible performance it offers.
The engineers at Chevrolet have taken full advantage of this new design, however, and made the windshield larger than before. Since the cabin is pushed forward, with a shorter nose, the driver is also pushed forward. This means you have a much better view of the road, and the designers of the 2020 Corvette Stingray have taken that into consideration. With a larger windshield and lowered dashboard, you have an unbelievable and nearly unobstructed view of the road ahead of you. Driving the new Stingray just about feels like flying, and you get a sense of being connected to the road that surpasses anything that's come before.
Pure Power and Performance
Of course, the entire inspiration behind a mid-engine design is boosted performance––it's why Duntov was so passionate about the idea in the first place. By moving the engine back to the rear-middle of the vehicle, you shift a lot of weight back and create much better handling with a more balanced center of gravity. Combine that with an incredible engine and drivetrain, and you have the recipe for one of the most exhilarating driving experiences anywhere.
The 2020 Chevy Corvette Stingray comes with a 6.2L LT2 V8 engine that provides up to 490 hp and 465 lb-ft of torque standard. If you choose an available Performance exhaust package, then you can push those numbers up to 495 hp and 470 lb-ft of torque. It also comes with a dual-clutch automatic transmission that shifts gears at incredible speeds, allowing you to fly off the line and go from 0 to 60 in just 2.9 seconds. By comparison, you would need to choose the 2019 Corvette ZR1, with a 755 hp engine, to beat that 0 to 60 speed.
Thanks to this incredible design, the 2020 Chevy Corvette Stingray has a top speed of 194 mph and provides a driving experience that really can't be put into words. We can describe the top speed, the quick acceleration, and gear shifting, and talk about horsepower all day––but nothing compares to sitting inside the new Corvette and feeling what it can do for yourself.
Yes, the design has changed, and the shorter nose certainly looks different than what you would probably expect from a Stingray. But the flared front-end remains, and it has the heart of a Corvette, even if it looks different from what we're used to.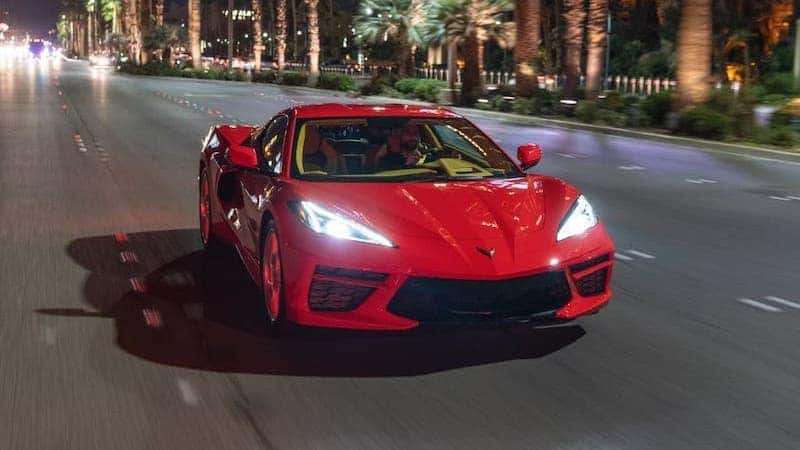 What Does This Mean for the Future?
It's still too early to say if this is what the Corvette Stingray will look like going forward, or if we'll see the engine move to the front in future generations. Much of that, certainly, depends on how customers react and how it does in terms of sales. Money talks, after all, and GM is certainly watching how the new Stingray is received by customers––as are we!
Thirty years from now, we'll still be talking about the 2020 Chevy Corvette and everything it had to offer, particularly its bold design. As to whether we'll be discussing the first step in a new direction or an experiment that didn't pan out, only time will decide. Until then, visit us at McCluskey Chevy in Cincinnati, OH, and see the new Corvette Stingray for yourself.